Railroad tracks essential to protecting region's economy and national defense interests, officials say
Seventy-eight years ago, Japanese fighter planes descended upon the U.S. naval base at Pearl Harbor at 8 a.m. as John Campbell, then in the Marine Corps, was in his bed 100 yards away from where bombs started dropping.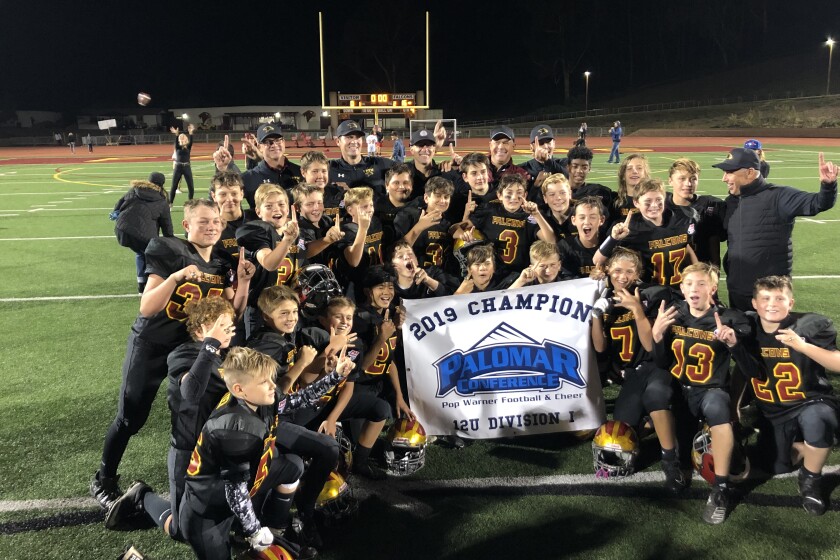 For the first time in the 27-year history of Torrey Pines Pop Warner, the undefeated 12U Falcons have earned their way to the 2019 National Pop Warner Super Bowl Championships.
Check out the free and festive events in the area: Ocean Air Rec Center's Snow Day Ocean Air Recreation Center is hosting its annual Snow Day on Saturday, Dec. 7 from 8:30 a.m. to 11:30 a.m. at Ocean Air Community Park.
Sage Canyon Elementary School became home to what might be the first-ever grandmother and granddaughter teaching team when last month longtime educator Barbara Schulman, who turns 82 on Dec. 5, shared a classroom with her substitute teacher granddaughter Erica Byrne.

With concerns from residents about a lack of information available, Del Mar City Council members voted Dec. 2 to proceed with a March special election for the Marisol Specific Plan, which would add a luxury resort to the northwestern corner of the city.

An online fundraiser has collected more than $20,000 for Janet Baker, wife of former Del Mar Fire Chief Jim Baker, after she was diagnosed with Lewy body dementia.

Del Mar residents now have six more weeks to submit their comments to City Hall about about a plan to allow residential housing to be built in two commercial zones.
The Village at Pacific Highlands Ranch welcomed the holiday season with its Annual Tree Lighting ceremony Nov. 30.

More than 200 parents, students and family members attended the North Coastal Council of PTAs' 2019 Reflections Art Reception Nov. 19, braving the rain to celebrate student artwork from 12 North County schools.

Families gathered Nov. 15 at Solana Ranch Elementary School for a delicious Dads' Club Pancake Breakfast.

At Cub Scout Pack 734's November gathering at Solana Ranch Elementary School, the Scouts honored Veterans Day by preparing 96 holiday packages and making cards for the troops.

Solana Highlands Elementary School families gathered Nov. 8 for a tasty Pancake Breakfast presented by the Dads' Club.
Oct. 17 issue: Reasons for my vote In a recent post on social media, Del Mar resident Hershell Price criticized my vote against a last-minute amendment to the 2020 budget for San Diego's Regional Transportation Plan.

August 1 issue: Climate change is natural Sure, there is climate change, but it is natural and not due to any human intervention like China, India, or USA atmospheric effluents.

July 4 issue: Applause to Solana Beach council for passing amendment Kudos to the Solana Beach City Council for passing an amendment to include marijuana in the Social Host Ordinance.
Now that the world has seen the new Toyota GR Supra, you just knew that they would want to do something extra special for the SEMA Show.

Superlatives cannot sufficiently describe the groundbreaking 2021 Toyota RAV4 Prime – a plug-in hybrid SUV that was introduced in a stunning, surprise announcement during AUTOMOBILITY LA – the press days of the 2019 LA Auto Show.