In her first two children's books, Del Mar native weaves big lessons into little rhymes
A funny thing happened as Danielle Chammas was finishing up her first two children's books.
She had conjured the rhyming verses and dotingly crafted every accompanying illustration, girding each page with lessons on finding self-worth and the hard task of embracing mistakes. The painstaking work had thrust her, finally, onto the precipice of living up to promises she had held her whole life long.
And then: paralyzing panic.
"I had every insecurity you could think of — What if people don't like them? What if they get a bad review? — and I caught myself and thought wow, Dani, if your goal is that people's confidence should come from within, that they shouldn't be so scared of mistakes that they can't live their lives, then you have to embody it, too. So I just put these books out there and haven't looked back."
What came out were two books for the first-time author, a Del Mar native and Torrey Pines High School alum who practices psychiatry and palliative care in the Bay Area. Her days at TPHS had been filled with writing and drawing and all manner of creative pursuits, but eventually she settled on keeping those passions as a hobby. Dreams of making a children's book never truly diminished, though, and eventually her end-of-life work coupled with the birth of her daughter two years ago stoked that long-simmering fire.
"There comes a point where you see so many young people die before they could get around to doing x y, z, and it just hit me, what am I doing, I'm the same age as these people, life is too short to keep my bucket list in the background," she said. "Something got lit under me. The juxtaposition of having a young kid and watching young people die made me realize, 'There's no time to waste, this is your life, do it now.'"
Her little books tackle the biggest of themes, delivering messages as useful for young minds thrust headlong into a social media world as they are for the parents trying to help them navigate it.
The growing plague where value is coming from the outside, basing their self-esteem on SAT scores and what colleges they get into — external things rather than internal valuing hard work.
"We're seeing in today's society that there's just so much pressure and so many of our youth are growing up struggling with self-esteem and anxiety and perfectionism, and it haunts them into adulthood," she said. "I just want my daughter and every kid to be able to flip that around so they can walk through life feeling good from the inside about who they are, because then anything can happen to them and they'll still find emotional happiness."
The first book, "A Wish From a Fish," centers on a sweet but self-effacing fish who feels utterly plain and goes through life pining to be to be every other creature she meets. As the pages turn, the fish finally finds a friendly turtle who describes the coolest animal imaginable. The fish, of course, longs to be that creature, only realizing on the final page that the creature is her.
"I can't tell you how many times a patient came in and wanted to talk about something they saw on someone else's Facebook page," Chammas said. "What's unique to this generation of kids is that they're growing up in a world where we're disproportionately seeing all the great things that are happening in everyone's lives. And at the same time they're getting so many more evaluations and standardized tests and so much more outside judgment than past generations have had. It's imperative for us to help them build a strong internal source of emotional competence so they can celebrate the successes or the differences of others without feeling really crummy."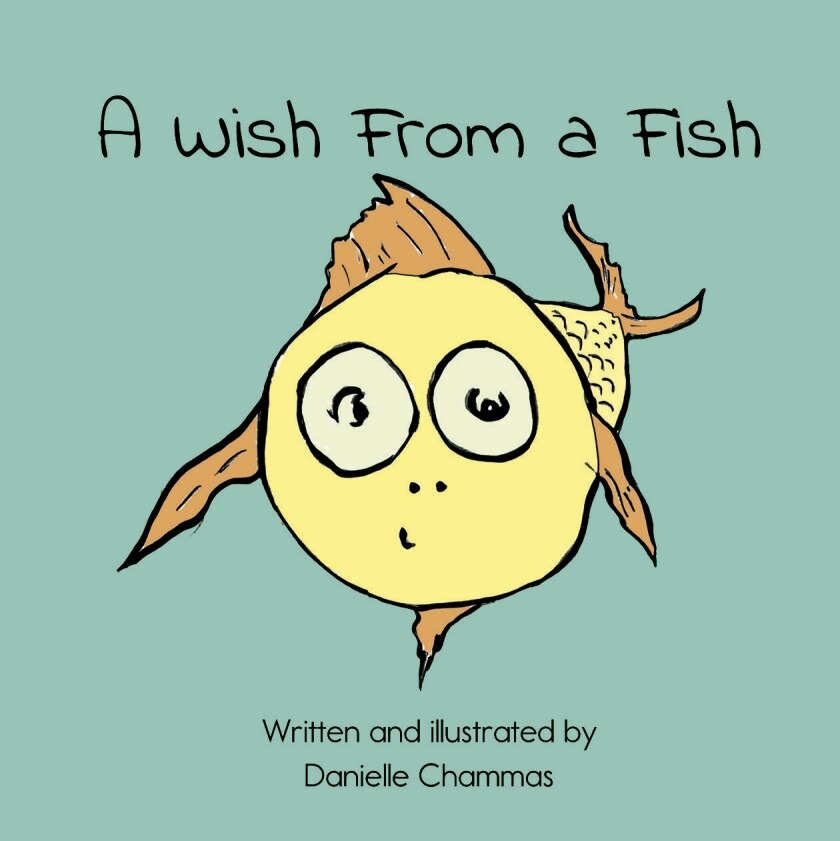 Her second book — "An Oops Sort of Day" — brings an interactive element to the story of its young protagonist going through his day, blundering one step to the next before ultimately learning to embrace his mistakes rather than fear them.
"With the right attitude these really beautiful and unpredictable developments come out of each mistake that would have never been possible if he'd gotten it all right from the start," Chammas said. "It's the lesson that the world just isn't in our control — and that's OK, it's part of the beauty of life. We, as parents, have forgotten the importance of falling down and getting back up, of doing something wrong and discovering something new. It's so well-intentioned, but then in the mental health field we end up seeing this epidemic of stressed-out young adults who are afraid to make a misstep and it's getting in the way of their potential for joy."
Authorship for Chammas was a journey in its own right. Writing and drawing have been dear pursuits since as long as she can remember, but she subdued those passions and in favor of her career in mental health and palliative care, content to keep her art a mere hobby.
"It's just taken a lot of life and perspective and growing up to be able to say, 'No, I want to do this and it's going to be fun.'"
Reaction to her books remains modest — well-reviewed, albeit on a small scale — but she's focused more on enjoying her new impact on her world. Far more important than anonymous Amazon reviews are the heartfelt notes from colleagues who have put her books out in their waiting rooms, or the friends who have sent pictures of their kids with the book, gushing effusive about their favorite rhymes and drawings.
She's well into the drafts of her next two books, making sure both to enjoy them on their own terms while also not being afraid to dream of a series of books that reaches broad audiences.
"I just want to make books and put them out there," she said. "I had so much fun making these first two, and every time I see a friend's kid holding the book, it just makes me really happy to have found a way to touch people in a different way. So my goal is to not let it get stagnant, to keep it coming and just see what comes next."
Chammas' books are available at amazon.com
---
Get the Del Mar Times in your inbox
Top stories from Carmel Valley, Del Mar and Solana Beach every Friday.
You may occasionally receive promotional content from the Del Mar Times.