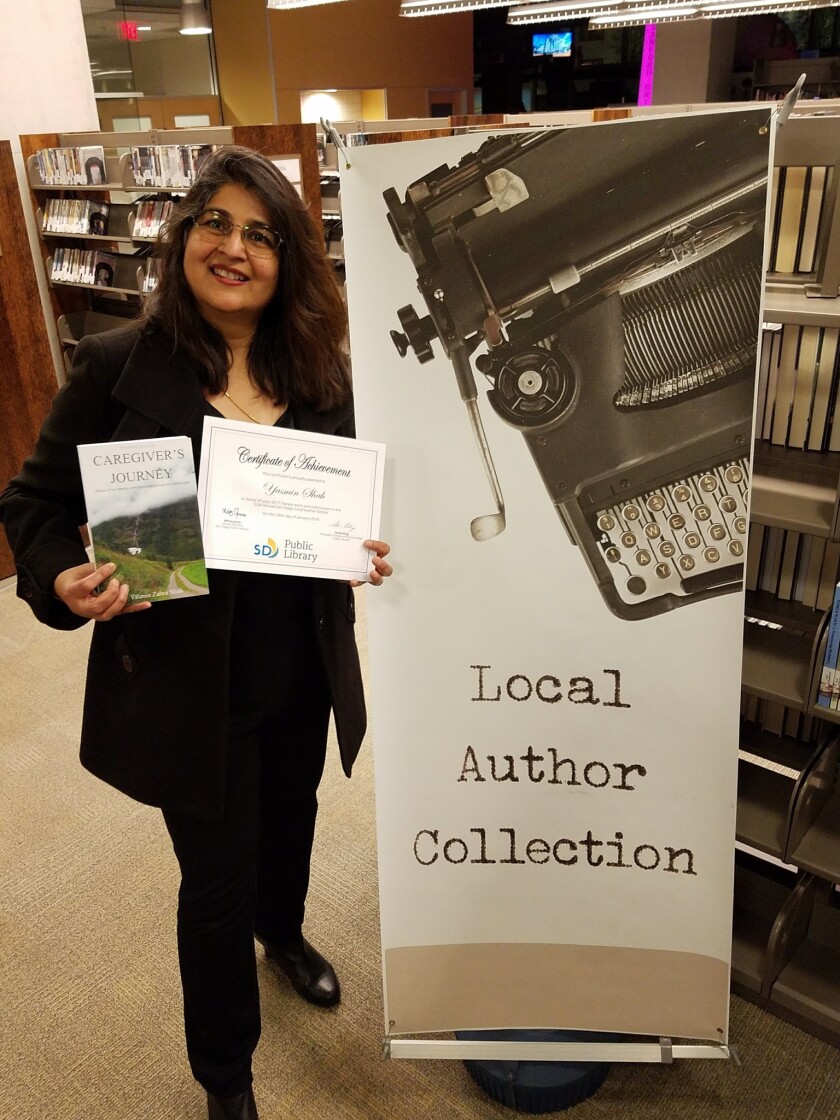 When her mother died two years ago, Yasmin Shah decided to share her story - and those of others she had met - as the primary caregiver for her aging parents.
A week after losing her mother, Shah, a Carmel Valley resident, began writing what would become her first published book, "Experience: Caregiver's Journey," which was meant to help caregivers feel they are not alone, and also provide practical tips for dealing with issues that arise for caregivers and those they care for.
"It was a cathartic thing to do," said Shah, whose background and education are in the technology field. "If you don't tell your story to others, your experience is wasted."
Shah set out to write a non-fiction book, but after sharing an earlier draft with friends, she decided to turn it into a work of fiction, with two main characters, neighbors who each become caregivers for people in their lives.
Shah self-published her book last fall on Amazon, where it is available either in hard copy or e-book at amazon.com. Chapter titles include "Starting Our Caregiving Journeys," "Exploring Home Options," and "Keeping Them Safe & Secure."
Shah, 53, grew up in Pakistan and emigrated to the U.S. in 1985, at age 20. She has now spent more of her life in America than she did in her native land. "This is home," she said.
Her parents came in 2010, and lived some of the time with Shah and her family, and also in an assisted living facility. Her father died a couple of years before her mother. Before his death, he cared dutifully for his wife, Shah said.
"I had huge shoes to fill when he passed," she said.
In writing the book, Shah coined the term "seen-ager," which refers to an aging person who has seen a lot in life. She has also founded VillageCore, a nonprofit dedicated to establishing villages in San Diego neighborhoods, in which residents and caregivers watch out for and help each other, allowing people to remain in their homes as they age.
Previously, she helped organize a village group in Tierrasanta, which is still up and running. Other groups in San Diego are in the formative stages. Under the village movement, she said, a neighborhood might hire a social worker to help people find resources, coordinate social gatherings, and assist in arranging for one neighbor to cook for another, or provide a ride to a doctor's appointment.
"My hope for this book is that not only will it help care givers and seen-agers, but it will raise funds so we can launch these villages across San Diego," she said.
The book includes anecdotes both from Shah's own experiences and stories she has been told by other caregivers. For example, she recalled one painful incident, when she got mad at her father for something he said while they were driving in her car, and she scolded him. She said she still feels bad about the incident when she drives by the spot where it happened.
"I took those stories (of others) and my own experiences and cobbled up this book," she said.
Shah lives with her husband, Teddy, a healthcare consultant, and the couple's 14-year-old son, a student at Canyon Crest Academy.
She holds a degree in engineering, and worked as a tech executive with such companies as IBM and QLogic.
She also ran a string of franchise hair salons earlier in her career.
While her book about caregiving is her first literary effort for adults, she and her son worked together on a number of picture books for children, which have not been published, but were printed and distributed to family friends.
Her target audience for "Experience: Caregiver's Journey," was caregivers, both as a companion for those who perform the sometimes challenging work of caring for a loved one, and as a guide to some of the ups and downs. But some "seen-agers" who have read the book also loved it, she said.
"I didn't think I was writing for them, but they seem to get a lot out of it as well as the caregivers," she said.
For information about resources for caregivers and aging adults, visit www.villagecore.org.
---