'Eat, Pray, Love' author Gilbert brings 'Big Magic' to USD
There was big magic happening in the audience at the University of San Diego last week even before "Eat, Pray, Love' author Elizabeth Gilbert took the stage to talk about her aptly named new book.
Women were bonding over their admiration for the best-selling author, sharing their stories and making dates for coffee. One woman asked a group of strangers to hold her seat while she ran to the restroom, and they laughed when she left her handbag but took her copy of "Big Magic."
"I quit my job after reading it," confessed Barbara Newton-Holmes, "even though she says not to do that. I started a company called Culinary Oracle, and I'm so happy."
Jill Van Meter is considering taking her own "Eat, Pray, Love" year to visit Italy, Iceland and Ireland. "I may call it 'My Year of I,'" she laughed.
"I just want to sit with Liz in my living room and talk," said Robyn Talbott.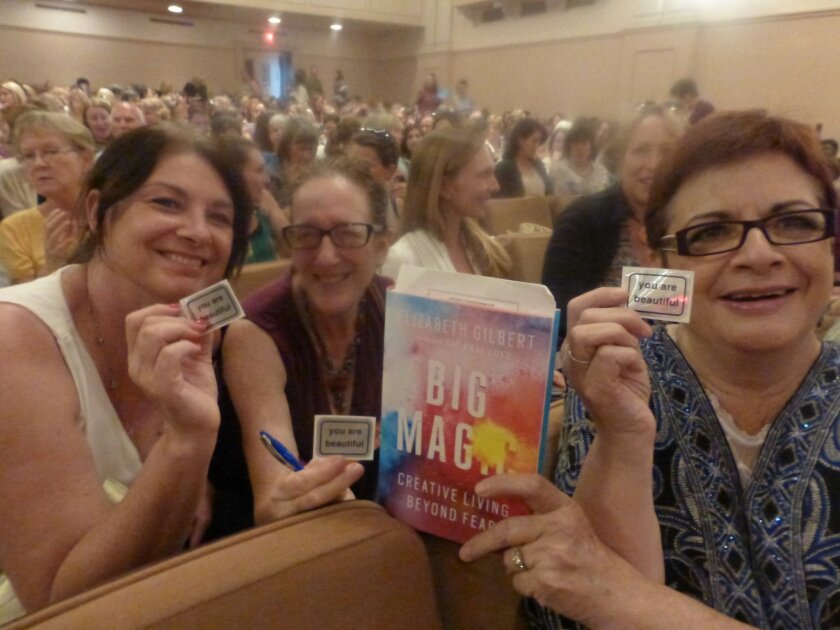 This is the effect Elizabeth Gilbert has on women whenever she makes an appearance. Since "Eat, Pray, Love" exploded on the scene almost ten years ago, the book has sold more than 10 million copies, and "Time" magazine named Gilbert one of the 100 most influential people in the world.
Because she is so easy to relate to, women consider her their guru — and friend. So it was no surprise when she walked on stage and someone called out, "I love your shoes!" She quickly shouted back, "T.J. Maxx!"
Sponsored by Warwick's of La Jolla and the University of San Diego's Illume Speaker Series, Gilbert was there to talk about her new book, "Big Magic: Creative Living Beyond Fear," and the sold-out crowd was there to be inspired.
"This book is my manifesto," said Gilbert. "I've been thinking of writing it for 12 years, I've lived it for 25 years and I wrote three books in the time I didn't write this one."
She explained that she wasn't sure how to tell the story, because her personal relationship with creativity is based in "this weird combination of total magical thinking — like Hogwarts-style mysticism — mashed with this deep Yankee pragmatism and discipline. I have one foot with the fairies and one on the farm."
Because she's used to doing heavy research, she decided to become an expert on creativity, collecting hundreds of books about everything from the neuroscience of creativity to the link among creativity, alcoholism and suicide.
"After 12 years and thousands of dollars, I looked at all of these and thought, 'If I have to read one of these books, I will die,'" she said.
Instead, she ended up writing the equivalent of a letter based on her lived experience.
"I'm happy to say this book is fact-free," she announced to roaring applause.
Gilbert read from the first chapter of "Big Magic," prefacing it with her own definition of creativity, which is "any life where your decisions are based more strongly on creativity than on fear."
"And that's a very hard thing to do," she added.
In fact, Gilbert admitted being scared of everything as a child — to the point where her father nicknamed her "Pitiful Pearl."
What finally made her able to write "Big Magic" was, of all things, Facebook. When she put out the question to her 1.3 million followers, asking, "Why are you not creating?" she received long responses listing every kind of reason, obstacle and excuse.
"All I could see, written in invisible ink, with footnotes, was so much fear. And that became the essential conversation — the relationship between creativity and fear."
Her book offers so many practical ways to work past the fear and, at USD, her biggest piece of advice was to "just be 1 percent more curious than terrified. That makes all the difference."
She answered questions from the audience, encouraging a fourth-grade teacher to "model creativity in order to raise little creators," and pointing out that, in every aspect of life, "The greatest public service you can do is come alive."
She empowered a young woman who complained about not knowing where to start with all her ideas by telling her, "You are the President of your ideas, not the victim. It's the leader's responsibility to choose."
She put the accountability on one of the few men in the audience to call himself out when he was being lazy. "You know the difference between having a temporary block and procrastination," she said. "When you're sitting at your computer, Googling the names of Angelina Jolie's kids, you know."
Because this was the first book tour where she wasn't going to be signing books, Gilbert took time to apologize and explain that, at age 46, she realized she had to take care of her health and not become depleted.
She ended by reading Louise Erdrich's poem, "Advice to Myself," graciously thanking the audience — and walking off the stage in those great shoes.
---
Get the Del Mar Times in your inbox
Top stories from Carmel Valley, Del Mar and Solana Beach every Friday for free.
You may occasionally receive promotional content from the Del Mar Times.