Del Mar teen spreads message of acceptance through children's book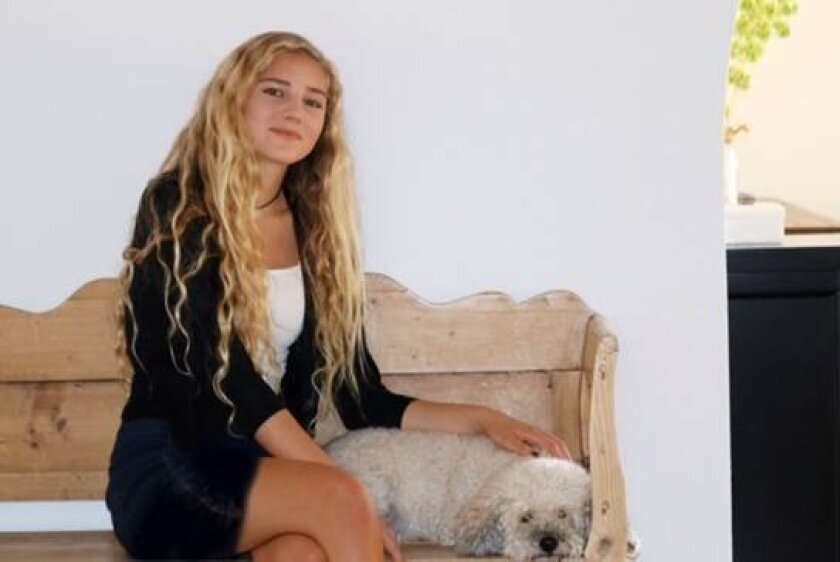 With a Tuesday through Friday schedule at Classical Academy High School in Escondido, young Del Mar author Carly Marie Truscott spent nearly every Monday of her junior year reading to schoolchildren across San Diego County. Now entering her senior year, the 17-year-old plans to continue to spread a message of acceptance through her unconventional children's book, "Fox, Bird, and Squirrel Were Not Friends."
"I was inspired to write the book after hearing about human rights issues," said Carly, who specifically pointed to the struggle of transgender children. "I've just seen a lot of judgment throughout middle school and high school, and I feel like our culture is not accepting of differences, so I wanted to write this book to get the message of acceptance to kids early."
Originally, Carly's story directly addressed gender roles and the struggle of transgender children. With the intention of reading to young children, she wrote several versions and eventually simplified her message.
Written and illustrated by Carly, the children's book is about forest animals that do not get along. But by the end of the story, the creatures realize that each of their traits are essential to the survival of everyone in the forest.
"I felt like the metaphor of the animals in the forest was easier for kids to understand," Carly said. "It applies to more children. They can relate to the book better."
Carly started reading to children at summer camps, the summer before her freshman year. She also helped develop educational curriculum and crafts.
"That's where I figured out it was something that was really fun for me," she said.
Carly, who has always loved drawing and writing, began working on her book last fall. After publishing it in January, she introduced it to children in kindergarten through fourth grade at schools throughout the county, including schools in Escondido Union School District, Oceanside Unified School District and Poway Unified School District.
She has since received dozens of thank-you letters from the children and their teachers.
"The kids are so cute and sweet," said Carly, whose next reading is at 3 p.m. Sept 27 during Coronado Library's Story Hour. "Different schools take the message differently. Some children relate to it because they've been bullied."
Although Carly never intended to sell the book, she decided to self-publish the story and make it available because so many of the schools she visited wanted copies for their classrooms.
To order a copy, send a message Carly on Facebook at www.facebook.com/foxbirdandsquirrel or Instagram at www.instagram.com/foxbirdandsquirrel. Carly is donating all proceeds to the Helen Woodward Animal Center, which will be honoring her on their Hope Telethon on Nov. 20. She will present the Rancho Santa Fe-based nonprofit organization with a $1,000 check during the event.
"I've always loved the center," said Carly, who has a dog named Diesel, and once participated in the center's Summer Critter Camp. "But with this process, I've been able to really see what they do there. It's amazing, so I'm really proud that I've been able to help them."
---
Get the Del Mar Times in your inbox
Top stories from Carmel Valley, Del Mar and Solana Beach every Friday for free.
You may occasionally receive promotional content from the Del Mar Times.