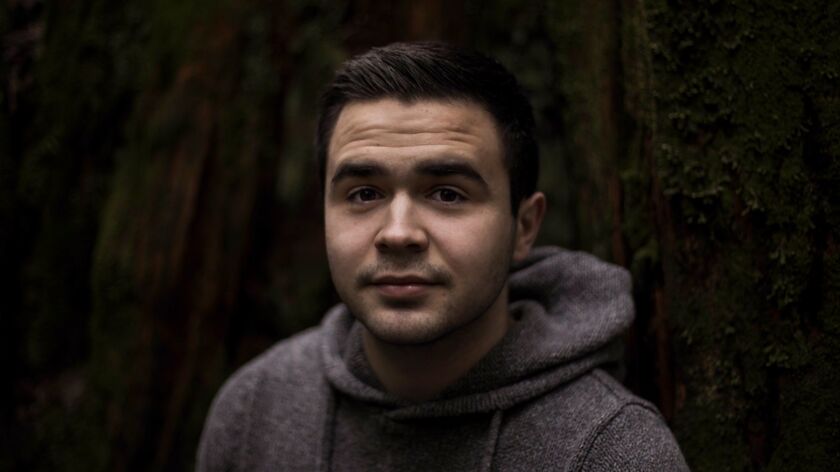 It's a mid-summer Wednesday evening in West Vancouver, British Columbia, Canada and Alex Balanko is currently sitting in his studio, which doubles as the headquarters for Four Destinations Entertainment, a Canadian company he began with friend and business partner Liam Sturgess.
"We teach lessons and offer studio recording for solo musicians, bands, voiceover actors, and anyone else looking to record any project," Balanko says. "This studio's an incredible resource for us. If I have the urge to get an idea out at midnight, I can hop in the car and head over."
As of late, Balanko has had a lot of those urges. The budding folk-pop singer-songwriter recently released his debut album. Titled "Stories," it's a three-year, 12-track project that's the culmination of a musical dream. "The title 'Stories' comes from the idea that these songs really aren't related to each other at all," Balanko said. "They cross over a few different styles and genres, and take the album through a variety of moods and topics."
One of the dominant inspirations of "Stories" is a brief but impactful time Balanko lived in Del Mar. Born in British Columbia, Balanko moved to Del Mar when he was 6 years old. It's his childhood experiences during that time which shaped "Stories'" debut single, "Home."
"This song was a chance for me to look back at my childhood in a way I hadn't before," Balanko said. "The second verse (of that song) talks about school, saying 'I never really liked the playground / I guess I wasn't ever cool.' When I first moved to San Diego, it took me a couple of months to get into a new routine, make friends, and settle in. That's the time that line is referring to. The song refers to specific moments across my childhood where things weren't always 100 percent."
Despite only spending three years in Del Mar (Balanko moved back to Canada with his mother after his parents divorced), Balanko holds Del Mar and his experience at Del Mar Heights Elementary School close to his heart.
"Del Mar has always felt as much like home to me as Vancouver," he explained, remembering Del Mar was where he learned how to ride a bike, had his first crush, and bonded with his father.
However, the most important quality his father passed on to him was his taste in music.
"I grew up listening to my dad's music, which spans from the Rolling Stones to Bob Marley to Jack Johnson, and almost everything in between," Balanko said, drawing inspiration from that group to shape his sound, which to this day is reminiscent of a combination of all three singular artists. "A lot of my dad's music was about a good sound and strong songwriting, so those are things I was attracted to before I even knew what they were."
Now with his first album under his belt, Balanko is looking forward to mining his life for inspiration for the next one. "Between wrapping up production on 'Stories' this year and planning the release, I took a bit of a break from writing," he said, getting ready to go back to work in his Vancouver studio. "It feels really good to put the pen to paper again. I forgot how important it is for me to keep writing; it's how I sort my thoughts and emotions, and it always helps everything make sense."
For more on Balanko, including Stories and the recently-released video for "Home," check out his website: www.alexbalanko.com
---