Local students among prize winners at Steinway Piano competition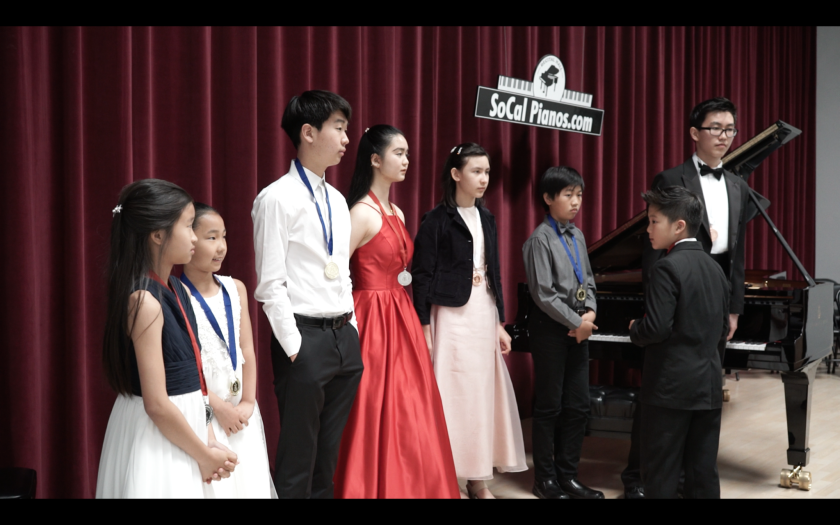 San Diego piano students are among the winners of a statewide piano competition sponsored by Steinway & Sons Pianos. The competition was the first-ever of its kind and it was held at SoCal Pianos Recital Hall, home of Steinway & Sons Pianos, in San Marcos.
Seventeen finalists performed at the competition on May 5 after a lengthy elimination process that started in April. Nine esteemed judges from universities across California observed 95 auditions in three days to choose the first round of participants. From there, the competition was whittled down to 17 finalists for three age-group categories – Ages 7-9, Ages 10-13, and ages 14-18. The contest was one of dozens of similar competitions taking place across the country – all sponsored by Steinway.
"Steinway had the idea for this competition to keep young artists in cities across the country excited about playing the piano, and to reward them for their practice and study time, said Rick Rice, the manager of SoCal Pianos. "With the large database of piano teachers that we have and Steinway & Sons' national media campaign, we were able to connect with teachers to create this opportunity for young artists."
In the 7-9 Division, Amy Guo from Brea took first place, Melody Chen from Rancho Bernardo took second place, and Gavin Li of Carlsbad took third place.
In the 10-13 Division, Malvyn Lai from Scripps Ranch was awarded first place, Jadon Wu from Mission Viejo was awarded second place, and Ally Negulescu from Temecula was awarded third place.
In the 14-18 Division, Tyler Kim from Temecula won first place, Annie Liu from Carmel Valley won second place, and Michael Chen, also from Carmel Valley, won third place.
Twelve-year-old Ally Negulescu described the experience of being a pianist. "The thing is that when you play piano, it just takes you into a different world. And each different piano has a different thing to say. So when you play one piano, it wants to say something and the other piano wants to say something else. So it's just a wonder."
Fifteen-year-old Tyler Kim said, "It's like a fine line between being in the zone and being really concentrated, or being out of it. The goal's always to be in the zone and play your best. It feels good once you're in it. It feels like nothing can stop you."
And 11-year-old Jadon Wu likes to share his talent with a variety of audiences. "I like to perform and I especially like to play in convalescent homes for the old people who most of the time have never heard music before."
First-place winners received a cash prize -- $400 in the 7-9 Division, $700 in the 10-13 Division, and $1,000 in the 14-18 Division. All first, second, and third-place winners received a Steinway lyre medal, and all finalists were given a certificate from Steinway & Sons and free tickets to the San Diego Symphony.
The outstanding young pianists were judged in five categories -- Musicality and Artistry, Technical Mastery, Adherence to the Score, Stage Presence, and Memory. Each performer had to memorize a six-minute piece. Chopin, Prokofiev, Tchaikovsky, Beethoven, Mendelssohn, Haydn, and Liszt were among the composers chosen.
Dennis James, the owner of SoCal Pianos, noted, "Witnessing the dedication and passion that all of the young artists who participated in this and other competitions never ceases to inspire me. That's why we continue to support programs like these for music makers at any level."
---
Get the Del Mar Times in your inbox
Top stories from Carmel Valley, Del Mar and Solana Beach every Friday.
You may occasionally receive promotional content from the Del Mar Times.