San Diego-based Tribal Seeds to kick off Del Mar Racetrack concert series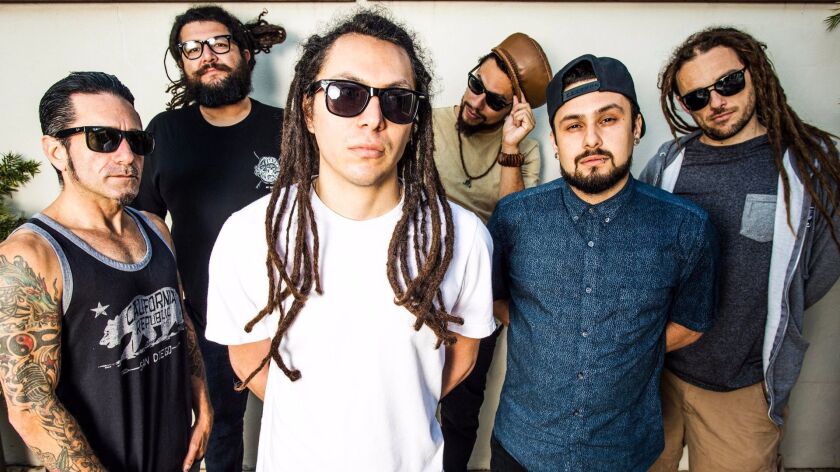 The renowned Del Mar Racetrack concert series has featured the likes of musical legends from Jack Johnson to Weezer. Come July 21, Tribal Seeds joins that esteemed list to kick of the track's 2017 season. "I'm stoked Tribal Seeds is a part of the series," said the band's co-founder and keyboard player Tony-Ray Jacobo, who's visited the series before - as a spectator. "I've personally been a couple of times to see Ziggy Marley and The Offspring."
The Seeds' plum kickoff performance slot is just the latest coup for the San Diego-based band who released its debut EP in 2005. Founded by Tony-Ray and his brother Steven Rene Jacobo, the band built a successful career based on a unique sound that combines both reggae and rock into one tidy musical package.
Along the way, they've built an intense following thanks to a bevy of recordings (recent track "Rude Girl" is based on a mean dog, oddly enough) and a busy slate of tour stops, the resulting success of which can be traced back to a pivotal tropical excursion during their humble beginnings. "The first time we went to Hawaii as a band we gave some of our music to a radio station in Maui," remembers Tony-Ray of the landmark moment in the band's rise. "Soon after, people were requesting it and it got on rotation. That was big."
Just as important was the fact that established bands soon took a liking them, with acts ranging from Soja to Rebelution early champions. "Slightly Stoopid took us on our first amphitheater tour which was huge," says Tony-Ray of the fellow famed San Diego act. "They are the big hometown band and we got to open for them on big stages all around the country."
Since then, the members of Tribal Seed have gotten used to the hectic nature of life on the road. "I feel blessed and honored to be able to do this for a living," said Steven Rene. "Not a lot of people get to make a living playing and making music. When times get hard out on the road, I just try to remember how blessed I am do be in the situation I'm in."
As of late, the Seeds have plenty to be blessed about, the most notable of which is being awarded Artist of the Year at the recent San Diego Music Awards. ("That definitely was unexpected for me," says Tony-Ray. "We were honored to be recognized by our city in that way.") In addition, the group also has a new album on the horizon, slated for release in 2018. "I think this next album will be more roots (based)," reveals Steven. "At this point in my career, I'm not too concerned with trying to appeal to as many people as possible, I don't like worrying about trying to get bigger. I just play what I like and I love roots music."
Playing what they love has worked so far as a strategy for the band, translating into chart success. The Tribal Seeds band enjoyed securing the number one slot one the Billboard reggae charts when its 2014 album, Representing, was released – a coup made all the more impressive considering the band is proudly independent, building a monster fan base without the help of a major label machine behind them. "We've been independent since day one," said Steven. "It is definitely nice to have the freedom to make music how we want and when we want and not have the pressure of a label or corporation dictating what we do."
For now, they're gearing up for their grand Del Mar Racetrack debut. Says Tony-Ray: "It's a big event that the whole city looks forward to. Gonna be awesome to take that stage."
Tribal Seeds heads to the Del Mar Racetrack's Seaside Stage on Friday, July 21, with their set tipping off following the last race of the day.
For more information, visit dmtc.com/concerts and tribalseeds.net
---
Get the Del Mar Times in your inbox
Top stories from Carmel Valley, Del Mar and Solana Beach every Friday.
You may occasionally receive promotional content from the Del Mar Times.