Del Mar author pens 'Edelweiss: Chronicle of a Del Mar Beach House 1885 to Now'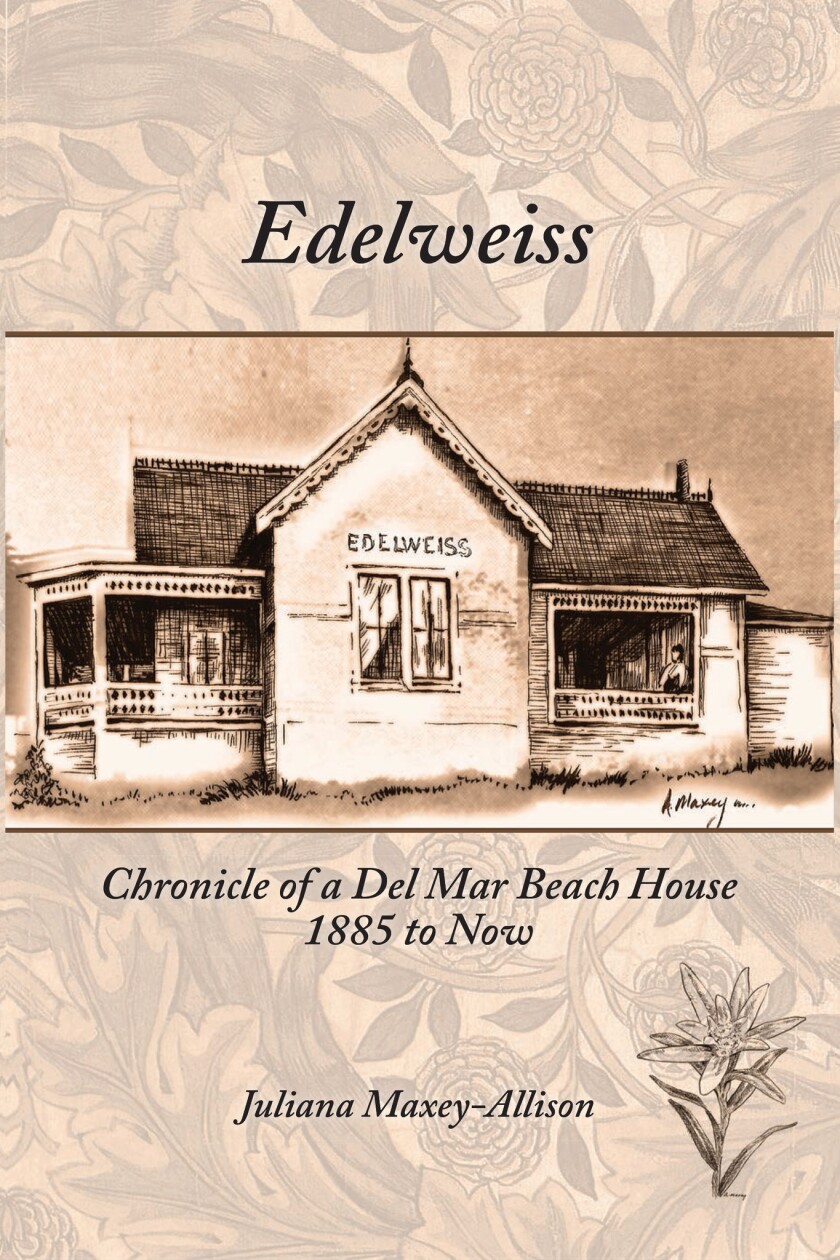 While she lived in Manhattan, Juliana Maxey-Allison wrote for "The New York Times Magazine," "New York," "Self," "Ladies Home Journal," and other publications. But after returning to the West Coast in 2004, she turned her talents to researching and writing about the history of the century-old house she had lovingly restored in the 1970s. In contemporary Southern California, where bulkier, more massive development can overwhelm or displace older residences, Edelweiss is one of three (soon to be just two) remaining original Del Mar houses. Published Dec. 6, Maxey-Allison's "Edelweiss: Chronicle of a Del Mar Beach House 1885 to Now" reveals the backstory and the characters that make these originals so interesting and worth preserving, as it combines local history and memoir with tips on researching and revitalizing a vintage home. The book is available at Amazon.com.
Mining her own family archives, unearthing old real estate records and relating what she found to what was going on in the wider world at the time, Maxey-Allison has put together a captivating tale of Edelweiss house and its people, from pioneers to celebrities. The story begins with the author's first look at the Del Mar house in 1972, then doubles back to the origin of the cottage in 1885 and works forward from there.
In the early 1880s, Jacob Taylor sized up the scrappy brush-covered site then called Weed, and gambled that trains would soon bring people to this spot on the San Diego County coast. Taylor, Del Mar's first real estate developer, envisioned and built an extravagant tourist destination. The house at 227 10th Street was part of his dream made manifest. Maxey-Allison encountered the sagging, slouching, peeling "old Victorian beach cottage" almost a century later and couldn't resist it.
To support the author's easy writing style, she and her editors at Dayton Publishing (Solana Beach) assembled the illustrations: pen-and-ink drawings by Seattle artist Abigail Maxey and others; black-and-white photos from the archives of the Del Mar Historical Society, the Library of Congress and local newspapers; family snapshots of the renovation process; and pictures of Edelweiss today by photographer Elizabeth Zusev.
At 80 pages, Edelweiss is shorter than other Del Mar histories — among the best-known, "Del Mar: Looking Back" by Nancy Ewing (the definitive source, 1988, 320 pages) and more recently "Del Mar Days, Book 1: People and Events" by Gene Schwartz (a collection of his newspaper columns from the 1980s and '90s, 2016, 200 pages, with two more volumes to come in 2017).
"Julie's goal was different," says publisher Linnea Dayton. "Rather than a comprehensive, information-packed reference, her book is a 'bite-size' local history that captures the feel of moving through Del Mar's first century with the inhabitants of Edelweiss. The book introduces some intriguing mysteries." Among them: how this Del Mar beach cottage got its Swiss-chalet look; why so many of its owners were women; and whether Edelweiss was really the hideaway of celebrities Mary Pickford and Douglas Fairbanks, Jr. in Del Mar's star-studded 1920s and '30s.
"It's a great read," says Bob Gans, Del Mar Foundation's president.
"Even more important," says Larry Brooks, president of the Del Mar Historical Society, "thank you, Julie for restoring Edelweiss for us instead of subjecting it to the omni-present California bulldozer." Edelweiss is one of three remaining houses from Jacob Taylor's original Del Mar.
– Submitted press release
---
Get the Del Mar Times in your inbox
Top stories from Carmel Valley, Del Mar and Solana Beach every Friday for free.
You may occasionally receive promotional content from the Del Mar Times.