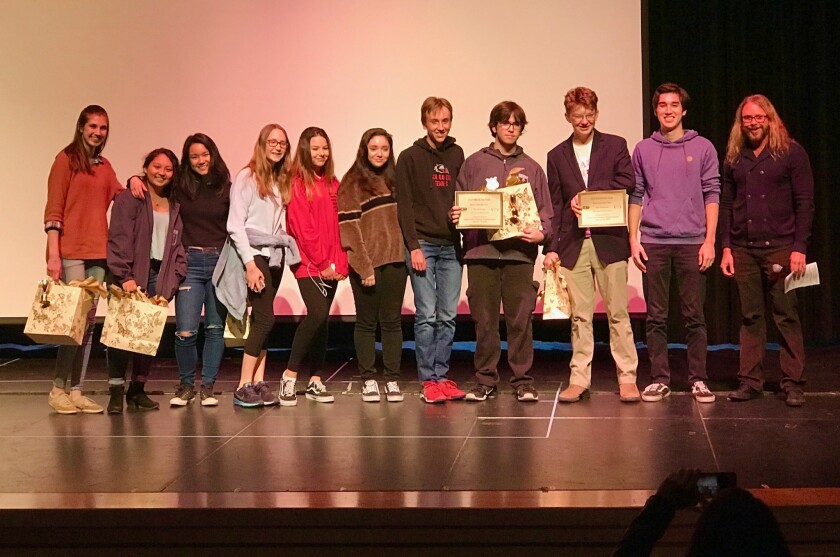 It was a sold out auditorium for the 7th annual Canyon Crest Academy Envision Cinema MiniCine Fest. Twenty films were showcased as part of the annual production. The 48-Hour Film Festival, as it's also referenced, has grown in size every year, according to CCA Envision Cinema Coordinator Mark Raines.
"When it first started it was a really small event with a limited group of kids only open to students here at CCA and now it's grown into something where students throughout the entire school district can participate in," Raines said.
The two film festival categories included the Judges' Choice Award won by the film "The Dreamer" with Tyler Jones and Quincy Smith. The Audience Choice Award went to the film "The Final Component" with Melanie An, Angela Melugin and Katie Sheng.
More information on MiniCine Fest 2018 can be found at YouTube.com/ccatelevision and facebook.com/ccatv/
Event participants (back left): Timothy Zhang, Noah Hect, Collin Bae, Jack Anthenelli, Quincy Smith, Kevin Garcia, Ava Cantey-Settoon, Tyler Jones, Riley Scott, Max Mereminsky, Daniel Goodman, Reed Martin; (Middle) Vivi Husted, Katie Moore, Melanie An, Leianna Yuen, Campbell Moore; (Front) Diego Dominguez and Envision Cinema Coordinator Mark Raines
---