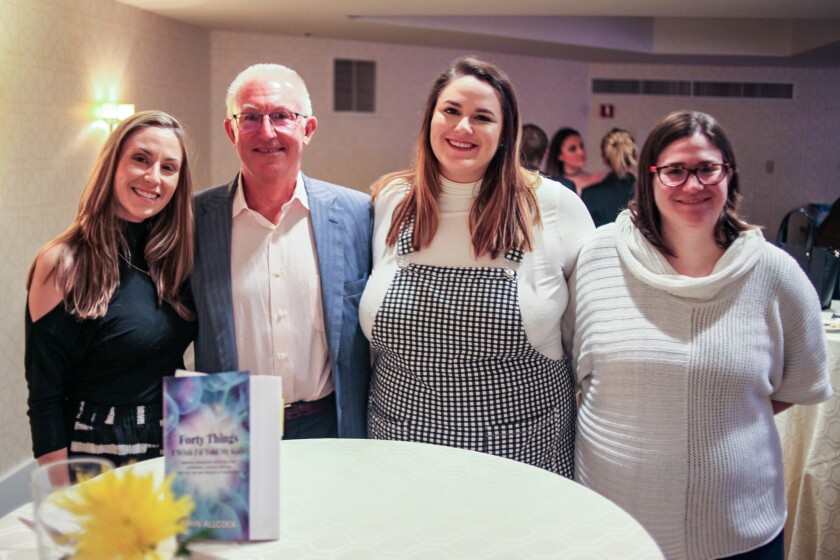 John Allcock sat down on Father's Day of 2009 to type out the email he had long wanted to send his three daughters: he had finally found clarity for the book that he had promised them he would someday write.
"It will be an effort to tell each of you now what I never knew when you were younger," the email began. "… It's about how to be happy, to be happy when bad things happen."
The next few years brought several hundred emails in that vein; anecdotes and essays that crystalized the journey of self-discovery that had come through his training in the tenets of mindfulness. From his daughters, the emails made their way to friends, which led to an editor who shopped it around to publishing houses.
But the moment was not yet ripe.
Then came the Feb. 3, 2014 edition of TIME magazine—its cover touting "The Mindful Revolution"— which touched off an explosion in interest in meditation and its kindred practices borrowed from the ancient East and repackaged for modern Western consumption. Allcock seized that moment to shop his book again, this time catching the eye of Morgan James Publishing.
And so it was that Allcock stood before three dozen friends, family members and guests on March 3 at the L'Auberge Del Mar, reflecting on the winding path that led to the release of Forty Things I Wish I'd Told My Kids—and the lifetime of lessons upon which it is built.
From its opening chapter, Forty Things seeks to root out the personal foibles that distract us and the fallacies that stifle our full potential. Foremost is to refuse to be ruled by the tyranny of external events, Allcock said, to see the triviality in stock market tickers and traffic-clogged commutes. Forty Things drives that home by beginning with Max Frankel, who watched his family die in Nazi concentration camps, Allcock said, yet remained resolute that "the last of human freedoms" is to "choose one's own way." After the war, Frankel's writings helped create the psychological mindset from which the Western mindfulness movement sprung, Allcock said.
"If you remember nothing from here," he told the gathering, "remember it's your response to events that govern your experience of life, not the events that occur to you."
Thirty-nine other lessons follow from there, many of which center on the mind's ability to become a student of pain rather than its victim, to accomplish feats that would otherwise seem superhuman. For proof, Allcock needed to point only a few yards away, to the spot where the students and teachers of Sea Change Preparatory school gather three mornings a week to meditate by the beach before venturing out into the ocean to swim to La Jolla and back.
A Harvard-educated trial lawyer, Allcock created the school's mindfulness curriculum after crossing paths with his now-wife Cheryl, who for more than a decade had run the Arch Academy in Kearny Mesa, a private school specializing in students with learning disabilities.
His mindfulness curriculum—which includes Forty Things—has taken an even deeper hold since the Allcocks moved the school to downtown Del Mar in September, rebranded as Sea Change Prep and widened its focus to children who aren't reaching their full potential.
Just as those students flourish by unlearning their self-imposed limitations, Forty Things implores its readers to understand—and then transcend—the limitations embedded in our psyches. Despite mankind's steady march into modernity, the brain remains biased toward fear, Allcock said, having been hard-wired at a time when predators lurked at every step. Nearly every time our fear impulse is triggered today, it is not by a rattle snake or a saber-toothed tiger, he said, but because of a new credit card bill or the latest political intrigue.
"When it's a rattlesnake and you can either kill it or run from it, the fear is fantastic," he said. "But when it's in your head, and the adrenaline goes and the cortisol goes … it just feeds it more, and you end up in some very, very bad situations."
Upon reaching its closing chapter, Forty Things circles back to where it began: happiness as a matter of ownership.
"The events that life deals [us] have a bearing on how we live and whether or not we're happy on a moment by moment basis," Allcock said. "But they don't control our happiness; it's our response and the mindset we bring to it that controls our happiness."
Learn more at fortythingsiwishidtoldmykids.com
---