New Del Mar photo exhibit offers global perspective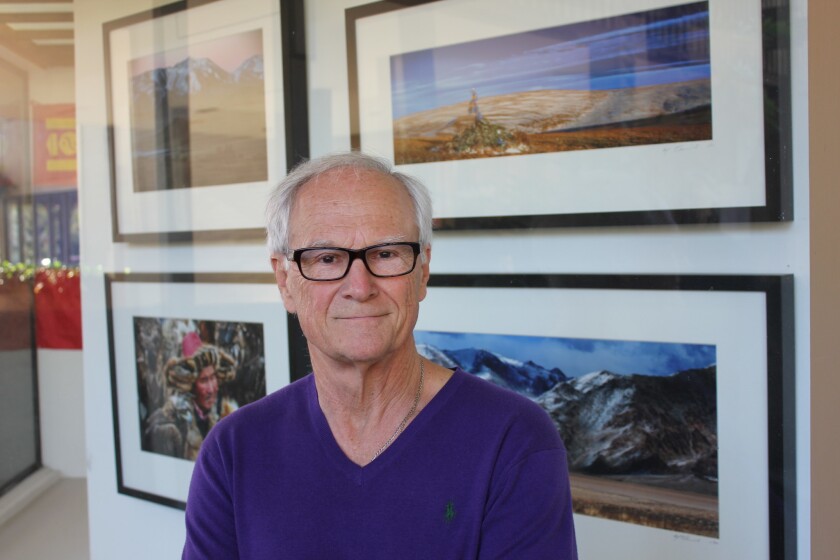 Armchair travelers will have a field day with a new photography exhibit on display at Del Mar's Herbert B. Turner Gallery at Southfair.
The exhibit features 64 photographs by San Diego photographer Michael Orenich, focusing on images from Mongolia, Cuba and Morocco. Also included are shots from Greece, Italy, Spain and France.
The photos went on display this month, and the exhibit will continue through March 4. A "grand reception," open to the public and billed as black-tie optional, will be held from 4 to 8 p.m. on Saturday, Jan. 28. The gallery is located at 2010 Jimmy Durante Blvd.
One unique aspect of the gallery is that the artworks, in this case Orenich's photos, are housed in glass-fronted display cases in the complex's inner courtyard. That means the gallery is essentially open at all hours of the day and night, as the viewing area is outdoors and not enclosed in the building.
The complex, which houses a number of businesses, including a fitness center, was designed by the gallery's namesake, architect Herbert B. Turner, who during his career designed some 50 homes and commercial buildings in Del Mar. The complex and gallery are now owned by Rachel Turner Thomas, the architect's daughter.
"Herb's wishes were to always use this space for local artists to display their work," said Bob Coletti, who, along with Orenich, has been coordinating exhibits at the gallery for the past year.
In 2016, the gallery hosted a series of themed exhibits, on such topics as equine and surf art, with each show featuring the works of multiple artists. This year, the gallery will host solo shows, the first of which features Orenich's photography.
"It requires a large body of work," said Orenich of the solo exhibit.
For this exhibit, Orenich chose works primarily from the countries of Mongolia, Cuba and Morocco.
He considers himself to be a "narrative photographer," meaning, "I'm trying to communicate elements of the culture."
Orenich traveled to remote areas of Mongolia in 2013, getting around by jeep with a driver, translator and a British photojournalist.
The group flew into the Mongolian capital, Ulaanbaatar, then embarked on a 300-mile journey, partly over roads and partly across country, Orenich said. Their destination was an Eagle Festival, where participants showed off their skills working with trained eagles in hunting and horsemanship. The festival also included such competitions as archery, camel racing and flogging, in which female riders whip their male counterparts, while both partners are on horseback, Orenich said.
The striking scenes show the hunters with their raptors, and also the gorgeous backdrop of snow-streaked mountains, as well as the round tents, called gers or yurts, where the nomadic herders of Mongolia reside.
Orenich's Morocco scenes show village life, as well as classic desert scenes of rolling sand dunes. In order to find pristine landscape unmarked by footprints or jeep tracks, he engaged a guide to take him into Algeria, in a conflict zone, he said, which required a trip first by Land Rover, then by camel.
He spent two days photographing the dunes, and the results of his labors are hanging in the Turner Gallery's display cases.
Visitors can arrange to purchase any of the photographs by contacting the artist directly via email which is posted at the gallery.
Orenich said his prints sell for between $350 and $900 apiece, and include custom frames and museum glass.
Orenich first took up photography in the U.S. military in the 1960s, and continued to snap photos as a hobby during his career in the semi-conductor industry. Upon his retirement 13 years ago, he said, he began devoting all of his time to photography.
In addition to his own photo expeditions around the globe, Orenich teaches photography. An upcoming class will be offered at a Michael's crafts store, he said.
For more information about the Turner Gallery and its exhibits, visit www.hbtgallery.com.
---
Get the Del Mar Times in your inbox
Top stories from Carmel Valley, Del Mar and Solana Beach every Friday for free.
You may occasionally receive promotional content from the Del Mar Times.