Surf documentary 'Secrets of Desert Point' to premiere at Newport Beach film festival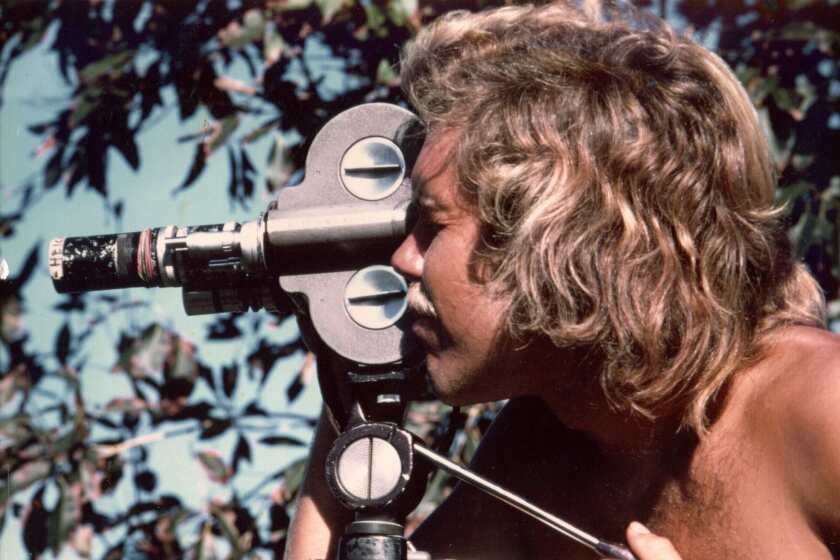 The camera opens on grainy 16 mm footage panning right across exotic tropical landscapes — a lush countryside, ancient temples, an austere island of rock and jungle rising from a heavy sea. Cut to a left-curling wave, churning clean and steady and seemingly without end.
So begins the new surf documentary Secrets of Desert Point by Opper Sports Productions in Solana Beach — a story 40 years in the making, drawn from season after season of unspoken excursions to the unmapped beach surf pioneer Bill Heick and his friends discovered on the southwest tip of Lombok island, far beyond the furthest outposts of the surf scene that had erupted out of nearby Bali and Java in the 1970s.
"It's one of the last great dirt-bag adventures of the 20th Century," said director Ira Opper. "Today, surfing is about sponsorship, professionalism, surf camps — it's kind of a cushy world. Back in the day, it was about exploration, adventure, travel. This story signifies everything that's great about the soul of surfing. You go out and you discover a spot. You keep your mouth shut, because you want to surf a perfect wave with your buddies. That's the ultimate experience."
Heick's hardscrabble crew — known as the Golden Beards in Indonesian surfing circles — managed to keep their secret for a decade. But as certain as Desert Point's unforgiving riptide, their once-hidden spot would go on to become world-renowned. The story of that discovery, however, will come to light for the first time when "Secrets" makes its debut April 24 as part of the Newport Beach Film Festival.
The project marks a departure for Opper Sports Productions. For more than 20 years, Opper has been producing some of the most widely recognized surfing content online and in television formats. This 45-minute documentary is his first foray into feature-length filmmaking.
Opper hadn't seen Heick in more than a decade before he showed up at Opper's door in 2015, a hard-drive in hand, loaded with hour upon hour of never-before seen footage. Heick had wanted merely to compile the footage into a sort of vanity project for that band of merry surfers. But once Opper realized the trove of footage at his disposal, he brought on a production team that included writer Steve Barilotti, Encinitas-based editor-at-large for Surfer Magazine, and editor Julian Clark, whom Opper had discovered when judging a La Jolla High School film festival.
What the team built from those archives reaches back to Heick's trips with his father — legendary ethnographic filmmaker William R. Heick — to document dance rituals of little-seen cultures on the other side of the Pacific. From there unfolds the story of surfing and survival in its most feral forms, camped out months at a time, year after year, on a malaria-infested beach.
It took 18 months and more than 800 hours of editing to winnow that footage down to the 45-minute documentary that will premiere next week at Newport.
"Sometimes the passion of the project overtakes any obstacle," Opper said. "This was just a story that we all wanted to tell. It was so core and honest and pure and had so much stoke in it, what these people went through to ride a wave."
"Secrets" premieres at 5:15 p.m. on April 24 at The Triangle 3 Theatre in Costa Mesa. After Newport, the film heads next month to the San Diego Surf Film Festival before plunging into the film-festival circuit.
A trailer for the documentary can be found at: https://www.youtube.com/watch?v=NVd_iKp8ziQ
---
Get the Del Mar Times in your inbox
Top stories from Carmel Valley, Del Mar and Solana Beach every Friday for free.
You may occasionally receive promotional content from the Del Mar Times.