Canyon Crest Academy presents 'Evita' starting March 6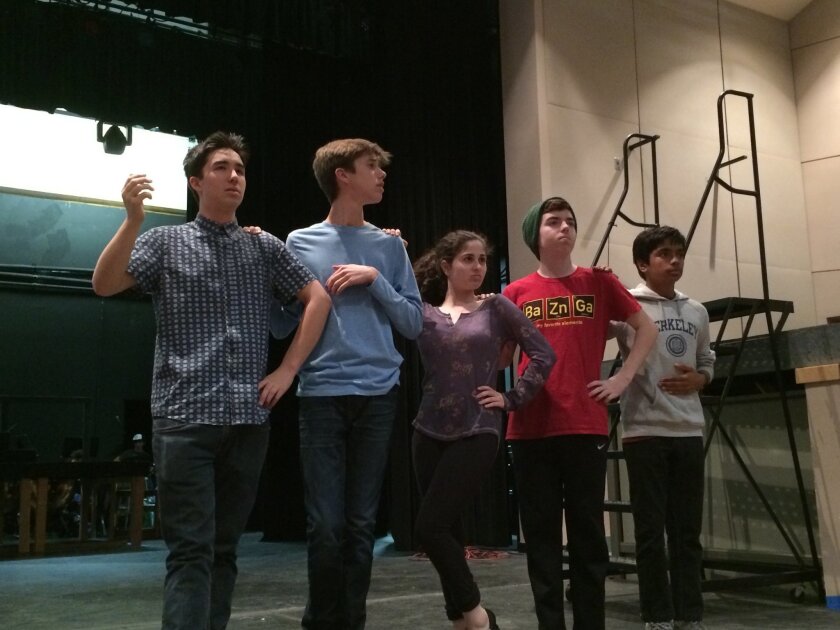 Canyon Crest Academy is staging Andrew Lloyd Webber's iconic Tony award-winning show "Evita."
The sung-through musical set to Tim Rice's lyrics is presented through CCA's Envision Theatre and is a collaboration of Theatre, Dance, Vocal, Instrumental and Humanities Conservatories.
A 2 1/2-hour tour de force, the show features the famed song, "Don't Cry for Me Argentina."
There are 58 cast members and in total a 150 strong team making this the boldest production to date for CCA's Envision Theatre, said Jeannine Marquie, CCA Envision Theatre Coordinator and show director.
"The talent pool of students is phenomenal so it was really hard to choose the lead roles. I wanted to get as many of these talented people involved," she said. "One of the reasons I chose the show is that there are lots of cameo parts."
Three students have been cast in the lead role of Eva Peron: Madi Rae Dipetro, Sam Tullie and Brooke Patterson, who each represent the three distinct phases of the charismatic yet controversial former first lady of Argentina.
"This is definitely one of the most challenging roles that I've taken on because its so different," said Brooke about her role as Eva. "She was such a strong personality, for me it's an invigorating experience in that sense, and has really helped me to develop as an actor."
Steve Macario plays Che, Constantine Mickens is Juan Peron, Jonas McCullen is Magaldi and Aly Charfaurous plays Peron's mistress. A large ensemble of vocal, dance and theater students creates a dynamic energy on stage, and the student orchestra provides the musical score.
The larger-than-life production crosses many musical genres. "It's operatic, it's rock, it's jazz and it's Latin rhythms," said Gabriel Krasovic, ensemble cast member who dances a tango with Elena Eroshkin to the toe-tapping number "Surprisingly Good For You."
Actor and dancer Max Cadillac, CCA guest artist, has designed the production's choreography, and Leigh Scarritt, one of San Diego's premier voice teachers, is music director. "They both have great talent and bring a lot of energy to the production," said Marquie.
The plot follows the life of Eva, a young Argentinian from humble roots who becomes the powerful wife of a dictator before her tragic death at age 33.
Ambitious and hungry for power, she captivated a nation by appealing to the working class. Beside her husband, Juan Peron, Eva became a symbol for hope and change in the Argentine community.
To prepare for their roles, cast discussions were an important element. "We talked about different class structures and feminism, as Eva essentially pushed for women's votes and rights," said Marquie. Humanities conservatory students gave a presentation to the cast and crew to help underscore the importance of this aspect of the work.
"It was great because I am taking world history this year, and I am singing and acting the things that I am learning in class; it's a different take on it," said Gabriel. "I can see the comparisons for the historical aspect and how it has been adapted for the show, and we all have a lot more knowledge about the subject."
Taylor Olson, student stage manager, works after hours and behind the scenes to make the talent shine on stage.
"It's stressful but I've found a way to time manage it. It's a lot of people and it can be very chaotic but I've been able to organize all my work knowing exactly what happens and when."
Under Technical Director Jeremy Sewell, with CCA Student Assistant Director Katherine Michel, Taylor's team of technical conservatory members provide sound, light and set design. "I keep everyone on track. It's really impressive, as all the techs are really committed," she remarked.
Marquie said that she is very thankful for the commitment that parents show through the CCA's Foundation, which makes large-scale productions possible. "Their support for the arts is unparalleled."
"Evita" promises to be a dynamic show, said Gabriel. "Most important is that this is high school theater, and we are interpreting these phenomenal roles. The music is awesome, the audience will love it. I don't think we are going to disappoint."
"Evita" will be staged in the Canyon Crest Academy Proscenium Theater, 5951 Village Center Loop Road, San Diego.
Showtimes are: 7 p.m. Friday, March 6 and Saturday, March 7; 4:30 p.m. Thursday, March 12; 7 p.m. Friday, March 13; and 2 p.m. and 7 p.m. Saturday, March 14.
Tickets cost $15 adults, $8 students, and $6 ASB and may be purchased at cca_envision.org.
CCA is partnering with CASA, an organization that helps foster children. When purchasing Evita tickets online you can also purchase a $6 ticket for a foster child to come to the show on Thursday, March 12, at 4:30 p.m. or Saturday, March 14, at 2 p.m. Select the number of seats you wish to purchase, and under ticket "Type" select "CASA $6.00."
---
Get the Del Mar Times in your inbox
Top stories from Carmel Valley, Del Mar and Solana Beach every Friday for free.
You may occasionally receive promotional content from the Del Mar Times.