Del Mar artist with autism set to open first solo exhibit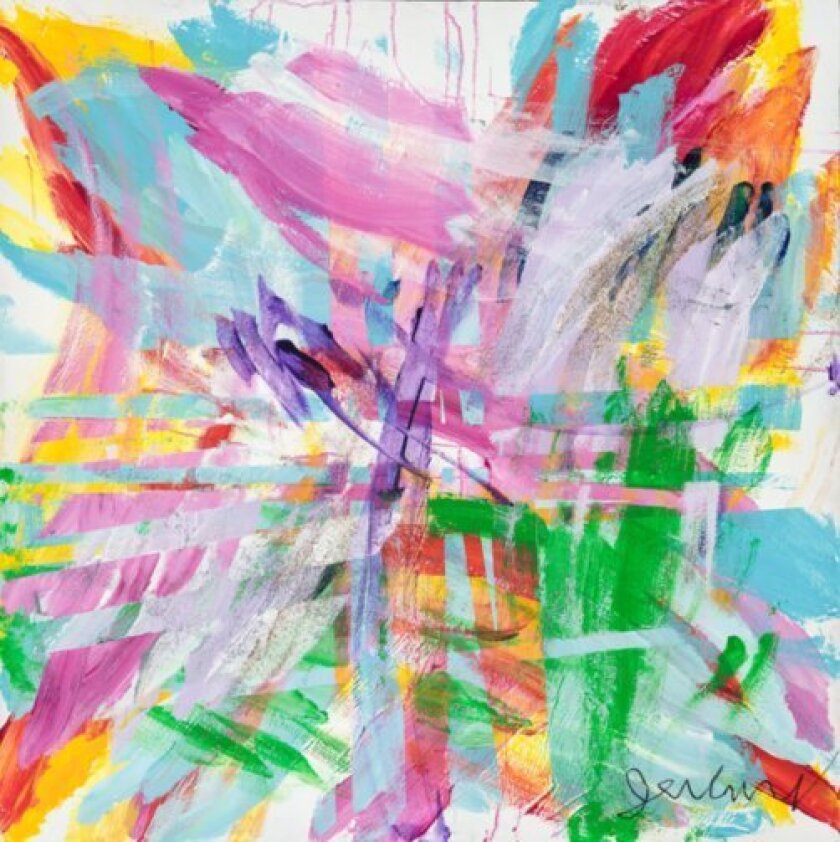 Although he is nonverbal, Del Mar's Jeremy Sicile-Kira can communicate in ways others cannot.
Diagnosed with autism when he was 3 years old, the local artist also sees letters, words and emotions in color. Using his synesthesia to create vivid paintings, Sicile-Kira is kicking off his first curated solo art exhibit, "Inner Dimensions," April 11 at Space4Art in San Diego.
"I truly believe that mostly we must very much give people a way to communicate," said the 27-year-old, who communicates by typing or pointing to letters on a letter board. "Truly there may be more gifted artists. Realize that we nonverbal people with sensory motor challenges need assistance to discover our talents."
Sicile-Kira's mother, Chantal Sicile-Kira, always knew her son was attracted to color. The shades and patterns of book covers, pictures and rugs fascinated him. He didn't start painting, however, until three years ago.
While flipping through a book by an author who had autism and synesthesia, she discovered her son also had the neurological condition and associated colors with emotions.
For years, Sicile-Kira had dreams that he painted the emotions of people he met into colorful portraits. It wasn't until then, however, that he informed his mother about his dreams and his desire to paint them.
After dreaming about having his own art show, Sicile-Kira asked his mother if his dream could become reality.
"'First you have to paint your paintings,'" she told him.
"Now, three years later, he is finally having his first art show," said Chantal Sicile-Kira, an author who has lived in Carmel Valley for 18 years.
"This is a great way to show people that just because you're differently-abled doesn't mean that you don't have gifts," she added. "I want families who have kids that are differently-abled to realize that."
Sicile-Kira meets people in person or online, "reads" their colors and then paints to recreate the portrait he envisions while dreaming.
"My truly great ability is to read people's emotions and translate them in my dreams into glorious paintings, realizing their true self," Sicile-Kira said. "My ability to paint the colors I see in my dreams is the greatest gift I have. I frankly greatly hope my paintings inspire only the good in people."
Taking place during Autism Awareness Month, the exhibit is curated by artist Mariza Sanchez. Commissioner of Arts and Culture for the city of Tijuana, Sanchez has been curating art shows for more than 20 years.
The show will feature about two-dozen paintings on display. Some are available for purchase, while others are already a part of private collections. Members of the public will also be able to order paintings.
"His paintings are very uplifting," said Chantal Sicile-Kira. "I just feel like he has this gift and his wish is to share it with people."
"I'm excited to show my art to the public," her son added. "Truly I hope to make a positive impact on the community."
The "Inner Dimensions" exhibition will be open from Monday, April 11 until Saturday, April 23 at Space4Art, located at 325 15th Street in San Diego. Gallery hours are 11 a.m. to 4 p.m. Wednesday through Saturday.
For more information about Sicile-Kira and his first curated solo exhibit, visit www.jeremysvision.com.
---
Get the Del Mar Times in your inbox
Top stories from Carmel Valley, Del Mar and Solana Beach every Friday for free.
You may occasionally receive promotional content from the Del Mar Times.