Panera Bread rises to occasion with April 6 opening in Pacific Highlands Ranch in Carmel Valley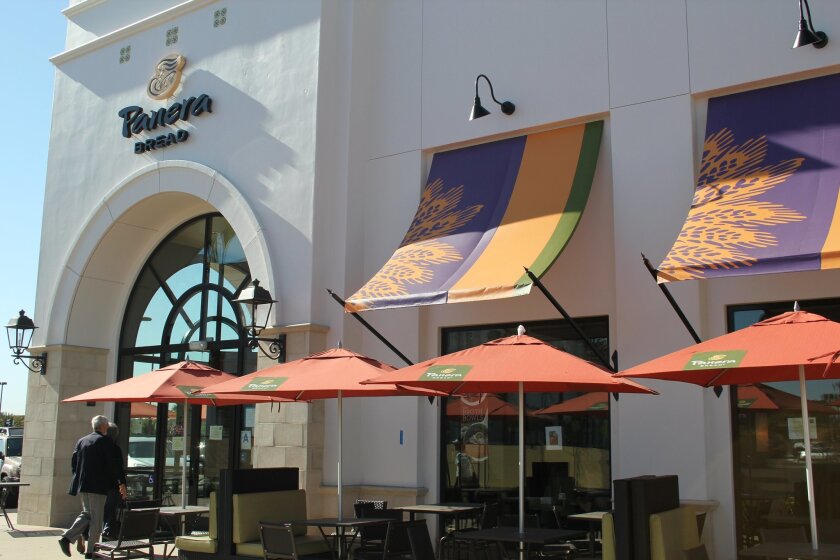 The Panera Bread in the Village at Pacific Highlands Ranch will open at 6 a.m. Monday, April 6.
As an opening day treat, the first 150 guests to make a purchase will receive a Panera Bread mug and free coffee for a month.
"We are thrilled to open our newest bakery-cafe in Carmel Valley," said Brian Campbell, marketing director of Manna Development Group, franchisee of Panera Bread. "Our concept has been embraced by many surrounding communities over the past 10 years in the area, and we look forward to sharing our signature Panera warmth here in Carmel Valley."
Panera has about 1,818 locations across the country. Manna, the franchise group based in Encinitas, is the second largest franchise group in the country with 79 locations. They run all of the Panera locations in San Diego, and Pacific Highlands Ranch will be their 19th café in the region.
Every Panera location is a bakery, and that's different from many other restaurant concepts, said Sandy McElfresh, director of sales and marketing. Bakers come in every night and bake all night long so that in the morning the restaurant is full of freshly baked baguettes and loafs, bagels, croissants, pastries, muffins and muffies (just the top of the muffin) in flavors like pumpkin, blueberry and peach pecan.
In addition to sweet options, like cookies, cupcakes and cakes, the café also serves up plenty of savory items like soups, salads and sandwiches.
McElfresh said Panera prides itself on being "food you can trust"; it is committed to clean ingredients and menu transparency, and is the largest purchaser of antibiotic-free chicken in the United States.
The location will also feature Panera's new Rapid Pick-up service, which enables guests to order online up to five days in advance and pick up their food at a predetermined time without waiting in line.
Panera also seeks to create an environment where people feel welcome to sit and stay a while.
"I think in the restaurant industry there's a lot of talk about 'turning tables.' That's just not who we are," McElfresh said.
They were one of the first restaurants to promote free Wi-Fi, and every location is outfitted with comfy, overstuffed chairs and large tables that encourage people to meet and linger.
For 25 years, Panera Bread has worked to combat the problem of hunger through their Day-End Dough-Nation, donating unsold bread and baked goods to local organizations. In 2012, Panera donated approximately $100 million worth of unsold goods to help neighbors in need. The Pacific Highlands Ranch store will do the same.
"We feel so blessed, it's our privilege to give back to the community," McElfresh said.
Rather than tips, the café collects donations in its Panera Cares Community Breadbox to support local charities.
Panera is excited that all of the extra pennies, nickels and dimes collected at their 18 San Diego locations have raised $40,000 for Scripps Hospital Foundation. A special check presentation will be held at the new PHR store at 10 a.m. Wednesday, April 8.
"That's pretty amazing," McElfresh said. "Our local community is extremely generous, and we're blessed to be able to support the community's charities."
Panera Bread is open from 6 a.m.-9 p.m. Monday through Saturday and from 7 a.m. to 8 p.m. Sundays. The new café will employ more than 60 associates and managers. Anyone interested in working for Panera Bread can apply at panerapeople.com.
---
Get the Del Mar Times in your inbox
Top stories from Carmel Valley, Del Mar and Solana Beach every Friday for free.
You may occasionally receive promotional content from the Del Mar Times.