Kickstarter party April 18 for streaming video service focusing on art and artists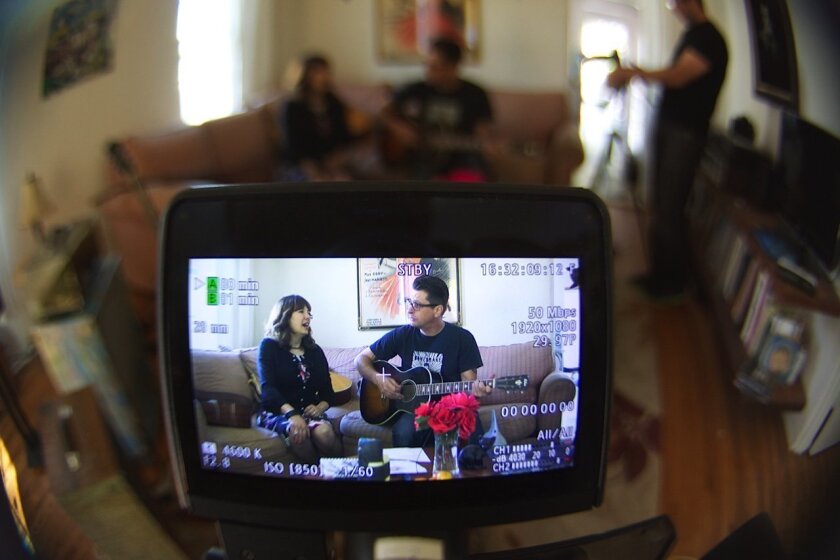 From behind-the-scenes looks to sit-down interviews, arts enthusiasts will soon be able to have unlimited access to premium arts television. The Artist Odyssey, a new subscription-based streaming arts-related video service, starts this fall.
To raise funds for the project, The Artist Odyssey launches its Kickstarter campaign with a party April 18 at 3RDSPACE in San Diego. Four local artists will create and perform live at the event.
"I love what I do and I'm looking forward to sharing these conversations with others," said founder Chris Fessenden, a Del Mar resident for more than 20 years. "Hopefully, we can share the magic that we're feeling."
The Artist Odyssey is a global arts network focused on sharing artist stories and supporting school arts programs. Artist documentaries put the audience in the gallery or studio with leading photographers, filmmakers, musicians, visual artists and performing artists.
As a child, Fessenden was surrounded by the arts. His mother studied music and was a teacher for 26 years. She always brought music into her classroom. His father studied drama and was a fighter pilot in the U.S. Navy. He performed in musicals in the evenings and on the weekends.
In addition, his family had friends who played in local bands. He also became friends with a number of people who grew up to be professional artists.
Although Fessenden went on to earn a bachelor's degree in political science at UC San Diego, arts and creativity have always remained a part of his life.
Before establishing The Artist Odyssey, Fessenden started and ran a small video production in the mid-1990s. He then spent 12 years in the finance industry, researching technology, media and consumer companies.
Fessenden and his team began working on The Artist Odyssey about two years ago, filming, reviewing and editing interviews and other footage. The team has since filmed 20 interviews, all of which are in post-production.
As part of the public launch of the company, trailers for some of the interviews have been released. The company plans to release its subscription-based network in the fall.
The fall launch of the network will feature a video archive at least 10 to 20 interviews. After the launch, a new interview will be released every week.
"Hopefully, as we grow, we'll have the ability to tell more stories while we maintain the quality," Fessenden said.
The Artist Odyssey will offer two types of interviews: Masters and Spotlight.
Similar to James Lipton's "Inside the Actors Studio," Masters interviews feature artists who have been leading their niches for decades. A sit-down interview, from 90 minutes to two hours, is filmed in front of a studio audience. So far, such interviews have been filmed at UCSD in conjunction with the university's ArtPower! series.
The artists are also captured in the gallery or studio. Testimonials with friends, family and peers are also included. Edited versions range from 45 minutes to an hour.
"These will eventually live as a series, if an artist is willing to give of their time," Fessenden said. "Our ultimate goal there is to provide a definitive career retrospective. This is evergreen content. We're not trying to be current events or news."
Spotlight interviews offer a more flexible format, Fessenden explained.
They feature shorter interviews with up-and-coming artists, usually just in the gallery, studio or field — wherever they create their work. Interviews could also take place at an event such as an art show or a film festival. They can be as short as two to three minutes or as long as an hour, covering their background, process and journey.
"There has to be an interesting story, and they have to be doing interesting work," Fessenden said.
To date, some of the artists Fessenden and his team have interviewed are Grammy Award-winning record producer Chris Goldsmith, filmmaker Neil Kendricks, muralist Mario Torero and visual artist Emily Halpern.
"I've enjoyed hearing the artists' stories," Fessenden said. "It's a lot of work, a lot of hours, but with every interview we've done — there's been a moment where the hair stood up on the back of my neck."
In addition to documenting artist stories, part of The Artist Odyssey's mission is to support arts education — something that was inspired by Fessenden's love of the arts and his mother's teaching career.
"Being surrounded by the arts, at the intersection of the arts and education, I saw the impact that arts education can have," he said.
At the end of every sit-down interview, there will be a 30-second to three-minute lesson. The quick lessons are designed to supplement arts curriculum. Rather than offer how-to videos, these clips will teach viewers unique tips and tricks.
"It's designed to really provide the insights and inspirations from professional artists — how they think about things," Fessenden said, adding that such a lesson could be an author's tip on how to move past writer's block.
The Artist Odyssey's long-term goal is to provide the curriculum for free. In the initial phases, each subscriber will be able to pick a classroom to receive the arts curriculum for free on behalf of the subscriber.
In celebration of The Artist Odyssey and to promote the network's Kickstarter campaign, a launch party will be held at 3RDSPACE, a co-working space and club for the creative, at 4610 Park Blvd. in San Diego.
During the event, singer-songwriters Nena Anderson and Roy Ruiz Clayton will perform. Clayton will also show some of his paintings. In addition, artist Mimi Wada will demonstrate large-scale Shodo, or Japanese calligraphy, using a giant brush to create a message with Sumi-e ink as she dances across a large scroll. Finally, mixed-media artist Trinh Mai will incorporate family heirlooms and found objects to create collages.
The event will take place from 7-10 p.m. RSVP for free admission. Admission is $5 at the door if space is available.
"We're excited to share these stories of inspiration from the artists," Fessenden said. "We hope that it grows to have an important voice in the arts community and in arts education."
To RSVP for the event, visit theartistodyssey.eventbrite.com.
For more about The Artist Odyssey, visit www.theartistodyssey.com.
---
Get the Del Mar Times in your inbox
Top stories from Carmel Valley, Del Mar and Solana Beach every Friday.
You may occasionally receive promotional content from the Del Mar Times.