Appreciation: Burt Bacharach, dead at 94, was a music legend who spoke out: 'I account for what I will say'
The winner of six Grammy Awards, three Oscars and an Emmy, the peerless songwriter inspired several generations of listeners and fellow musicians with his impeccably crafted, subtly subversive music. He was not a Grateful Dead fan.
As one of the greatest and most innovative songwriters in pop-music history, Burt Bacharach inspired several generations of fans and fellow musicians alike. Beyond the great art he created, two of my fondest memories of Bacharach — who died Wednesday of natural causes at the age of 94 — reflect his candor in denouncing political deceit and the fact that he really, really didn't like the Grateful Dead. More on those in a moment.
The Grammy-nominated songwriter passed away Wednesday at age 94 at his home in Los Angeles
Between 1995 and 2018, I was fortunate enough to do seven interviews with Bacharach. The most recent was at the Del Mar home where he and his wife, Jane, spent time at each year.
A few days later, while I was covering the 2018 KAABOO Del Mar festival, Bacharach's manager called me midafternoon on my cellphone. Burt and Jane, he told me, wanted to attend Earth, Wind & Fire's KAABOO performance early that evening. Could I help get them in?
I passed the request along to a 30-something KAABOO representative. Her eyes lit up at the mention of Bacharach's name, whom she knew from his appearance in the hit 1997 movie "Austin Powers: International Man of Mystery" and its two sequels.
In a near-instant, she arranged VIP passes and a golf cart to ferry the Bacharachs from the parking lot to an elevated viewing area near the stage. By all accounts, they had a great time.
"It's nice to be back again, after 27 years!"
Burt Bacharach was 90 at the time. He was likely the oldest attendee for Earth, Wind & Fire's performance. He was also the most famous and easily the hippest.
Exactly how hip was reinforced to me over the years as Bacharach's praises were repeatedly sung in interviews I did with such disparate artists as Dionne Warwick, Lyle Lovett, XTC's Andy Partridge, regular Bacharach collaborator Elvis Costello and k.d. lang. Costello's guitar-driven 1978 version of "I Don't Know What To Do With Myself" introduced a generation of then-young punk-rock and New Wave music fans to Bacharach's music. ("The Songs of Bacharach and Costello," a four-CD box set, is due out March 3.)
Warwick became a star in the early 1960s performing the wonderfully sophisticated songs Bacharach and lyricist Hal David wrote specifically for her to record. Timeless classics like "Walk on By," "Anyone Who Had a Heart," "A House is Not a Home," "Say a Little Prayer" and "Do You Know the Way to San Jose?" In 1986, at the height of the AIDS crisis, Bacharach co-wrote "That's What Friends Are For," which became a Grammy-winning hit for him and Warwick.
"It was wonderful!" Warwick said in a December Union-Tribune interview of her work with Bacharach. "It was like taking an exam every time I recorded with Burt and it helped me tremendously. He was a taskmaster, which was great."
The singing legend, who turned 82 on Dec. 10, is on the road again. Our interview includes a bonus Q&A.
Lovett agreed as he recalled his 1999 collaboration on a film soundtrack with Bacharach.
"It gave me a good sense of how exacting he is, and it was a wonderful experience," Lovett said at the time. "After I sang my first take, Burt very diplomatically said: 'Let's go over the melody together,' and we went over it, note for note. I had taken some liberties with it and he wanted me to sing it the way he wrote it."
Indeed, he did, as Bacharach later told me.
"Remember, it is a song that is not a cover record; it's the first time the song will be out there," said Bacharach, who during his career won seven Grammys, three Oscars and an Emmy.
"As the writer, I really want it right. It all lives and dies with me, in the (recording) studio, anyway. Because, for me, I just want everybody to give me 100 percent. So when it comes to interpreting a song — and the first time anyone will hear that song (will be the) version I wrote — yeah! It took me a while to write it, so I want to hear it the way I wrote it."
Lessons from Marlene Dietrich
Improving on the way Bacharach wrote it was an almost impossible task. And a pointless one.
"I'm just a country bumpkin," said country-music star Luke Combs, "but I think everybody in music would tip their hat to someone like Burt Bacharach. His songs are pretty much sewn into the fabric of living."
Bacharach was an unlikely musical subversive who drew from his classical training and love of jazz, which he studied formally and informally.
He subdivided rhythms within the same song yet made them sound smooth and natural. He reveled in creating complex harmonies, exulted in making unexpected melodic and rhythmic leaps, and — ever so subtly — employed dissonance and instruments rarely heard in pop, from French horns to marimbas.
Then again, he was a lifelong jazz fan who played in a big band as a teenager, then studied music with such groundbreaking contemporary classical composers as Henry Cowell and Darius Milhaud.
Bacharach's love of bebop and classical music later proved instrumental in helping him craft some of the most intricate and original hits in pop. His songs featured uniquely shifting melodies and harmonies, deft poly-rhythms and finely textured nuances.
Bacharach addressed his desire to be a classical composer in our first interview in 1995.
"I said: 'This is something I want to do,' " he recalled. "But if you asked me then if I wanted to lead the life of a serious classical composer, I wouldn't have had an answer for you.
"I didn't know how hard it was. I saw what they made, in terms of income, and that they had to supplement it by teaching. And I always found that to be a turnoff."
Legendary songwriter performs here Aug. 7 with San Diego Symphony
At the start of his career in the 1950s, Bacharach was fired after just three weeks as the pianist and conductor for crooner Vic Damone. Following stints with the Ames Brothers, Polly Bergen and others, Bacharach was hired in 1958 by Marlene Dietrich and worked as her pianist and musical director for the next three years.
"I learned two things from her," he said of Dietrich. "One, if you want to get something done, don't delegate it, do it yourself. The other thing is to always go for things 100 percent, which is something I've always had in my blood, my DNA.
"Marlene rehearsed for nine days with a full orchestra in Paris before playing at the Olympia (Theater). After the second day, I didn't know what to do, but I could see where she was going. She wanted it to be perfect. And I do, too. I try to get as close to perfect as I can on my recordings and at my concerts. You never get there, but you try."
In 1962, Bacharach and Hal David co-wrote three major hits — Jerry Butler's "Make It Easy on Yourself" and Gene Pitney's "Only Love Can Break a Heart" and "The Man Who Shot Liberty Valance." In 1963, the two wrote "Don't Make Me Over," which became Warwick's first solo hit. Fame and fortune soon followed.
Yet, it was not until 1967 and a succession of million-selling hit records that Bacharach — a man who exuded a quiet sense of assurance on stage and off — began to feel confident about his work.
"You write and write (songs), and have hits, and you still maybe have some doubts," he told me. "You wonder: Are you shucking and jiving, and fooling people with what you are writing? Or are you not stealing (from other songwriters) — but being in that proximity?
"Miles Davis said to me: ''Alfie' — that's a really good song.' If Miles said that to me, well, that drove my self-esteem way up."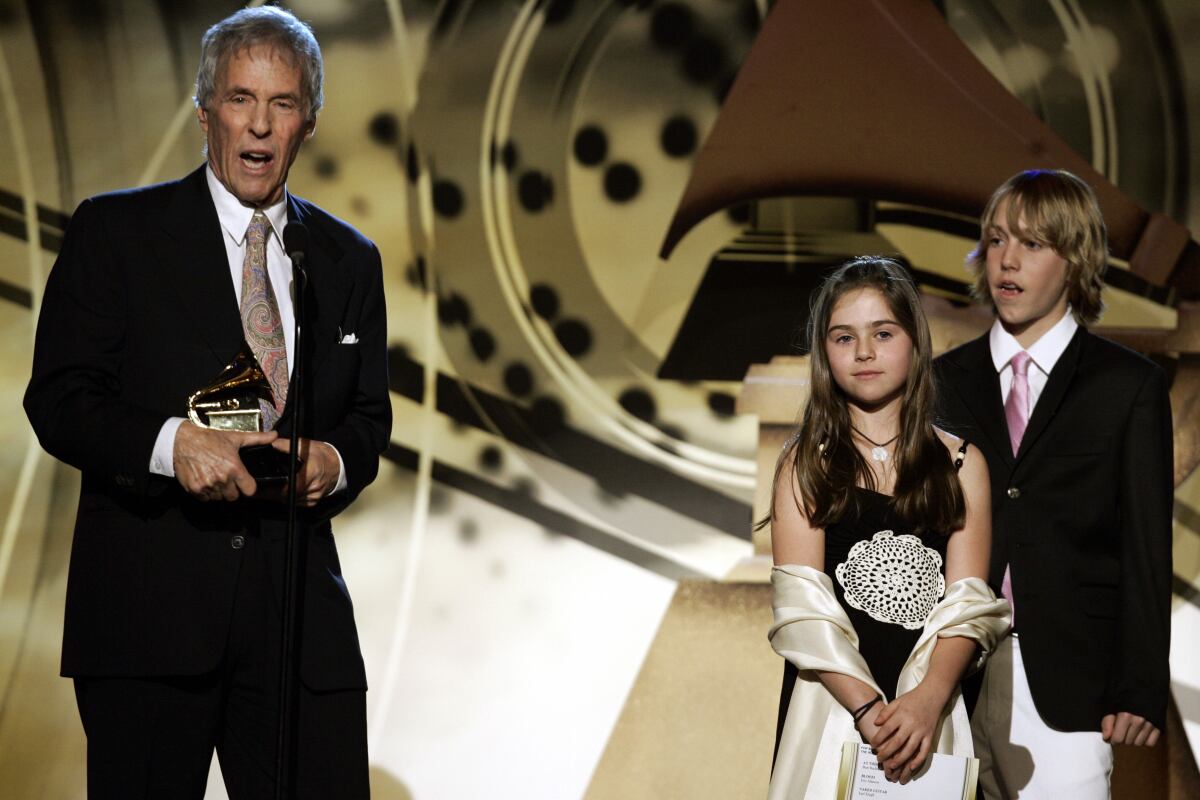 Livid at the Grammy Awards
Bacharach and I had done several phone interviews before we first came face-to-face at the 2006 Grammy Awards — and he was livid.
Not with me, thankfully, but with President George W. Bush and the war in Iraq.
Bacharach, a U.S. military veteran, had voiced his frustration and anger in his scathing 2005 song "Who Are These People?" It was sung by Elvis Costello but featured lyrics co-written by Bacharach, who had never before penned words for any of his songs.
It included such no-holds-barred lines as: "Who are these people who keep telling us lies?" and "Who are these people that destroy everything? And sell off the world for whatever it brings?"
The song was from Bacharach's Grammy Award-winning album "At This Time," which expressed his growing despair at the state of the world and teamed him with such unlikely artists as hip-hop legend Dr. Dre, Fiona Apple and Eminem collaborator Mike Elizondo.
Bacharach made some pointed anti-war comments when he accepted his award during the non-televised opening portion of the 2006 Grammys. When he came to answer questions in the backstage media room — where not a single rock star had uttered a word of dissent about the war — I asked Bacharach to elaborate on his acceptance speech.
"I took a chance, a risk, on this album. Because I spoke what was in my heart about what is wrong politically, trying to shake some things up," he said, flanked by his son Oliver, then 13, and daughter Raleigh, then 10.
"I've never seen times like we've got right now — I mean, Vietnam was bad — and I'm really upset. This is the future I'm leaving behind for these kids (and) we've really made a mess of it.
"If the president had just got up and said: 'I made a mistake. I take full blame for it. There were no weapons of mass destruction; our information was wrong. Bear with me, we'll get through it.' But to stonewall it — I never like to be lied to, by a girlfriend or an agent, and certainly not by the president of the United States."
Then, with a smile, he added: "I will never say anything on stage derogatory about any of our leaders, particularly (Dick) Cheney."
That rapier-like aside was pure Bacharach. He didn't suffer fools gladly — or, it transpired, the Grateful Dead.
I learned the latter immediately after our September 2018 interview at Bacharach's Del Mar home. Sprawled out on a couch, he discussed the multiple new projects he was working on. He talked about his new song, "Live to See Another Day," an impassioned response to school gun violence, and reflected on his career. He credited San Diego Union-Tribune and Los Angeles Times owner Dr. Patrick Soon-Shiong, a longtime friend, for helping to save the life of one of Bacharach's sons when Soon-Shiong determined the boy's condition had been misdiagnosed at a Los Angeles hospital.
"The future lies with our children," Bacharach said. "And that can work, if we keep them alive. They can register to vote, they can have a life, they can be smart, but they gotta live to go to that next (level ). ...
"I can't account for what anybody else is gonna say," he continued. "I account for what I will say. And I'm also careful on stage, too, you know. I have never mentioned our president's name on stage. I have dedicated songs many times to the citizens of Puerto Rico, and then explained to the audience they are United States citizens, Puerto Ricans, and (that) the country's broken and has been broken, and they don't have any water, and they have no infrastructure.
"So, you know, I pick my places."
When the interview concluded, Bacharach excused himself to make several phone calls. Jane, whom he married in 1993 and was his fourth wife, invited Union-Tribune photographer Alejandro Tamayo and me to join her for lunch on the Bacharachs' second-floor patio, overlooking the ocean.
Jane, then 58, was a former ski instructor. She was warm, engaging, and — as I learned over lunch — a Deadhead.
Had she seen the Dead before Jerry Garcia, the band's most beloved member, died in 1995?
Indeed, she had, Jane replied, and she took Burt to the concert with her.
Jane smiled when I asked if her music-legend husband liked the concert by rock's first and most influential jam band.
"No," she replied. "Burt likes songs that have a beginning, a middle and an end."
Get the Del Mar Times in your inbox
Top stories from Carmel Valley, Del Mar and Solana Beach every Friday for free.
You may occasionally receive promotional content from the Del Mar Times.