Column: Local movie producer uplifts with another film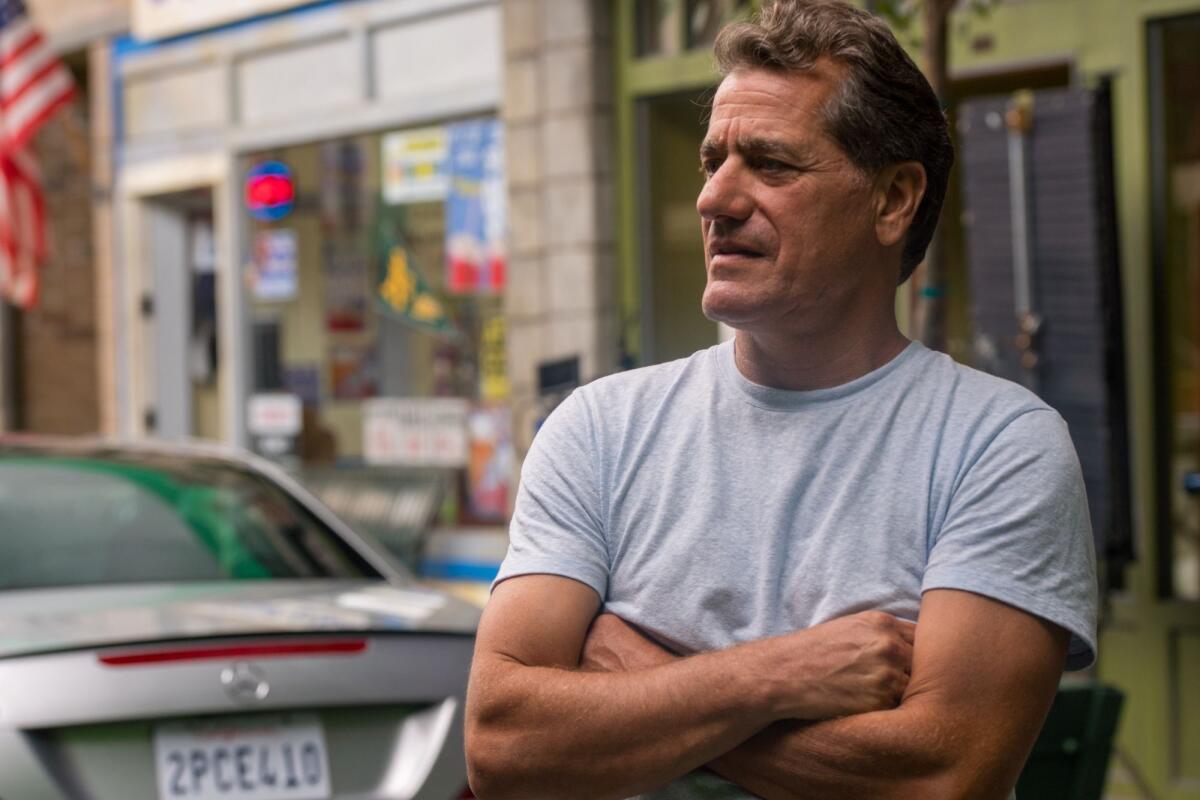 John Cappetta embraces movie themes that celebrate diversity, inclusion and inspiring messages
Last March, John Cappetta's Planet 9 Productions in Solana Beach premiered "Tyson's Run," a movie about an autistic teen who took up running to earn the respect of his father, a high school coach.
Cappetta and writer/director Kim Bass, have teamed up once again. On Friday they'll release a feature film in select theaters nationwide: "A Snowy Day in Oakland," an uplifting, laugh-provoking look at proprietors and patrons of a hair salon in a predominantly Black neighborhood in downtown Oakland.
Unlike "Tyson's Run," which was shot on location in San Diego, this film unfolded in the Bay Area and on a studio set in Los Angeles County.
San Diego was represented, in part, by well-known musician, performer and recording artist Nathan East, who graduated from Crawford High School and UC San Diego. East, who currently tours with Eric Clapton, has recorded over the years with Beyoncé, Phil Collins, George Harrison, Whitney Houston, Michael Jackson, Barbra Streisand and other legendary performers.
He created the score for the movie, which he describes as giving viewers a "yummy, warm and fuzzy feeling," inviting them to be part of the community.
"A Snowy Day in Oakland" is a recurring line in the dialogue that refers to something absurd, but not totally out of the realm.
"My brother, who lives in Oakland, called me last week and said, "There's snow in Oakland," East chuckled. "I thought that was a bit of a stretch, but he sent me pictures to prove it."
So, it appears that climate change is fast turning the absurd into reality.
"We chose the title because it hints at magical realism — there's an element of possibility," explains Cappetta, who ditched his East Coast investment banking career and returned to Southern California to follow his movie-making dream.
He has two more films in the works for possible 2024 release.
This feature film actually was shot before "Tyson's Run." Both were filmed before the pandemic broke out.
The story line is classic. A psychologist breaks up with her psychiatrist business partner boyfriend in affluent San Francisco and flees across the bay, returning to her roots. She sets up an independent practice in a vacant storefront in a community that isn't greeting her with open arms.
The arrival of this attractive newcomer and her "head shop" become the talk of the community and the barbershop/beauty salon.
"Black people don't talk about their problems," exhorts USPS mail carrier played by Loretta Devine. Although soon they find themselves doing just that.
The movie stars Nicole Ari Parker, Kimberly Elise, Deon Cole, Tony Plana, Claudia Zevallos and others.
Cappetta likens the values theme to the classic movies we like to re-watch, such as "It's a Wonderful Life" and "The Wizard of Oz."
"Everything at Planet 9 celebrates diversity, inclusion and uplifting, inspirational stories," he says.
Each character has a story within the story. The plot "is about love and life and about the way unexpressed feelings, thoughts and emotions that have been bottled up and bound tightly inside can keep any of us from being our best selves, from living our best lives," Cappetta adds.
It's also about inequality, displacement and race and about mental health in the black community. But mostly it's about the beauty and power of being part of a community to call home.
In January, Cappetta and his wife, Nancy Jo, attended the African American Film Critics Association awards with actress Viola Davis and her producer husband, Julius Tennon. The couples had collaborated on production of a play in Los Angeles called "Paradise." Now they're jointly turning the stage show into a movie.
It, too, has a theme that highlights diversity and inclusion. It's a coming-of-age story of a Muslim girl in the Bronx whose desire to pursue a career in science conflicts with the traditional values of her family.
Cappetta explains that the founding of his company, Planet 9 Productions, followed scientists' 2015 discovery of what might be a ninth planet in our solar system. The possible existence of a mysterious Neptune-sized planet set the astronomical community abuzz and posed a new way of viewing our world, challenging decades of science texts and teachers lecturing about eight planets (and dwarf planet, Pluto).
For him, it's a metaphor for the power of film to transport viewers to another realm that prompts them to question their assumptions and see things differently.
"What we're trying to do with this film is bring different perspectives to bear in hope of expanding people's understanding of the other people we share the planet with," Cappetta says.
The University of San Diego graduate has relatives living here and has included some family cameos in the movie.
In "Tyson's Run," Cappetta made a brief appearance as a scripture-reading pastor. In "It's a Snowy Day" he and his brother, Mike, are real estate developers based across the street from the salon. Cappetta's son, Matthew, is their driver.
Missing from this film are his sister and brother-in-law, Diane and Richard Nares, who run the Emilio Nares Foundation offering support services for families of kids with cancer. They appeared briefly in "Tyson's Run."
"A Snowy Day" opens for general release on Friday after an invitation-only premiere at The Lot in La Jolla tonight.
Some of those involved in the production will be on hand. But not Nathan East. He'll be in Bel-Air with Quincy Jones celebrating the music producer's 90th birthday.
The Oakland weather forecast for Friday's release? Sunshine mixed with clouds, high of 60 degrees and only 6 percent chance of rain — no snow!
Get the Del Mar Times in your inbox
Top stories from Carmel Valley, Del Mar and Solana Beach every Friday for free.
You may occasionally receive promotional content from the Del Mar Times.