Theater Notebook: Author of classic novel 'The Outsiders' attends La Jolla Playhouse's musical adaptation
Also this week, world premieres at Lamb's Players, Cygnet Theatre and North Coast Rep, and ABT Studio dancers in Escondido
Fifty-six years after publishing her landmark young adult novel "The Outsiders" at age 17, S.E. Hinton attended two performances of the book's musical adaptation, now playing in its world premiere at La Jolla Playhouse.
Hinton was invited from her home in Tulsa, Okla., to see the musical and attend a VIP party on March 5. The musical has been in development for eight years, and Hinton has been closely following its progress with musical bookwriter Adam Rapp and the songwriting team of Jamestown Revival (the Americana duo of Zach Chance and James Clay) and their writing partner Justin Levine.
After the performances, Hinton shared her love for the musical in an Instagram story that has since expired, but she also posted this comment on Twitter: "Just back from seeing my Musical. Got news for you guys: It is fantastic! The songs, the music, the set, the actors, everything top-notch & more. Saw it twice. Will be glad to see it again. Hit!"
In an earlier interview with The San Diego Union-Tribune, Rapp said that he'd worked closely with Hinton over the years to capture the essence of her story about two rival gangs of boys, the haves and have-nots, in 1967 Tulsa. He said that while it was important to Hinton that the essence of the story about 14-year-old protagonist Ponyboy Curtis be maintained, she was open to ideas for making the story more accessible to modern audiences.
In a response to Hinton on social media, the La Jolla Playhouse wrote: "We are moved, honored and so very grateful you joined us this weekend, Susie. Your presence and generosity meant the world, gracing our memory of Sunday evening in a way nothing else could. Thank you!"
Meanwhile, La Jolla Playhouse has announced a one-week extension of the musical. It will now run through April 9. For tickets, visit lajollaplayhouse.org.
'R-E-S-P-E-C-T' extends again
La Jolla Playhouse's world premiere musical revue "R-E-S-P-E-C-T" has announced its second extension.
The all-female musical revue of songs by women songwriters and singers of the 1960s will now play through May 7. As a result of the latest extension, the planned production of "Outside Mullingar" — originally scheduled to open in late April — has been postponed. For tickets, visit lambsplayers.org.
'Sharon' tickets now on sale
Cygnet Theatre has opened ticket sales for its upcoming world premiere play "Sharon" by Keiko Green. It will run June 7 through July 2.
Directed by Rob Lutfy, "Sharon" is a comedic thriller about a mother and her son who run a crumbling apartment building in Everett, Wash. But in a Hitchcockian twist, the story of this seemingly loving family changes during the course of one ominous dinner.
"Sharon" received its first reading in Cygnet's 2021 Bill and Judy Garrett Finish Line Commission play-development series.
For tickets, visit cygnettheatre.com.
'Murder on the Links' also on sale
One more world premiere play in San Diego, Steven Dietz's "Murder on the Links," is also now on sale at North Coast Repertory Theatre. It will run April 19 through May 14.
The play is a stage adaptation of Agatha Christie's 1923 murder-mystery novel of the same name. It features Belgian detective Hercule Poirot attempting to solve a series of murders on and around a golf course in France. For tickets, visit northcoastrep.org.
Presales begin for '1776' tour
Broadway San Diego has launched presales for the national touring production of "1776, The Musical," which will play at the San Diego Civic Theatre May 9-14.
The 1969 Broadway musical tells the story of the Founding Fathers and their often fractious debate around the creation and signing of the Declaration of Independence. The musical's original production won three Tony Awards, including best musical. Then it was made into a film and revived on Broadway in 1997.
The new touring production represents the 2022 Broadway production, which featured a cast made up entirely of people who identify as female, trans and nonbinary. Tickets start at $39 and can be purchased at broadwaysd.com/upcoming-events.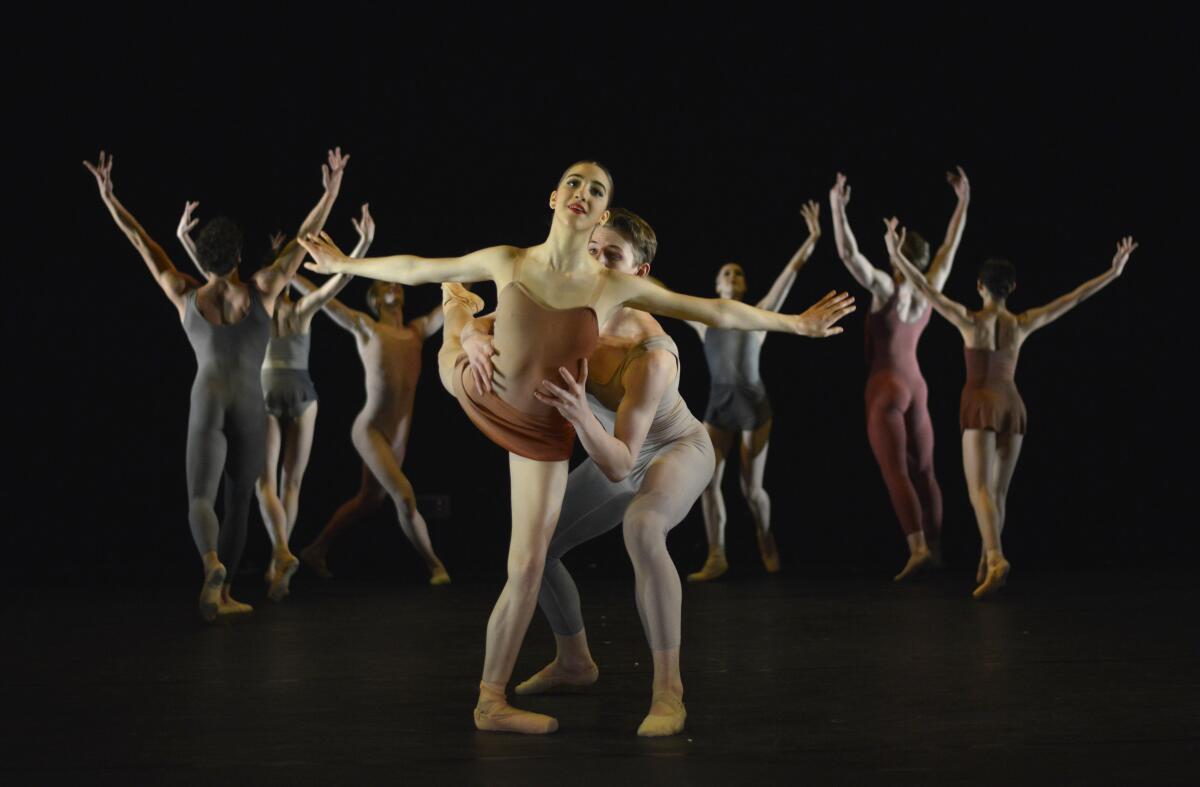 ABT troupe in Escondido
ABT Studio Company, the junior company of American Ballet Theatre, will perform Tuesday at the California Center for the Arts, Escondido.
The company, made up of dancers ages 16 to 20, is a preparatory program for young dancers from all over the world. Nearly 80 percent of American Ballet Theatre's current dancers came out of the ABT Studio program, including 13 soloists and nine principal dancers, among them Misty Copeland, David Hallberg and Isabella Boylston. The performance is at 7:30 p.m. Tuesday at 340 N. Escondido Blvd., Escondido. Tickets are $35-$95 at artcenter.org.
Kragen writes about theater for the San Diego Union-Tribune. Email her at pam.kragen@sduniontribune.com.
Get the Del Mar Times in your inbox
Top stories from Carmel Valley, Del Mar and Solana Beach every Friday for free.
You may occasionally receive promotional content from the Del Mar Times.