San Diego's Mainly Mozart rides social media wave as its 2023 All-Star Orchestra Festival approaches
Leading members of top national orchestras will perform works by Mahler, Beethoven and, of course, Mozart, in three venues in Del Mar and La Jolla
Over the last three years, Mainly Mozart has been all over the Internet. Not by "going viral," in a spontaneous way, but by being careful and targeted.
Mark Laturno, the nonprofit's communications director, has shifted the organization's outreach from traditional marketing methods to more of an emphasis on social media. It has had a big impact.
"It's shocking!" Mainly Mozart CEO Nancy Laturno happily exclaimed. "Our numbers are shocking. The larger attendance is shocking. The change in diversity of our audience and how young our audiences are — it's all shocking."
Since the beginning of 2020 — when Mainly Mozart pivoted to drive-in concerts for a year — average nightly attendance is up nearly 500 percent.
The 35th Annual Mainly Mozart All-Star Orchestra Festival — featuring concertmasters and principal players from the country's top orchestras — kicks off Thursday, June 15 in Del Mar and concludes June 24 at UC San Diego in La Jolla. The concerts are expected to sell out.
More remarkable than the number of tickets sold is who's purchasing them. Newcomers are joining Mainly Mozart's longtime loyal audience in droves. First-time ticket buyers made up 67 percent of attendees at the June 2022 festival and 56 percent at the October 2022 festival.
"We may also have the youngest average classical music audiences in the country," said Mark, 29, who is Nancy Laturno's son. "We had 44 percent of attendees under the age of 40."
That's a dramatic figure, especially when compared to the national average of just 15 percent of attendees being under 45, according to the John S. and James L. Knight Foundation's Classical Music Consumer Segmentation Study.
"A lot of my friends my age have come to our concerts with zero background or awareness of Mozart or Beethoven, and have left totally blown away," Mark Laturno noted. "Classical music has mainstream appeal. It just doesn't always have mainstream reach."
Mainly Mozart's less traditional outreach efforts include partnerships with online influencers, local social media pages and local sports organizations. Reddit's AMA (Ask Me Anything) sessions with key Mainly Mozart musicians have averaged 600,000 views. A Mainly Mozart AMA in May 2022 received more than 1 million views.
"It's amazing to see the plethora of approaches Mark has," said Michael Francis, the festival's music director, who did an AMA earlier this month. "He has ingenuity, imagination, and skill. He knows to how to message in a way that really engages people. The main thing is he can help people come the first time. It's our job to make sure they want to come back."
Mark Laturno said that's no problem.
"Michael is the best in the business at engaging audiences and helping the music come alive," he said.
Francis and both Laturnos also credit the festival's production team, led by operations director Katie McBride-Muzquiz, for its smoothly running concerts. This year, the festival will expand from one concert venue to three.
This week's three opening concerts will be held at the Del Mar Surf Cup Sports Park, the festival's home in 2021 and 2022. The concluding three will be in La Jolla, one at the Conrad Prebys Performing Arts Center and the final two concerts at the new Epstein Family Amphitheater at UCSD.
"Mainly Mozart is the true highlight of the season for me and all the musicians," Francis said. "At the end of our seasons, we come and play wonderful music with great people at the highest level for the sheer joy of making music."
On opening night Thursday in Del Mar, the orchestra will perform a piece by François-Joseph Gossec, a familiar composer to Suzuki violin students. The closing work will be Beethoven's Symphony No. 8.
In between, Mozart's Bassoon Concerto will feature Whitney Crockett, Los Angeles Philharmonic's principal bassoonist.
"This instrument has the reputation of being at the bottom of the orchestra." Francis said, from his home in Tampa, where he is music director of the Florida Symphony. "And suddenly it's at the very top. It's wonderful to hear the bassoon, especially in the hands of a terrific bassoonist.
"And it's paired between two wonderful symphonies. People will be delighted with the Gossec and how well it balances with the Beethoven."
Francis takes care in curating Mainly Mozart programs. He's well-known for introducing musical works by describing the personal histories of the composers that put the music in context. During this festival, he'll do that for each piece.
"People are hungry to connect to this glorious art form," said Francis. "My job is to give them a key to create a personal, proactive listening experience. I provide a modicum of intellectual understanding of when the composer was alive and what they were going through, because we all know love, loss and all the things in between."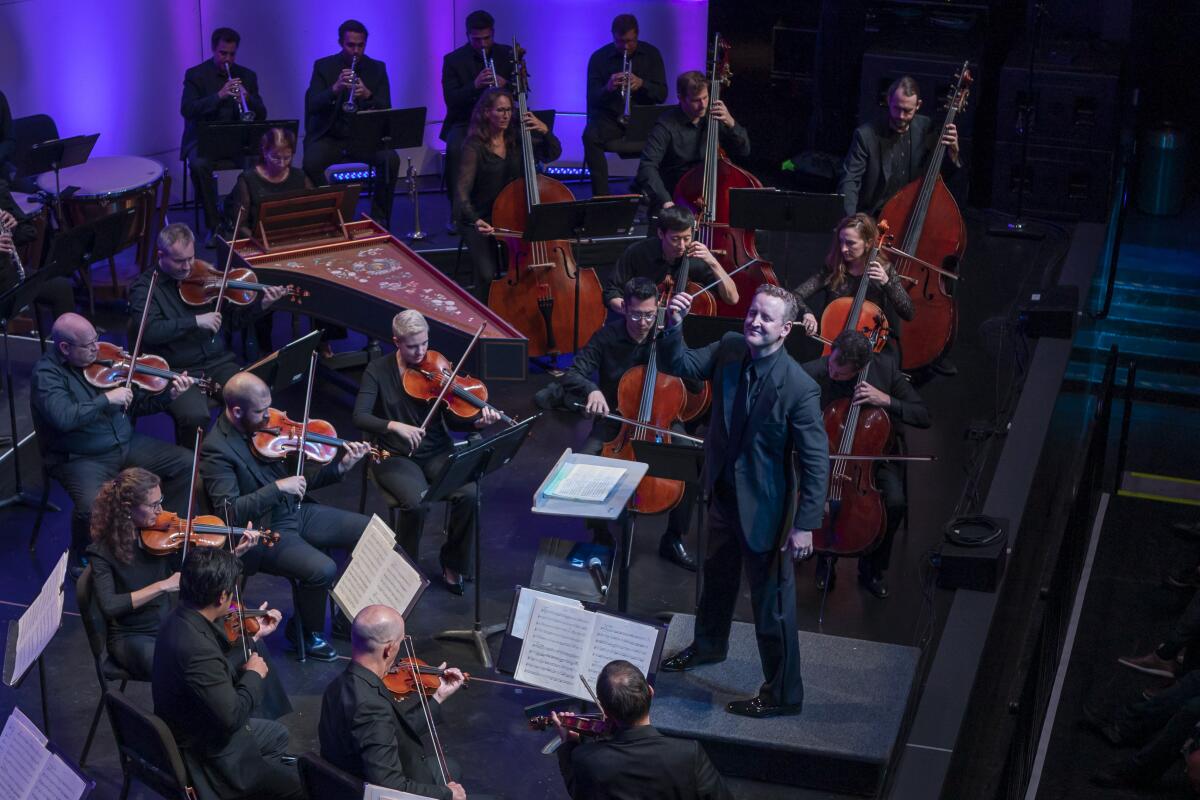 Among the likely highlights during Del Mar Week will be Mainly Mozart mainstay Anne-Marie McDermott performing Mozart's Piano Concerto No. 25 and festival newcomer Karen Gomyo playing Brahms' Violin Concerto.
The festival's La Jolla portion begins June 20 with Mahler's Fourth Symphony, featuring soprano Chelsea Guo, at the Conrad Prebys Performing Arts Center's Baker-Baum Concert Hall. The multitalented Guo will appear again June 22, this time as a pianist, at the Epstein Family Amphitheater. Also featured that night will be Martin Chalifour, L.A. Phil's concertmaster and a longtime Mainly Mozart player.
Nancy Laturno said that UCSD will have 500 seat cushions available onsite at the amphitheater.
"That means about 80 per cent of the venue will have cushions available," she stated. "We encourage patrons to bring their own blankets and cushions for added comfort."
The festival will conclude June 24 at the Epstein with Beethoven's Symphony No 9. The San Diego Master Chorale and noted local soprano Tasha Koontz will join the full orchestra.
"Beethoven 9 is the ultimate Mount Everest of human achievements," Francis said. "I'm always struck by the extraordinary fact that he was completely deaf when he wrote it.
"I'm really looking forward to bringing this piece to life."
Mainly Mozart All-Star Orchestra Festival
All performances are at 7:30pm. The Mainly Mozart All-Star Orchestra is conducted by Michael Francis and features principal musicians from dozens of North American orchestras including Cleveland, Philadelphia, the Los Angeles Philharmonic and more. Concerts last 75 minutes each, with no intermission.
June 15:  Opening Night — Del Mar
June 17: "Mozart Piano Concerto" — Del Mar
June 18: "Mozart & Brahms" — Del Mar
June 20: "Mahler 4" — La Jolla
June 22: "Shostakovich & Mozart" — UCSD
June 24: "Beethoven 9th" UCSD
Where:  Surf Cup Sports Park, 14989 Via De La Valle, Del Mar (outdoors). The Baker-Baum Concert Hall, Conrad Prebys Performing Arts Center, 7600 Fay Ave., La Jolla. Epstein Family Amphitheater at UC San Diego, 9500 Gilman Dr., La Jolla (outdoors)
Tickets: Del Mar Week Concerts: Tier-B seating (general admission) is $30 per person. Tier-A 10' x 10' Personal Viewing Pods are $110-$120 for one person, $140-$150 for groups of two, $170-$180 for groups of three, and $200-$210 for groups of four. Table seating is available beginning at $300 for two seats at a table for four or $500 for a full table for four. VIP table seating is available beginning at $600 for two seats at a table for four or $1,000 for a full table for four. La Jolla Week Concerts: Tier-B seats are available for $30 per person. Tier-A seats are available for $75 per person. Tier-AA seats are available for $160 per person.
Online: mainlymozart.org
Wood is a freelance writer.
Get the Del Mar Times in your inbox
Top stories from Carmel Valley, Del Mar and Solana Beach every Friday for free.
You may occasionally receive promotional content from the Del Mar Times.