'Tina' musical takes on a deeper resonance for its stars in wake of Tina Turner's death
The two women who play music legend in the show arriving in San Diego July 25 say they feel a responsibility to raise their game in her absence
When Tina Turner died May 24 at age 83, generations of fans around the world mourned the passing of the legendary R&B/rock singer, who overcame a notoriously abusive marriage and thrilled audiences with her fiery stage presence for more than 50 years.
But Turner's passing had a more profound impact on Naomi Rodgers and Zurin Villanueva, the two women who share the title role in "Tina: The Tina Turner Musical," which arrives July 25 for a six-day run at the San Diego Civic Theatre. As the keepers of the flame, the two women feel it's their duty to raise the bar with their performances now that Turner is gone.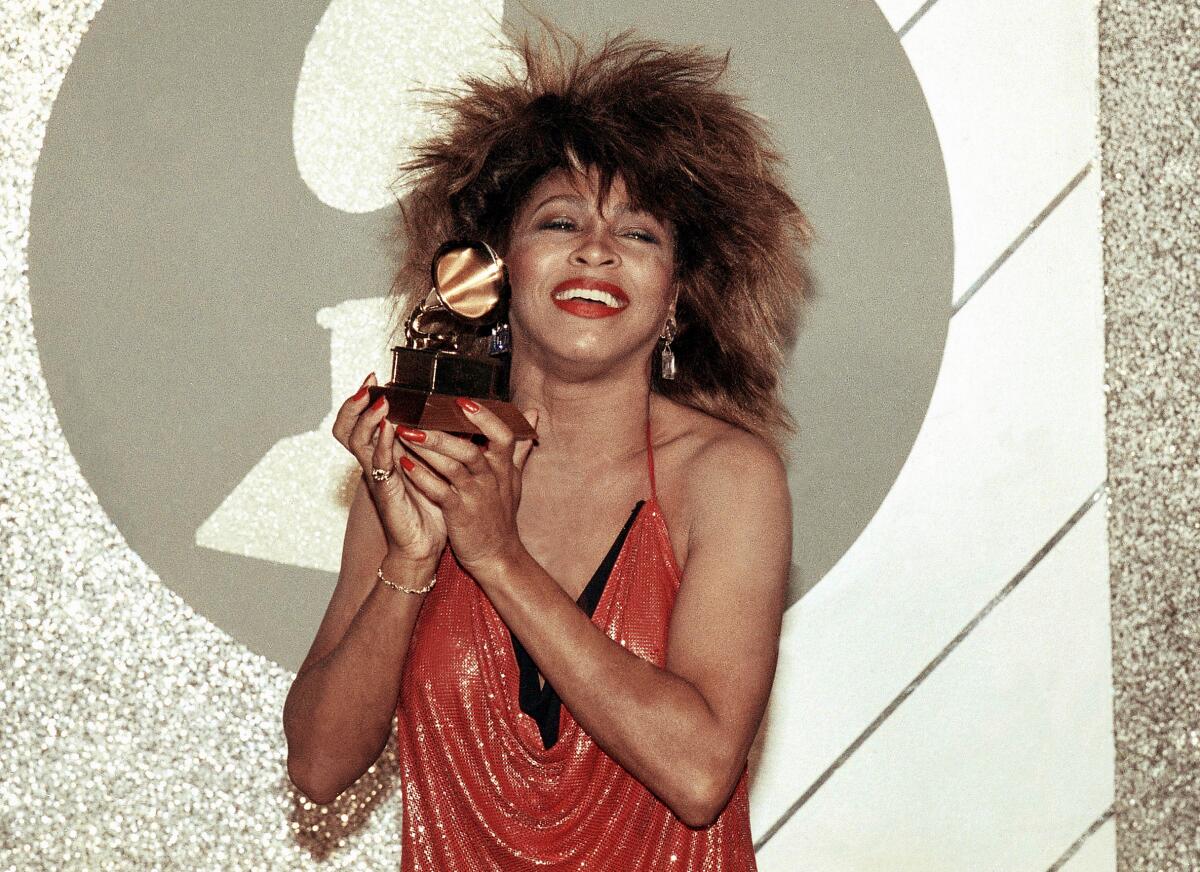 "There's a renewed sense of responsibility now that Tina Turner has passed the baton," said Villanueva, who, with Rodgers, has been touring North America with "Tina" since last September. Because the show's starring role is too physically grueling for one actor, they each play four performances a week.
"We have the baton now and we're the champions of her story. We're completely committed to giving her story the right kind of fervor and attention and joy and excitement and everything that was part of her legacy. It's a supreme honor," Villanueva said.
Rodgers said Turner's example, both as an artist and as a resilient woman, have informed her performance in "Tina." And since Turner passed, she is seeing the role with new eyes.
"I call this show a baby. This was Tina's baby ... Look at what you've done and all the blessings it has brought," Rodgers said of Turner. "I think her passing really showed me there's more to be said. It has pushed me to be stronger, to lead by Tina's example and to go deeper so I can be more honest onstage."
After Turner died, dozens of new clips of her performing turned up on the internet along with new stories and Rodgers said she devoured everything she could find.
"That just brought a whole new perspective for me," Rodgers said. "We've got to do this and we've got to to do it right, every single time."
"Tina: The Tina Turner Musical" is a jukebox musical that tells Turner's life story, starting from her childhood days in 1950s Nutbush, Tenn., as exuberant church singer Anna Mae Bullock. She was raised by her grandmother, who encouraged Anna Mae to pursue a singing career in St. Louis, where she was discovered by bandleader Ike Turner. He recruited her as his lead singer, gave her the trademarked stage name Tina Turner and eventually married her in Tijuana in 1962.
During the '60s, Ike and Tina Turner rocketed up the charts, but Ike was a serial abuser and Tina finally left him (with just 36 cents and a Mobil credit card in her pockets) in 1976. In 1983, she launched a solo career that earned her eight Grammy Awards between 1985 and 2008. She retired from performing in 2009 and retreated permanently and without regrets to the Swiss chateau she shared with her second husband, former German record company executive Erwin Bach. In her later years, Turner battled serious health problems, including kidney disease and intestinal cancer.
Bach was the one who came up with the idea for the "Tina" musical in 2015. The musical features more than 20 songs from throughout Turner's career, a script by Tennessee native Katori Hall (author of the Pulitzer Prize-winning play "The Hot Wing King") and directed by English film and theater director Phyllida Lloyd.
The musical premiered in London's West End in April 2018, then opened on Broadway a year later. Adrienne Warren, an American Broadway veteran, originated the role of Tina in both London and New York. In a 2019 essay for Rolling Stone magazine, Turner said she offered this advice to Warren on playing the title role: "My advice to (her) was, 'You're not Tina. Don't try to mimic me. And you have to be a little bit yourself."
Now making the role their own are Villanueva and Rodgers, who come from different backgrounds, but both say that playing Tina is the role of a lifetime.
When Brooklyn native Villanueva landed the role in "Tina" last year, she wrote on Instagram: "Aaaaaaah! It's been 10 years in this business waiting for a moment like this ... So excited to do a role that requires my FULL self."
Before "Tina," Villanueva performed in the Broadway productions of "The Lion King," "Mean Girls," Shuffle Along" and "The Book of Mormon." She graduated from Howard University.
Rodgers also shared the joy of being cast in "Tina" on her Instagram page, writing: "I asked God to use me in this season of my life and here we are!!!"
Rodgers is a graduate of the American Musical and Drama Academy (AMDA) in New York. Before joining this tour, she was an ensemble member and understudy in the first national tour of the Disney musical "Frozen."
In a joint Zoom interview a couple weeks ago, Rodgers and Villanueva talked about their experience with "Tina." This interview has been edited for length and clarity.
Q: Tina is one of the most physically demanding roles on the musical stage right now. Can you tell me what it's like playing the part?
Villanueva: It's truly a triple-threat role. We have full, beautifully written dramatic scenes as well as dancing and singing our pretty little faces off. It's a marathon, not a sprint. You ride on one moment to the next and stay present and let it take you to the culmination concert at the end. It's unlike any other role written in the musical theater canon.
Rodgers: I've always been a ball of fire. I think this was just like another thing for me that was like — let's do this and let's see what you bring to it and your energy and see how it can affect this. This role was a bit of a challenge, mentally, to get into the 'Tina-isms,' and lead by the Tina example and get the sense of her.
Q: What have you learned about Tina Turner in the process of playing her onstage over the past 10 months?
Rodgers: The heart of who she is was in everything I learned. I didn't realize how she spent most of her life listening to someone else. It's kind of mind-blowing to look at everything she accomplished after that. She had to sit down and not be Tina and that was OK because it molded her.
Villanueva: Even in her darkest moments, she was still performing. She would hold on to her joy and her humor and she'd hold on to her gift. That kind of dedication is one of the most wonderful things about her throughout her career.
Q: Do you have a favorite moment in the show?
Villanueva: It changes for me daily or weekly. Right now I've been enjoying "I Don't Wanna Fight (No More)." I'm sure as women we can get very much in this mindset that I have to fight for respect and to be heard. Recently, something clicked inside me where (I realized) the only thing I was fighting for is who I was yesterday. I'm not fighting for that anymore. So I've been really attached to that song.
Rodgers: I love "Simpy the Best," which is connected to the moment I'm onstage with the band. I've gotten to connect with the people behind the curtain, pumping those guitar strings and pounding on the drums, so the moment I get to see them for the first time onstage is something else. There's a sax solo that I love going toe to toe with all the time. It brings you into the world of Tina.
Q: Because you two share the role, what has it been like to see this show performed from the audience's perspective?
Rodgers: It's a lot of fun. I love this show and love seeing my friends performing.
Villanueva: It's wonderful, but now that I'm in the show it's hard for me to sit down and just watch. I'm doing the moves in the aisle, and an usher recently had to tell me to stop.
'Tina: The Tina Turner Musical'
When: 7 p.m. July 25-26, 7:30 p.m. July 27, 8 p.m. July 28, 2 and 8 p.m. July 29; 1 and 6:30 p.m. July 30
Where: San Diego Civic Theatre, 1100 Third Ave., Downtown
Tickets: $29 and up
Online: broadwaysd.com
pam.kragen@sduniontribune.com
Get the Del Mar Times in your inbox
Top stories from Carmel Valley, Del Mar and Solana Beach every Friday for free.
You may occasionally receive promotional content from the Del Mar Times.