San Diego author and former Navy SEAL releases new action book, featured at Festival of Books
Author, filmmaker, and former SEAL Remi Adeleke is one of the featured authors at The San Diego Union-Tribune Festival of Books on Aug. 19, where he'll discuss his most recent book, "Chameleon," part of his new action/thriller series
The 1996 summer hit movie "The Rock" about a rogue group of military members threatening an attack on San Francisco, had a bigger impact on the life of Remi Adeleke than he realized at the time.
Born into wealth and privilege in Nigeria, Adeleke and his mother and brother left and moved to the Bronx after the death of his father. In New York they were suddenly navigating a life of poverty. The young Adeleke was getting into trouble, committing petty crimes, and found himself with few options for a better life. That movie was his introduction to the Navy SEALs, and he had promised himself that if he was going to turn his life around, he was going to do it as a SEAL.
"That, for me, was the only path. I didn't want to go to college or stay in the Bronx because I knew I'd either end up dead or in prison. The military was the only other option," he says. "My expectations were that the military would get me out of my environment; it would get out of New York City and a second chance at life. The reality lined up closely with those expectations."
He joined the Navy in 2002, became a SEAL on his second attempt, and served until 2016. After the military, he had an opportunity to work on Michael Bay's "Transformers: The Last Knight," leading to an endorsement deal with the clothing company Jockey and an appearance on the "Today" show. Those doors opened up to others, including a book deal for his 2019 memoir, "Transformed: A Navy SEAL's Unlikely Journey from the Throne of Africa, to the Streets of the Bronx, to Defying All Odds."
Today, his recently released fiction book, "Chameleon," is the first in an action/thriller series about an elite CIA special operations branch. He is one of the featured authors at the San Diego Union-Tribune Festival of Books on Aug. 19 at the University of San Diego.
Adeleke, 41, is a full-time author and filmmaker living in Chula Vista with his wife and their four children. He took some time to talk about his transition from the military to storytelling, his book, and what he sees as a universal experience of shifting and adapting to life, like a chameleon.
Q: Your latest book, "Chameleon," is the first in a fictional series ("Black Box Thriller") that follows Kali Kent, a member of the CIA's secret special operations branch, Black Box. Kent, who was also born in Nigeria and raised in the Bronx, is leading the chase for an international group of criminals. Kent certainly sounds like he's based on you; in the development of this character, where does Remi Adeleke end and Kali Kent begin?
A: The main character's name is Kalief Browder Kent. For people who don't know this name, Kalief was a kid who grew up in the Bronx, not too far away from where I'd lived. He was falsely accused of stealing a backpack, held without trial, and sent to Riker's Island jail for three years — 700 days in solitary confinement. He was tortured, abused, and beat up by inmates and guards. After three years, the case was dismissed. He was so tormented by the experience, suffering from post-traumatic stress disorder, that he died by suicide two years after he was released. One of the reasons why I named the main character "Kali" is because, in my mind, if what happened to Kalief Browder hadn't happened, he may have become "Kalief Browder Kent."
As far as my relationship to him, just as Kali's from Nigeria, I'm from Nigeria; just as Kali grew up in New York City, I did as well. And, just like Kali rose through the ranks in government and operated at a high level, I've been able to do that. My specialization in the SEAL teams was HUMMIT, which stands for human intelligence, so I had the opportunity to go to various intelligence schools and learn trade craft and also learn how to run sources, etc. Not only did I get the training, but I got to do it overseas. Just as Kali has to become a chameleon, becoming different people in order to get the job done, when I was overseas, I had to do the same thing. I had to become a different person with every source I was working with. All that Kali did and I did are interconnected.
What I love about Chula Vista...
What I love about where I live is it's quiet, peaceful, and completely opposite from the Bronx. I can go for a walk, bike ride and not worry about someone hitting me or any sort of crazy crime.
Q: Material from HarperCollins says that the Black Box agents are skilled at transforming into different people, stealth and surveillance, experts in transportation and deep cover. How much of this mirrors your own experience as a SEAL?
A: Without saying too much that would get me in trouble, the biggest resemblance that this has to my times in the SEAL teams is the concept of "team." In our SEAL community, we have a saying that, "there's no Johnny Rambos," meaning nobody does things by themselves. It's called a SEAL team for a reason, and in order for one to be effective, each person has to operate in their role and responsibility. So, with this book, I didn't want to have the protagonist doing everything by himself, like James Bond. Yes, Kali is the protagonist and the lead, but he's surrounded by a team that has different specializations than what he has. In my SEAL platoon, we had a medic, breacher, sniper, OIC, etc. Kali is a chameleon, but there's a wind agent, a ghost agent, an aberration agent, overwatch, etc. — for Kali to save the day, he needs a team. And, in order for special forces operators to do what they do, they also need a team. We all need a team to do what we do.
Q: With "Transformed," you said you wanted people to know your story and realize that they can transform, too, and "Chameleon" is about a group of agents able to transform, in a different way, to accomplish a mission. How much of a chameleon did you have to become when you were growing up in the Bronx, particularly coming from the life you'd been previously living in Nigeria?
A: When I was growing up in the Bronx, that's where I had to learn to become a chameleon. It's interesting because when I got to human intelligence school, the teachers were teaching me certain trade craft techniques that I was already doing back in the Bronx. It's just that, at the time, I didn't know the particular term for it. The Bronx really taught me how to become a chameleon, especially when I was doing the wrong things — selling drugs, selling phones illegally, and other stuff. I had to become a chameleon when I was selling drugs or when I had to hide from my mom. When I was in school, I had to be a different person. It meant life or death for me for how well I could become that chameleon. Then, when I got into the SEAL teams, it was amplified, and everybody is a chameleon. You're not the same person you were years ago, or with your wife or husband or your kids, as you are with your friends, or with your mom. I think we're all chameleons, we just don't realize it. Some are better at it than others, but we're all chameleons.
Q: Your LinkedIn profile says that you're a member of the Writers Guild of America West and of SAG-AFTRA; how have you been navigating the current strikes? What are your thoughts on the way that talks have progressed?
A: Yes, I'm part of the WGA, as well as SAG. It's been rough. I've had projects that've been put on hold. I had a film that I was going to direct in mid-July, but it fell through because of the strike. It's extremely rough, but I understand it's necessary in order for writers to get what we deserve. There haven't really been any talks, which is frustrating. I hope that both sides come together and work this thing out quickly because it's affecting a lot. Thank God I'm an author, so I have that revenue stream, and I also work in the unscripted space. I couldn't imagine if I had to rely solely on being a WGA writer.
Q: I know "Chameleon" was just released, but are you seeing any adaptations to the big or small screen in its future? (If so, who would be your top picks for starring, directing, etc.?)
A: It started out as a screenplay, so I'm going to be directing the feature film, which my agents are setting up. As far as actors, John Boyega would be great, Jonathan Majors or Daniel Kaluuya would be great. Those are the top three that come to mind right now. As far as the small screen, there's a short film that was just released on Aug. 8 on my YouTube channel and it's an adaptation of chapters 23 and 24 of "Chameleon." I thought we should give the readers and audio book listeners something to see.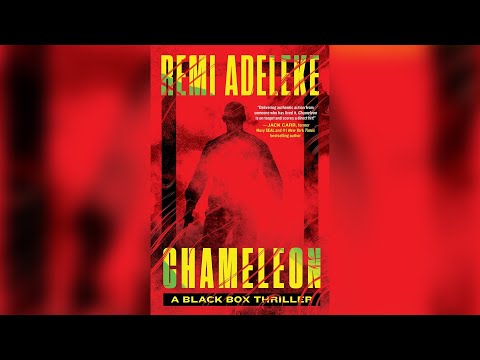 Q: What is the best advice you've ever received?
A: The best advice I've ever received is that a failure is only a failure if you don't learn from it, but if you learn from it, it's a lesson. That advice comes from myself, actually. I learned that many years ago when I was kicked out of SEAL training. I still fail to this day, but I get some good lessons.
Q: What is one thing people would be surprised to find out about you?
A: A lot of people don't know that my dad was a royal chief in the Yoruba tribe. Also, when people find out the meaning of my last name: "Ade" means "crown" and "leke" means "is supreme or above." The one thing that surprises people is my name and that I'm part of Yoruba royalty.
Q: Please describe your ideal San Diego weekend.
A: My ideal San Diego weekend is hanging with my family, whether we're at the beach, Mt. Laguna, Del Mar, the movies — anything with my four kids and my wife. San Diego has the best weather, so we're always getting out and exploring.
Get the Del Mar Times in your inbox
Top stories from Carmel Valley, Del Mar and Solana Beach every Friday for free.
You may occasionally receive promotional content from the Del Mar Times.