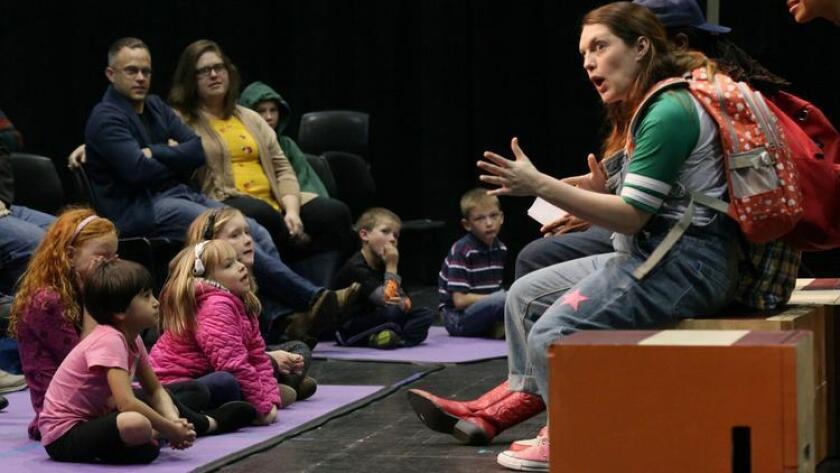 Matt Vinci of Carmel Valley is just 17, but in those years, he has moved eight times. The son of a Navy captain, he's grown accustomed to saying goodbye to newfound friends whenever his dad gets new orders.
But that doesn't mean the Cathedral Catholic High School senior hates the military lifestyle. It's challenging, he said, but it's also a privilege.
"People should know that we're not suffering," Vinci said. "We do it because we love it. It's fun."
Vinci is one of more than 200 San Diego County and Oahu youth who were interviewed by playwright Lee Cataluna for "Home of the Brave," a play for young audiences about the ups and downs of life in a military family.
Commissioned by La Jolla Playhouse for its 2018 Performance Outreach Program (POP) Tour, it's now visiting elementary school campuses countywide through March 30.
Cataluna, a Hawaii-based journalist and playwright, said she found some universal truths in her interviews with schoolkids at locations that included Marine Corps Air Station Miramar.
Because they're forced to move so often, military children become incredibly adaptable. After a while, Cataluna said she got to a point where she could pick out military kids in a crowd.
"Kids that grow up in military families that move a lot tend to be very observant," she said. "They drop into a situation and assess very quickly and they get to know people fast. They just have a way about them. They're friendly, but they're reserved."
Tieryn Welch, 8, of Escondido has moved three times with his parents, Marine Capt. Josh Welch and Lauren Welch. The Welch family — which includes recently adopted siblings Christin, 10, and Coltin, 6 — was among an invited group of military families at the Playhouse recently for a free performance of "Home of the Brave."
Tieryn, who attends North Broadway Elementary in Escondido, enjoys the family's paripatetic lifestyle, which is portrayed both positively and negatively in the funny and touching 45-minute play.
"I love that we get to move all around and see new places," he said. "I could make friends with a rock."
But his younger brother, Coltin, said he could more easily identify with a scene in the play where two siblings are fighting.
Cataluna said many of the children she interviewed have complicated sibling relationships, forged by constant moves and a lack of lifelong friends.
"Your siblings become your friends," she said. "They've been through everything with you. Sometimes they want to kill each other but they know, no matter what, that they will always have each others' back."
"Home of the Brave" features four adult actors playing elementary school kids who are struggling with, and celebrating, military life.
There's a girl who refuses to unpack her boxes since she expects it won't be long before they're needed again. There's a trio of siblings who have a cookie-tasting session via Skype with their deployed dad. And in one of the most touching scenes, a girl talks about hiding love notes and mementos in the pockets of her father's combat fatigues, just before he deployed. The scene brought many children and parents in the audience to tears.
Cataluna said that ever since the play started its tour, it has resonated with audiences. But it had a profound impact on children at a school in San Diego where a third of the children are homeless and many have parents who were deported because they were undocumented.
Matt Vinci attended the play with his sister, Lizzie, 16, and their mom, Lauren. Her husband, Capt. Greg Vinci, has been in the Navy for 25 years. She thought the play captured the angst children endure when their parents deploy, as well as their confidence and independence.
"It really shows what it's like when a dad is gone for 6, 9, even 12 months, and the different ways kids handle that loss," Lauren said.
Cataluna has had 18 plays produced over the years, including many by Honolulu Theatre for Youth. That theater's artistic director, Eric Johnson, directed the play, which will be presented again next year in Hawaii.
The play's central theme is the question most military kids say they struggle with: answering the seemingly simple question "where are you from?"
After the performance, almost all of the actors and crew told the audience they grew up in military families themselves and "home" means many different things to them. It could be where they were born, where their parents are from or where they live now. Or it could be anyplace where they can be together as a family.
"You never realize how fraught that question can be," Cataluna said. "Sometimes it's funny. Sometimes it's complicated. One girl said it's not an easy life, but it's totally doable and it's worth it if your parent loves his or his job."
For information on "Home of the Brave," visit lajollaplayhouse.org/pop-tour-2018.
--Pam Kragen is a writer for The San Diego Union-Tribune
---