The Girl Singers to bring holiday show to Solana Beach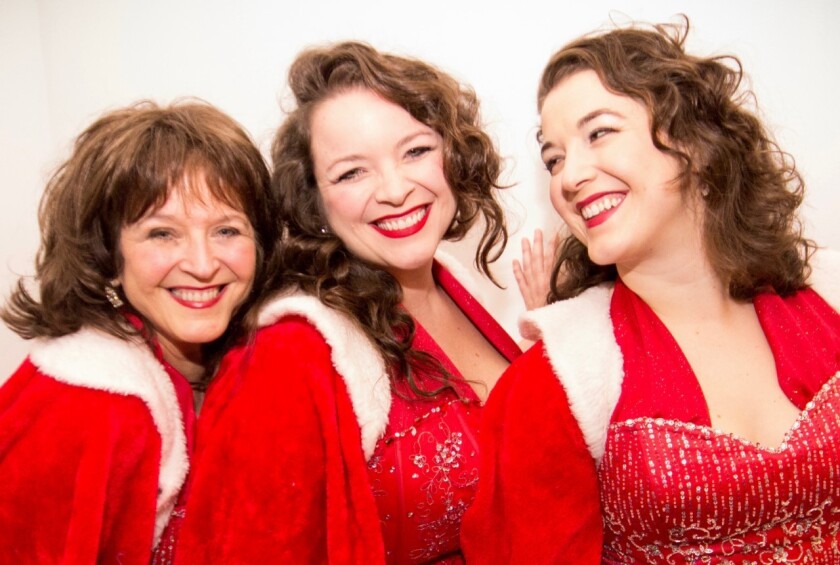 A festive holiday musical is headed for Solana Beach that will surely be fun for all families. After all, it's a family that will be performing popular holiday songs on stage.
Starring a mother and her two daughters, "The Girl Singers of the Hit Parade Holiday Show" is set to take the stage Dec. 6-24 at North Coast Repertory Theatre.
"We're just so happy to be able to come out there and do this, and celebrate the holidays with the folks of Solana Beach [and surrounding communities]," said producer and performer Colleen Raye.
An accomplished singer, actress and entertainer, Raye heads The Girl Singers, a singing group she started a decade ago. The original lineup included her sister, Debbie O'keefe, and two daughters, Jennifer and Sophie Grimm.
"The music and joy that comes out of us is really great," said Raye, a mother of four.
Raye and her six brothers and sisters were raised on a farm in Wisconsin, where she still resides today.
Coming from a musically-gifted family, Raye started her music career by singing in her older brother's band when she was 15 years old. She went on to study music in college and later met her late ex-husband Steve Grimm, another performer. For 18 years, the pair performed across the country with their night club show band called "The Steve Grimm and Colleen Raye Show."
Since 2006, Raye has created and produced a series of "Girl Singers" shows, including "The Girl Singers of the Hit Parade." The Girl Singers first took the stage at North Coast Rep last summer with the show, which features classics from Rosemary Clooney, Patti Page, Doris Day and more.
"The audience responded very well," Raye said. 'Now, we're back for three weeks."
The Girl Singers, now a three-member lineup, consists of Raye, Jennifer Grimm and Sophie Grimm.
Jennifer has been in the music business for more than 35 years, working as a solo artist and composer. She previously co-starred in North Coast Rep's "Words by Ira Gershwin," a musical directed by Artistic Director David Ellenstein. Sophie is an actress and singer based in Chicago.
The Girl Singers will be joined by Raye's husband, pianist Dominic Tarullo; Raye's son, drummer and vocalist Redd Grimm; and Jennifer's fiancé, guitarist Joe Cruz.
"The Girl Singers of the Hit Parade Holiday Show" brings to life popular holiday songs of the '50s, including "Santa Baby" made famous by Eartha Kitt and "Rockin' Around the Christmas Tree" by Brenda Lee. The show also includes a number of Christmas classics, music of Hanukkah and a melody from Disney's film "Frozen."
"The audience can expect to be totally entertained," Raye said. "There will be power-packed vocals with a sense of humor and family blend."
"The Girl Singers of the Hit Parade Holiday Show" runs at various times and dates from Dec. 6-24. Tickets are $42 for general admission and $37 for subscribers.
For more information or to purchase tickets, call the box office at 858-481-1055 or visit www.northcoastrep.org.
---
Get the Del Mar Times in your inbox
Top stories from Carmel Valley, Del Mar and Solana Beach every Friday for free.
You may occasionally receive promotional content from the Del Mar Times.