Actors use 'Unnecessary Farce' to bring the laughs at Solana Beach's North Coast Rep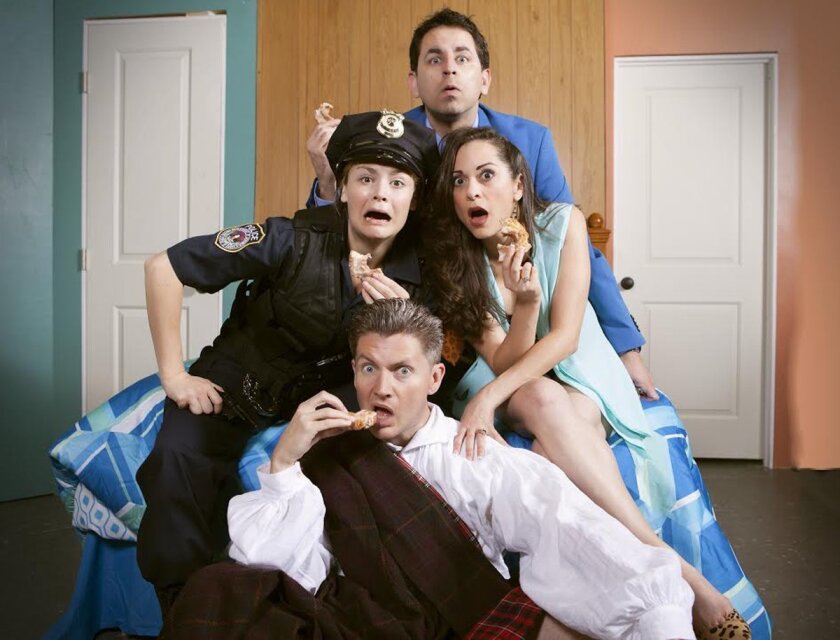 Zany entertainment awaits those who go to see the award-winning comedy "Unnecessary Farce" by Paul Slade Smith on stage at North Coast Repertory Theatre April 15 through May 10.
With more than 155 productions to date, the show has received glowing reviews — "dazzlingly funny," "unrelentingly funny plot" and "funniest two hours of theater I have seen in several years." Director Matthew Wiener said the run at NCRT would mark its San Diego premiere.
Playscript.com summarizes the plot this way: In a cheap motel room, an embezzling mayor is supposed to meet with his female accountant, while in the room next door, two undercover cops wait to catch the meeting on videotape. But there's some confusion as to who's in which room, who's being videotaped, who's taken the money, who's hired a hit man, and why the accountant keeps taking off her clothes.
"Since I have directed several NCRT comic farces, like 'Lend Me A Tenor' and 'Perfect Wedding,' artistic director David Ellenstein asked if I would direct 'Unnecessary Farce,'" Wiener said. "I love working on this kind of material. These plays are so fun, and I love making audiences laugh. This play has wonderful performers, some I've worked with before, which is really grand."
The cast includes: Ted Barton (Mayor Meekly), Dagmar Krause Fields (Mary Meekly), Jessica John (Karen Brown), David McBean (Todd), John Nutten (Agent Frank), Jacque Wilke (Officer Billie Dwyer) and Christopher M. Williams (Officer Eric Sheridan).
"Good farce, well done, is demanding and requires a lot from its actors throughout the entire production," Wiener said. "It requires plenty of musicality to get all the rhythms right. The amount of repetition necessary to get the timing locked down, and the precision required of the actors, can be draining. Actors have to rehearse very hard, and there's no room for alteration. You'll see some of the best actors in San Diego in this show.
"In our world today, being able to spend a few hours laughing and having a good time is very important. Farce has roots in both the French and English stage, and the plots are full of variations, like mistaken identities or who's in bed with whom. But when it's done well, audiences of all ages walk out feeling great."
"Unnecessary Farce" runs April 15-May 10 at North Coast Repertory Theatre, 987 Lomas Santa Fe Drive, Solana Beach. Tickets from $37; call 858-481-1055; visit northcoastrep.org.
---
Get the Del Mar Times in your inbox
Top stories from Carmel Valley, Del Mar and Solana Beach every Friday.
You may occasionally receive promotional content from the Del Mar Times.