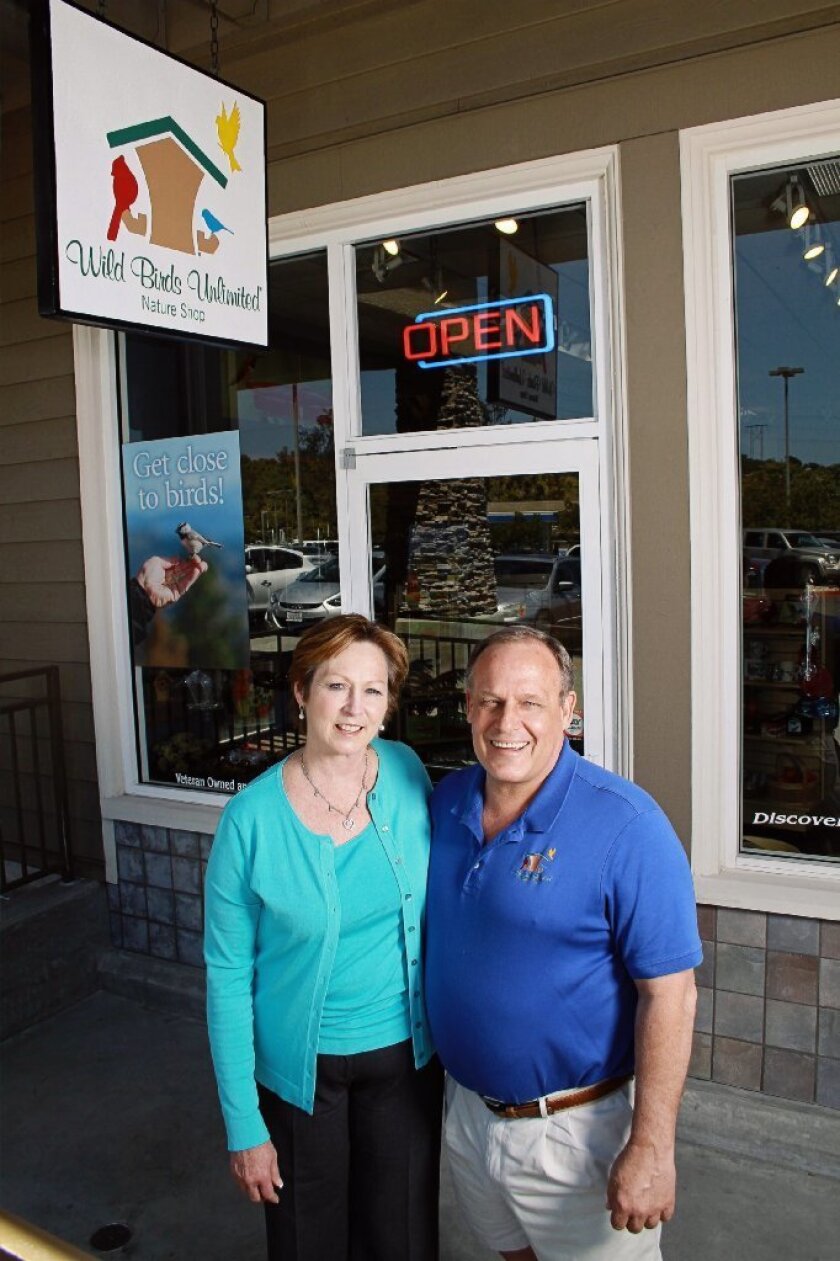 After more than four years, Wild Birds Unlimited is still going strong at its Scripps Ranch location, 10549 Scripps Poway Parkway, Suite B3 in the Scripps Ranch Marketplace shopping center.
Opened by Rancho Peñasquitos residents Jerry and Arlene Martin in October 2013, the store offers many bird and garden-related products, including bird seed, bird feeders, bird baths and many types of garden art and gift products — but no actual live birds.
"Business has been really good," said Jerry Martin. "We've had strong community support from Scripps Ranch, Poway, Rancho Bernardo, Rancho Peñasquitos, the whole city of San Diego, really. We have customers from as far south as Chula Vista."
Martin said that the store was named in the franchise's top 10 most improved stores in 2015 and recently came in third in Best of North County's unique gifts ranking.
Over the past several years, Martin said the store has expanded not only its stock of bird and garden products, but moved into offering more gift product lines.
"We've increased our gift products in the years since we opened," he said. "We're offering more fun, quirky, unique gifts."
Some of these unique gift product lines are Naked Bee, a fragrance line made from honey that Martin said is popular with women; Michel Design Works, a flower-based fragrance line; Solmate socks, which are intentionally mismatched socks; and Jim Shore high-end figurines.
Martin said the store's house brand of bird feeders are also best sellers and come with a lifetime guarantee. "We'll repair it or replace it," he said.
The business' core remains its lines of bird food products, Martin said, and the store's website offers a wide variety of information on how best to attract wild birds and what is the best way to feed them.
Martin, who joined the Coast Guard at 19, became a chief warrant officer in 1990. From 1990 until 1996, he was the head of aircraft maintenance at Lindbergh Field, when he retired from the Coast Guard. After that he worked in the defense and aerospace industries before deciding to open Wild Birds Unlimited with his wife, Arlene, in 2013. The Martins have been married for over 40 years. Their daughters graduated from Mt. Carmel High School in the mid-1990s.
Wild Birds Unlimited is open 10 a.m. to 6 p.m. Monday through Friday, 10 a.m. to 5 p.m. Saturday and 11 a.m. to 4 p.m. Sunday. For more information, call 858-271-8457 or visit sandiego.wbu.com.
---