Children's yoga studio opens in Flower Hill
If I Was a Bird Yoga opened in Flower Hill Promenade on Nov. 1, bringing the benefits of yoga to the younger set in a unique and fun way. If I Was a Bird classes are designed for babies and toddlers to tweens, teens and families and each one-hour, 15-minute class includes a playful yoga practice, as well as an art project and a healthy snack.
"Even though it is playful, they are getting a real yoga program," said founder Tiffany Gullberg.
In every class, kids stretch, breathe and work on their posture and balance, going through a steady, structured flow ending with a cool-down and peaceful relaxation. Gullberg said kids love the relaxation part of the practice, in which they get a blanket, lavender oil on their foreheads and optional massage therapy from the teacher.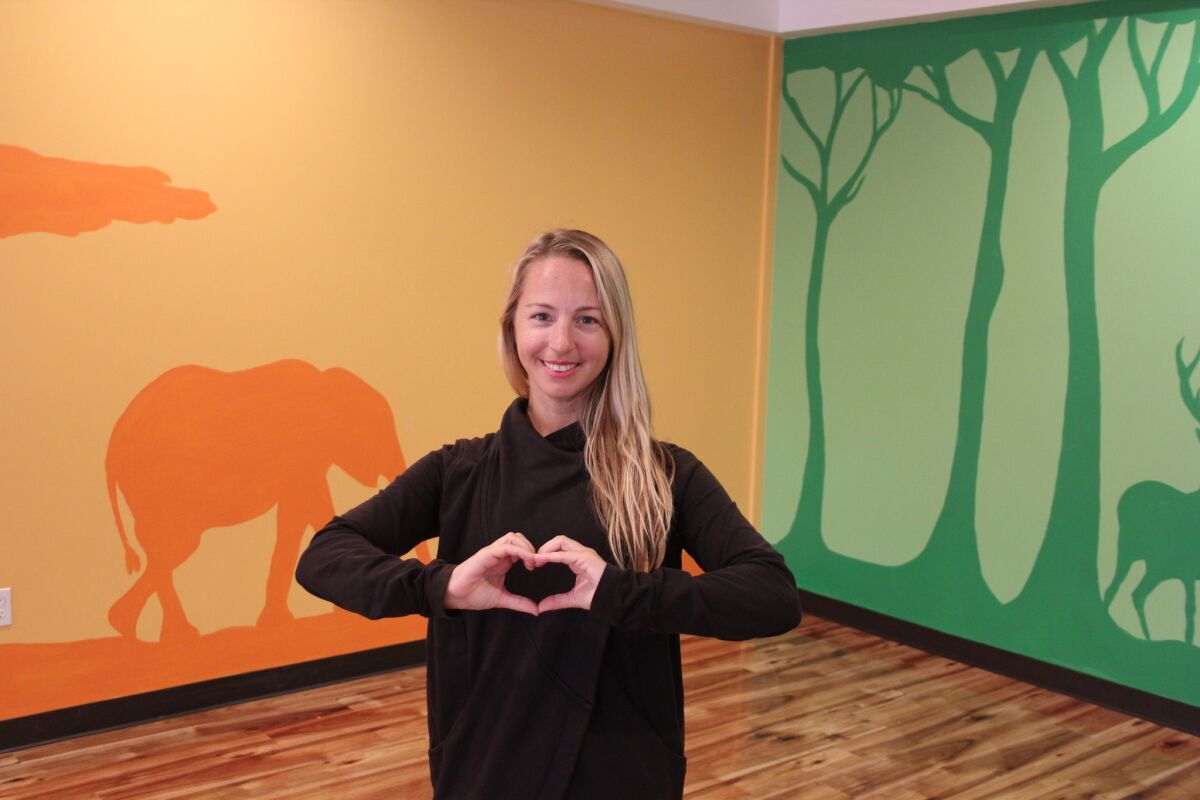 If I Was a Bird will celebrate the opening of the new studio with a week's worth of free classes Nov. 7-13.
Gullberg started teaching yoga at Core Power Yoga 10 years ago and, after she had her first daughter, it naturally led to practicing with children. She winged it in her first class at a daycare center.
"I really loved it, I had goosebumps," Gullberg said. "It was just really joyful and there was so much magic to it. The very first class I taught, I knew it was what I was supposed to do with my life."
Four years ago, she opened her first studio in Point Loma, and it has now grown to include one other location in San Diego, in addition to the new Flower Hill studio.
She has crafted a thoughtful kids yoga program that infuses fun and educational learning with mindfulness and relaxation.
Kids learn about a different part of the world in every class and do a corresponding craft. As an example over the holidays, the kids will visit Plymouth Rock and the Arctic Ice. During the yoga practice set to music, children use props like colorful scarves, parachutes, instruments and bubbles.
"It's a peaceful yoga practice with sprinkles of playful," Gullberg said of the classes for Tots and Me (nine months to 3 years), kids ages 2-5, and kids ages 5-8.
For the tweens and teens, Gullberg said yoga is a great complement for all of their daily activities. Classes include popular music and positive themes which help build a healthy foundation for the stressful tween/teen years.
Gullberg enjoys that "magic" of kids yoga while still loving teaching adult yoga classes at Core Power — she has the earliest morning adult classes six times a week. She won't say which she prefers best, as like any good yogi, it's all about finding balance.
"Teaching the kids is my passion," Gullberg said, noting that she is now teaching some of her longtime adult yoga clients' children, which has been very fun.
If I Was a Bird offers a "drop-and-shop" service at Flower Hill where children can be dropped off for open art and creative play — it's not the full signature yoga class, but it will feature some yoga movement.
On weekends, the studio offers two-hour specialty workshops on different themes. Del Mar's first workshop is a Katy Perry event on Nov. 11, followed by American Girl yoga event on Nov. 19 and a Star Wars yoga workshop on Nov. 26. Gullberg is also hosting Thanksgiving break yoga camps on Nov. 21-23 and holiday break camps in December. The studio is available for birthday parties.
All of the classes also sync with classes at Flower Hill's Core Power Yoga, so adults can drop off their kids for yoga while they take a class of their own.
Those interested in If I Were A Bird's complimentary classes Nov. 7-13 must book classes in advance by calling (858)775-2913 or emailing Tiffany@ifiwasabirdyoga.com. For schedules and more information, visit ifiwasabirdyoga.com
Get the Del Mar Times in your inbox
Top stories from Carmel Valley, Del Mar and Solana Beach every Friday for free.
You may occasionally receive promotional content from the Del Mar Times.