SDG&E proposes reduced tree removal plan for Carmel Mission Park
Carmel Valley residents fighting to save 75 trees from being cut down at Carmel Mission Park have been granted a slight reprieve, as SDG&E has reassessed and scaled back its removal plans. According to Don Akau, vegetation and pole integrity manager for SDG&E, they are now proposing the removal of 40 trees and topping the crowns of an additional 34 at the park under the power lines off Carmel Country Road.
SDG&E has stated that the removals at Carmel Mission are necessary due to the threat of the large trees falling into the transmission lines and causing an outage or fire.
At the Aug. 23 Carmel Valley Community Planning board meeting, Carmel Valley resident Tara Mackey said she still believes that 40 trees is too many. She emphasized the community's desire for the best and most conservative options for preserving the trees that are a "community treasure," many of them endangered and mature Torrey Pines.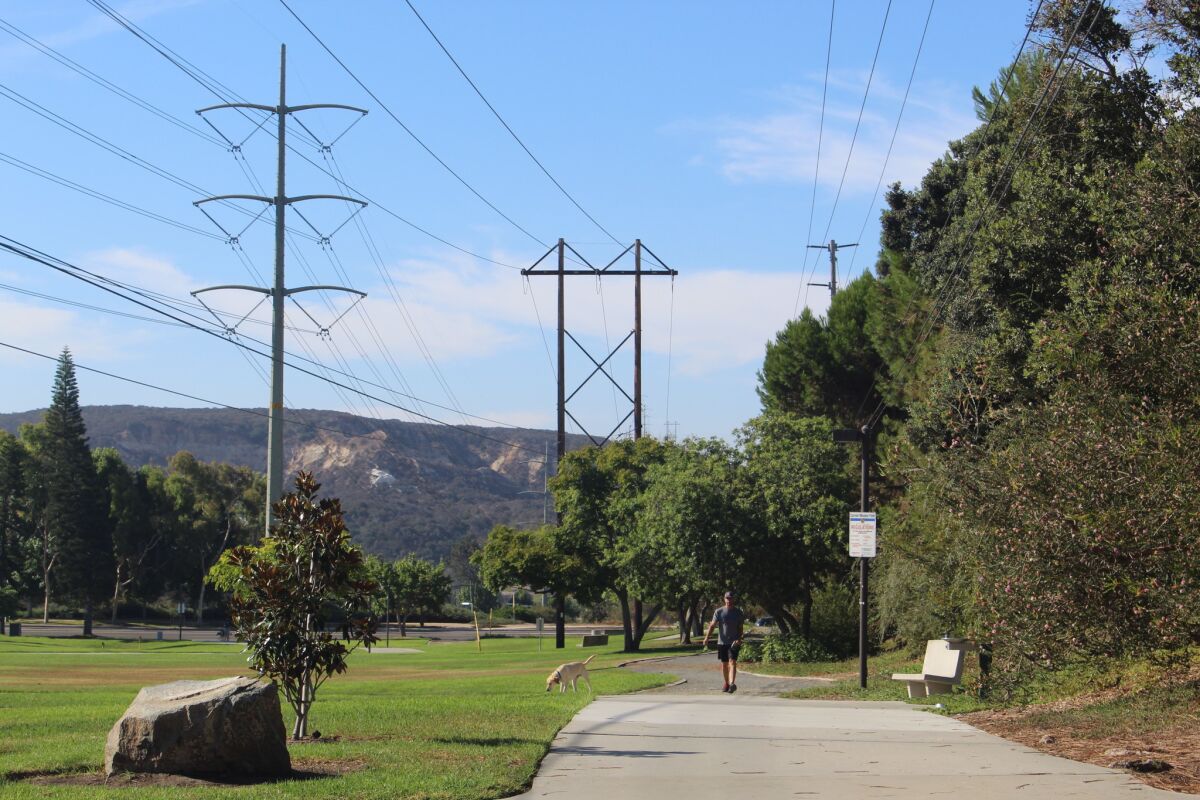 "Based on what I've learned over the last nine months since I started what I thought was going to be a very simple crusade, I don't think any of these trees need to be removed. I don't," Mackey said. "I don't want anybody to get hurt either but it's very bad to start cutting trees based on the precedent of 'It might fall'. Any tree might fall."
The original plan presented last August proposed removing the trees over the course of three years but SDG&E is now proposing to do the removals and tree crowning by the end of the year. Carmel Valley Planning Board Chair Frisco White was hoping to find some common ground between the residents and SDG&E. With the help of City Council District 1 Steven Hadley, the residents and their hired master arborist plan to meet with SDG&E representatives in September in an effort to reach some consensus.
"I love trees, I care about trees," said Akau, a certified arborist and utilities specialist. "We're not here to talk about removing trees but how do we get trees and utilities and other infrastructure to co-exist."
Akau said a lot of SDG&E's vegetation management work is driven by federal regulatory compliances on clearances as well as regulations from the California Public Utilities Commission and CalFire. SDG&E also has a requirement to provide safe and reliable services to its customers, Akau said.
Mackey and other residents asked what kind of risk assessment was performed and on what qualifications SDG&E was targeting trees for removal—whether it was the height, risk of failure or park history.
"If you go through the park you'll see there's a lot of trees that failed already," Akau said. "I can't 100 percent tell you that every one of these trees is going to fail. But I can tell you the slope that they're on, the height that they are, they will fail and eventually strike the line."
In 2016, a large pine uprooted at the park and knocked into another tree which fell into a line and caused an outage. In his review, Akau saw 16 stumps where other trees have failed. He said many trees were planted in the wrong location on a slope where the tallest trees start to lean and uproot.
In his time spent reassessing the park, Akau said he wasn't sure that he wanted to make any changes to the original removal plan due to how much the park is used by the public.
"My biggest concern about the proximity of the trees to our power lines is the public's safety," Akau said. "I do not want to have somebody injured or killed because of a downed power line."
Akau said the 40 trees slated for removal have been identified as a safety hazard and must be removed. The other 34 trees would be topped with the hope that they will be successful in surviving. SDG&E will also replace every tree removed with two new trees that are more compatible with the power lines.
Planning board member Ken Farinsky said his concern with the plan was that it takes out all of the trees at the corner of Carmel Center Road, the northwest corner of the park.
"Is there a way to reduce the number of trees so you have some mature trees remaining at that corner? Because some are massively far away from the power lines," Farinsky said.
Akau said unfortunately that location has the tallest population of trees on the most severe area of the slope where stumps show that trees have already failed and uprooted. It is also located in the same corridor where they experienced the 2016 outage.
As Mackey stated, the community paid for master arborist Bradley Brown to make his own independent assessment of the park and his determination was that the majority of trees posed no risk and should not be removed, only pruned..
"Removal should not even be part of the discussion," Mackey said. "Our master arborist's most important point is that tree removal is the very last option and does not apply here in any observable way. Tree preservation is supposed to be the spirit of aboriculture and should remain the spirit of our beautiful town."
Bradley's assessment also stated that it would be difficult for SDG&E to replace trees if they do not intend to stump grind. Akau said SDG&E would not do stump removal because it would cause the slope to be unstable but the stumps will be left low to the ground.
Rather than removals, residents are hopeful for a "logical pruning system" to mitigate risks and SDG&E coming back within three to five years to see how the trees have thrived.
"All we're trying to do is preserve our pristine little area," said one neighbor.
"The community cannot in good conscience let a single, solitary healthy tree get clear cut in a time when protecting our environment has become so important for our health," Mackey said.
---
Get the Del Mar Times in your inbox
Top stories from Carmel Valley, Del Mar and Solana Beach every Friday for free.
You may occasionally receive promotional content from the Del Mar Times.