TPHS cross country coach honored for 30-year career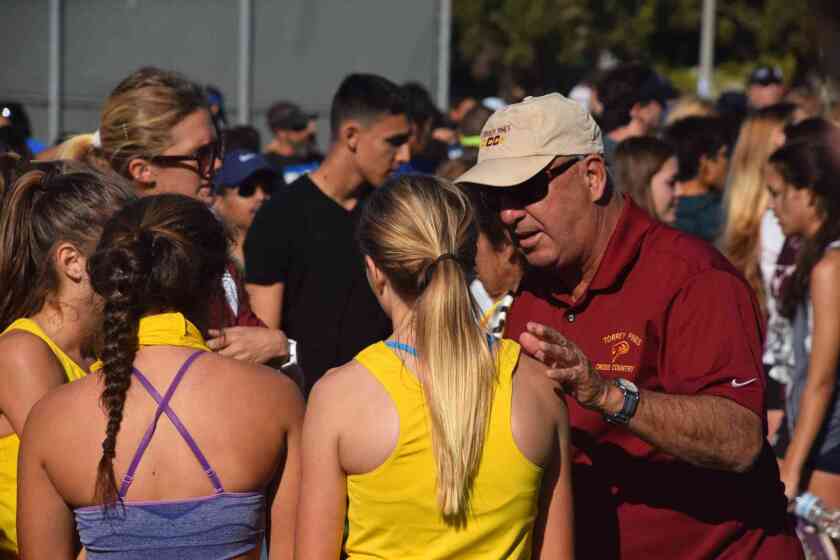 The Torrey Pines High School cross country program said goodbye Jan. 20 to Coach Brent Thorne, who for 30 years kept his cross country team moving in the same direction, his heart truly on what was best for the kids.
"Thirty years does not come easy," said this year's parent liaison Conchita Ramirez. "It's 30 trips to Mount Sac, 30 summers in pre-season, 30 trips to Stanford many times on the same day as his wedding anniversary, 30 trips to state championships on the Friday after Thanksgiving, hundreds of bus rides with sweaty kids, thousands of practices in the heat and in the cold, hundreds of early Saturday meets. Clearly this has not been only a coach's sacrifice but his entire family's as well, so we thank you for that."
Since 1988, Thorne has lead the girls team to 15 league titles, 10 CIF titles and 10 appearances at the state championship meet. The girls cross country team became a force in the state, with 10 times in the top 10 and a state championship in 2009. On the boys' side, Thorne has 10 league titles, six CIF titles, 12 team appearances at state with six times in the top 10 and one individual state championship with Tal Braude in 2014.
Thorne coached Torrey Pines standouts such as Alli Billmeyer, Erin Gillingham, Megan Morgan, Matt Carpowich and Braude, who all went on to run in college. Thorne also served many years as Torrey Pines' track and field head coach and as the distance coach until 2011. In the audience was Mike Brown, class of 1995, who was Torrey Pines' only state track and field champion in the pole vault.
Doug Gillingham, the team parent liaison for the 2007-08 season, said Coach Thorne embodies much more than the titles and championship banners that hang in the rafters. He said Thorne stressed in his athletes the values of sportsmanship, teamwork and a fundamental commitment to excellence.
"He asked kids to invest in excellence and to be a team and to work together," Gillingham said. "As you walk by various trophies and look at the banners up there, yeah, there were some great wins along the way but really what's important is there are 30 years worth of Torrey Pines cross country and distance running kids who had that experience investing in their own definition of excellence and taking that where they could and doing it as a team."
Thorne, who also serves as the Canyon Crest Academy track team's high jump coach, said he was lucky to have worked with a lot of really great people at Torrey Pines, including coaches, principals and athletic directors that made it possible to be a successful head coach.
He said his last year has been a year of reflection, thinking of all the names and faces and stories over the last 30 years. He said he wasn't entirely comfortable with being honored and recognized in this way but, as his cousin told him, "Somebody had to drive the bus."
"Sure I got to drive the bus, but I want to tell you about that bus, how full it was. That bus was full of kids, young students here that bought into my dream of having Torrey Pines be the absolute best distance running program in the state. They struggled and they accomplished and they struggled," Thorne said. "We have people sitting here today that really struggled battles and demons, really battled belief in themselves and those were actually, in the long run, I think great battles. Great battles being fought to learn the limits of oneself, out on the playing field and then take that with them on to college and later in life."
He said all he asks of his alumni is to stay in touch, to keep him posted on what they are doing in life. He is proud when he hears of the "remarkable" things his former athletes are doing and is touched when he hears one say "you never gave up on me."
"It's not just about me, everything here I'm being acknowledged for is about the young people that ran for me. Every single one, whether it was the top seven or our 40th runner," Thorne said. "They all made it possible and they all made it absolutely wonderful."
Thorne's legacy will be honored at Torrey Pines with a plaque bearing his name and accomplishments. At last week's ceremony, he made special note of his supportive family in the audience: his sister, his two children, who are Torrey Pines graduates, and especially to his wife, Sandi.
"My wife is the only reason that I'm able to coach," said a tearful Thorne, who is legally blind. "She made it possible that I could have this part-time job, so that I could coach and that my life would be meaningful and relevant. I really owe everything to her, absolutely everything."
---
Get the Del Mar Times in your inbox
Top stories from Carmel Valley, Del Mar and Solana Beach every Friday for free.
You may occasionally receive promotional content from the Del Mar Times.