Rescue service dog makes an impact on local girl's life
They are the perfect pair: Carmel Del Mar fifth grader Dakota Smith and her service dog April.
April is a rescue Basset-Dachshund Hound mix, a big tank body on short little legs, trained to respond to seizures and in panic attack alert and response with a specialization in comforting kisses and nuzzles. She is a loyal companion who has made a life-changing impact on 10-year-old Dakota, both of them completing their certifications as service dog and handler this summer with Pro-Train.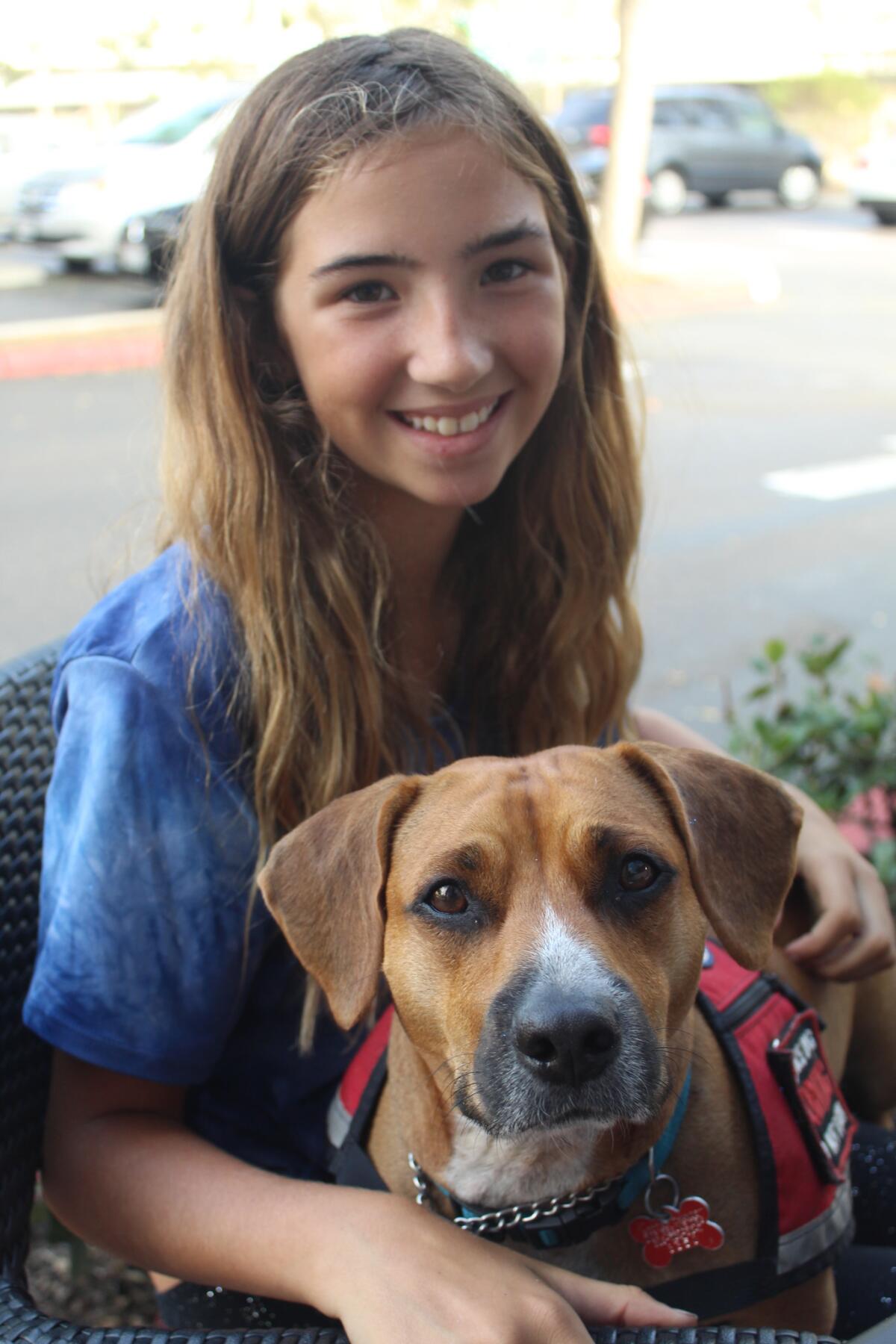 Dakota has struggled with anxiety her whole life but it became more severe after losing her dad abruptly. She had trouble in school with friends and other social situations, experiencing tears and panic attacks.
The one-year-old April first arrived in the Smith's home as a foster dog for Second Chance Dog Rescue, an organization that Dakota's mom Alix Smith often fosters for. April was one of 104 kittens and puppies rescued from a high-kill shelter in Louisiana—she had been a day away from being euthanized.
The family fell in love with April instantly but Dakota and April developed a very special bond. One day Dakota told her mom that April was like her therapy dog.
"She said 'When I have a bad day at school, I come home and lay with her and I feel better'," said Alix, giving mom the nudge to begin researching how she could get April trained as a service dog.
Pro-Train offers personalized dog training as well as certifies dogs that people already own, training them to be service dogs, hearing dogs and guide dogs. They also train dogs for "invisible disabilities" including autism, seizure response, emotional support and as diabetic alert dogs.
The Smiths left April with Pro-Train for five weeks at its Vista facility for training. Training April was half the battle as Dakota also had to undergo training to be a certified service dog handler. Alix said it was a challenge for a child who has issues with learning, but she successfully completed the requirements.
"She is sweet and smart," Dakota said of April, noting that training helped the dog come a long way from being "hyper and howly."
"We couldn't be happier for the Smith family and for their trust in our team of trainers," said Pro-Train Founder, Mark "Dogman" Castillero.
April helps Dakota with calming down, "I have less crying and being upset", Dakota said. In addition to being trained to respond to seizures and panic attacks, when Dakota feels overwhelmed in social situations, April knows to use her sturdy body to make Dakota feel relaxed and protected.
"She's totally changed Dakota's life in so many ways," said Alix. "When Dakota does have a panic attack, April nips it in the bud."
It used to be a struggle to get Dakota to go to school, now she's out the door with April before mom has finished her cup of coffee. Dakota goes to school with April as part of her IEP (individualized education program) at Carmel Del Mar. She said April behaves in the classroom and watches when she plays on the playground during recess or PE.
April is with Dakota every second— she goes with her to doctors' appointments, she attends Dakota's softball games and practices (she has her own jersey this fall season) and at night she sleeps in her bed.
Pro-Train offers continuous follow-up training and both are still getting better with their commands. The one command April seems to understand best is "Cuddle" and at the first sign of tears, April jumps up and licks her face.
Dakota still has tough days at school but Alix said she has noticed that her daughter can shake it off better because she has April. She said her daughter is now more confident, organized, more communicative and independent.
"She truly is a different girl because of April," Alix said.
Get the Del Mar Times in your inbox
Top stories from Carmel Valley, Del Mar and Solana Beach every Friday for free.
You may occasionally receive promotional content from the Del Mar Times.