Garcia Furniture builds on 37 years of success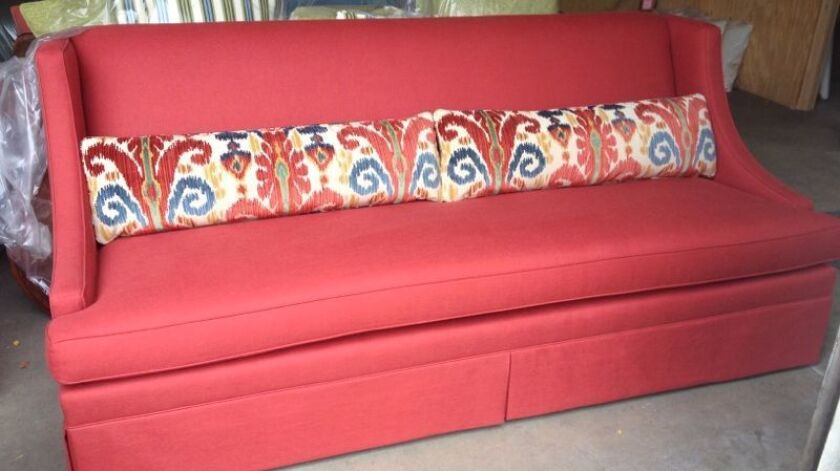 For 37 years, Garcia Furniture Designs has worked hard to always offer the very best in custom-built, quality furniture in San Diego. Located in the Sorrento Valley area for the last 25 years, the company takes pride in creating pieces that will last a lifetime, using old world craftsmanship that has been passed down through the Garcia family.
Over the years, Garcia Furniture Designs has established a loyal base of clients, mostly through word of mouth. Services include custom-built furniture, custom-built platform beds/headboards, re-upholstery, home theater/wall upholstery restyling of furniture and slipcovers.
Garcia does a lot of seating work for restaurants in the area as well as a lot of work for the design trade. Clients can come in with an inspiration photo and Garcia can build it to their exact specifications and dimensions.
With their re-upholstery work, owner Leonard Garcia enjoys restoring pieces that are memorable for clients, pieces that belonged to grandparents or relatives and have perhaps been relegated to storage or the garage.
"We can refinish them and re-spring them and bring them back to life," Garcia said.
Garcia said a large part of their business is in outdoor cushions, "being in the coastal area and having a lot of sun in San Diego, people are out enjoying their patio furniture a lot," Garcia said.
They upholster a lot of outdoor furniture like sectionals and chairs using high-performance Sunbrella fabrics.
Leonard learned the art of building and upholstering furniture from his father, Robert, who honed his skills working in furniture plants in Los Angeles before moving to San Diego in 1957. He started Robert's Upholstery at the corner of Imperial Avenue and 47th Street in San Diego and worked independently for many years building custom furniture.
Leonard said his father was adamant that all of his children, seven boys and three girls, learn upholstery and furniture building as it was a great trade to fall back on.
Leonard took it the most to heart.
"I pretty much came to the conclusion that if I was going to do this, I was going to be the best. That has been my motivation all these years," Garcia said.
Garcia took over as the owner of the business in 1980, continuing his father's legacy.
"He was my mentor," Garcia said.
Robert had taught Leonard the "old school" method of building high-quality furniture, using hard wood alder frames and doing spring work using eight-way, hand-tied coil spring construction. "Something you find in the most expensive furniture store." Garcia also does down-wrapped cushions or foam-core cushions; customers get to pick their level of cushion from firm to soft but Garcia said no matter what they pick it is guaranteed to be "superior seating."
Garcia continues to teach his children so they can continue on in the trade and his is still a true family business. His wife, Pat, co-owns the business and specializes in sewing; his son, Leonard Jr., can often be found building furniture in the workshop; and as his son, Michael, has a degree in business, he has designs on developing their own furniture line someday in the future.
His daughter, Norma, is the friendly face at the front desk — Garcia says she is a natural at helping customers with color and fabric selections, with her very "soothing and effective" voice.
"Any idea that a customer has, we can produce them, from the simplest project to a more complex, complete family room set that will give comfort and beauty for years to come," Garcia said. "I want them to be heirloom pieces. My goal is to build furniture so well that it will be around for a long time, something families can pass down to their children. That's the way we build furniture."
This summer, Garcia is offering 20 percent off of Sunbrella, Robert Allen and Duralee fabrics.
Garcia Furniture Designs is located at 4178 Sorrento Boulevard, #B, San Diego, 92121. To learn more, call (858) 457-9517 or visit garciafurnituredesigns.com
– Business spotlights are developed through this newspaper's advertising department in support of our advertisers.
---
Get the Del Mar Times in your inbox
Top stories from Carmel Valley, Del Mar and Solana Beach every Friday.
You may occasionally receive promotional content from the Del Mar Times.