Local mom honors son's memory with 2,000 crane display at New Children's Museum
An origami crane starts with a simple square piece of paper, rising from a series of meticulous folds. Carmel Valley's Kathy Liu has made thousands and thousands, with beautiful paper of all colors and patterns, attached to strings, adorned with beads, added to a cheerful mobile or to be a part of a meaningful display. She makes the cranes in memory of her son Joey, who died from a rare form of kidney cancer at age 10.
Origami was something that Joey really liked, he loved to fold since he was in kindergarten and by second grade he was extremely good.
"When he was here, I never folded," said Liu. "Now that he's not here, I fold every day."
Every September since she lost Joey in 2014, she has made a display of 2,000 paper origami cranes as part of her nonprofit Joey's Wings Crane for a Cure project. The 2,000 birds represent the 2,000 children that die from childhood cancer every year and this year they will take flight at San Diego's New Children's Museum from Sept. 6 through Oct. 2 in honor of Joey and Childhood Cancer Awareness Month.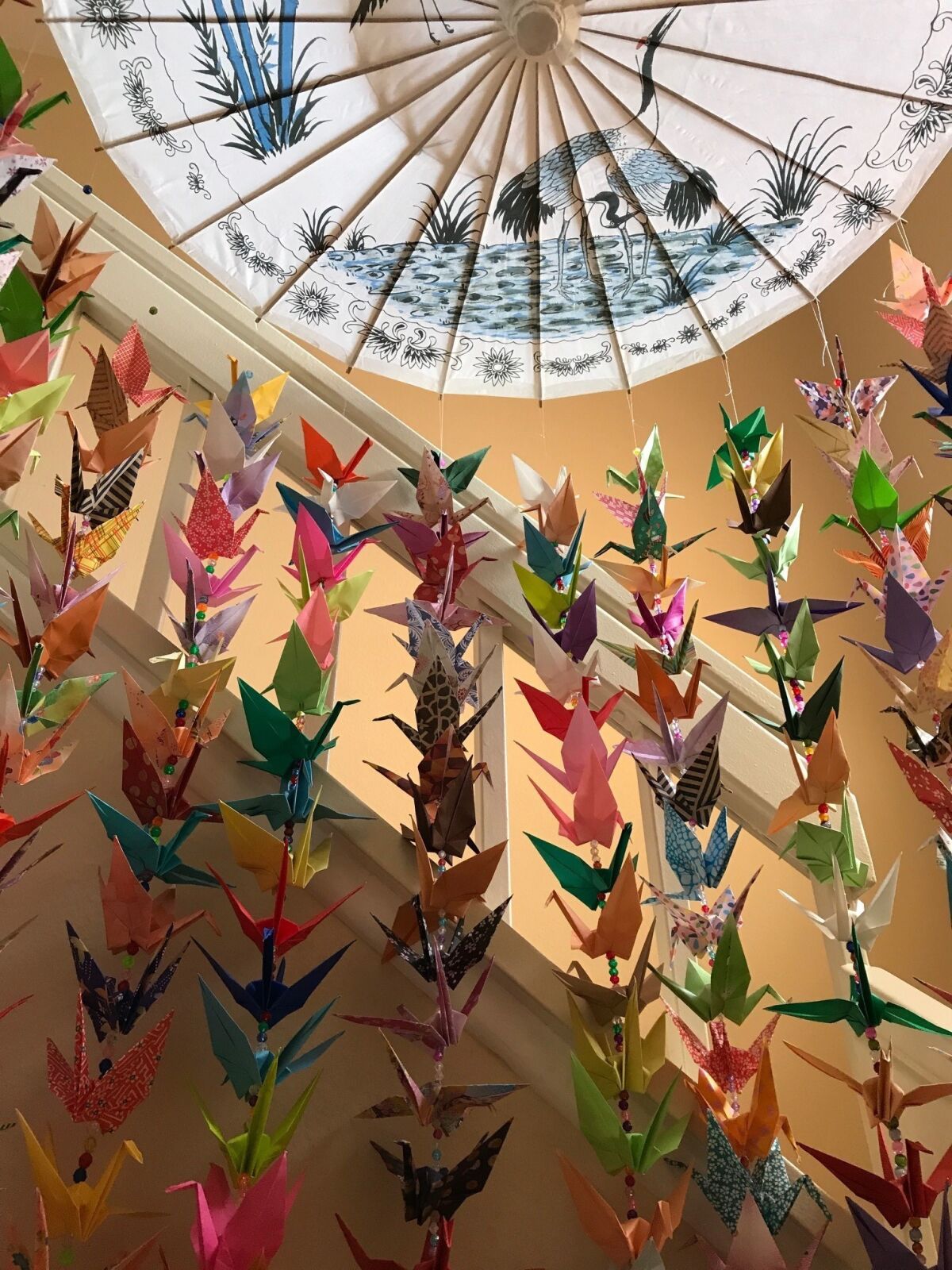 In Chinese and Japanese culture, cranes mean health and hope and good luck. The belief is that if you fold 1,000 cranes, your wish will be granted — Liu has only ever had one wish and that's a wish for a cure. As it stands now, only 4 percent of federal funding is spent on childhood cancer research and Liu is on a tireless mission to change that.
Liu and her husband, Luke, and son, David, moved to Carmel Valley from Gainesville, Fla., last year. Through Joey's Wings, Liu raises awareness and funds for childhood cancer and supports children and families going through the same fight.
She makes mobiles for young patients, cranes to cheer up a hospital IV pole, she makes earrings with delicately folded tiny cranes to sell, and, over the last holiday season, made crane ornaments that she sold in front of Ralphs to raise money for Rady Children's Hospital.
There's a Joey's Wings 5K and a gala in Florida every year and the Burn Running Club, a nonprofit in the Bay Area, also holds an annual race to support Joey's Wings.
Now that Liu is in San Diego she is focused less on events and more on lobbying efforts. In May, she represented California with 200 advocates from all over the country for Childhood Cancer Action Day, meeting with legislators on Capitol Hill.
"Childhood cancer is so sad, people don't want to talk about it," Liu said. "It's a challenge (to receive funding) because it's rare. Seven children every day in America die from cancer and 46 are diagnosed, 263 children die every day around the world from childhood cancer. If we find a cure it's not just for our kids, it's for kids all over the world."
Even at a young age, Joey was known for his talented hands — he was the youngest violin player in the Alachua County Youth Orchestra. He was a very talented artist and loved playing music, painting and origami. He also was a whiz at math, winning a Florida Math League Contest.
He loved science, was an avid reader and like many kids his age, he loved Legos and Minecraft and soccer.
In March of 2013, 9-year-old Joey was diagnosed with a rare type of kidney cancer that is very hard to treat. By the time he was diagnosed, it had spread from his kidney to his abdomen, chest and neck.
As there was no standard treatment, for 20 months the Lius tried a variety of options and Joey had two major surgeries at Cincinnati Children's Hospital.
While in Cincinnati to try immunotherapy, one of the first child cancer patients to try the adult treatment, Joey slipped into a coma and was transferred back to Gainesville to Shands Children's Hospital where he passed away two days later, the day before Thanksgiving Nov. 26, 2014.
He was 10 years old and in the fifth grade.
He never completed his last painting he had been working on in the hospital, painting a dragon while lying on his side because he was so weak. Liu keeps the painting prominently displayed in her home as a reminder of the work she has to finish in Joey's name.
"The painting wasn't for Joey to finish. The rest of the painting is for us and the researchers to finish and find a cure," Liu said.
Liu started Joey's Wings in her son's memory and she has kept busy.
Joey's Wings is working with the UT Southwestern Medical Center's kidney cancer program, considered number one in the world — Joey's Wings donated $100,000 to the lab, which was able to hire a full-time researcher to study the cancer.
Joey's Wings also funds massage therapy for patients at Shands Children's Hospital, which she would also like to do for Rady Children's Hospital. Personally, Liu volunteers every month at the Ronald McDonald House, cooking for the families.
In Washington, DC, Liu joins fellow childhood cancer advocates to lobby for increased funding — one of the greatest challenges of pediatric cancer research has been a lack of access to new treatments for children.
One of Liu's strongest fights with Joey was for compassionate use, a way for patients to try new drugs that have not yet been approved. With Joey, she petitioned drug companies for the use of a new immunotherapy drug that targeted the type of tumor Joey had. One of the drugs had been successful in adult cancer trials but pediatric trials had been delayed.
Liu argued to get compassionate use of new drugs, pushing drug companies from April to September of 2014. The FDA approved the drug Keytruda on Sept. 4 for off-label use and an oncologist in Cincinnati agreed to try the drug with Joey.
By October, after the first injection, his tumor was still growing but he showed no major side effects. After a second injection, all tumors stopped and those in his neck shrank significantly. However, at that point, Joey's tiny body had weakened and his kidney stopped working.
"If he could've gotten it sooner, it could've given him more time," said Liu, who now works to assist parents in petitioning for compassionate use of drugs as it is a very "daunting" process. "Only three drugs have been approved for childhood cancer in 50 years. Most have no hope because there's just not drugs for children and a lot of patients need compassionate use."
She is happy to see positive steps forward as on Aug. 17, the RACE for Children Act became law. Under RACE for Children, companies developing cancer drugs are required to develop drugs for children when the molecular targets are relevant to childhood cancers. Additionally, RACE will result in more research dollars going to pediatric cancer clinical research.
"This is huge," Liu said of lobbying efforts making an impact. "I will keep lobbying every year."
She plans to return to Washington, DC next year despite the fact that her life just got a whole lot busier: She recently accepted a full-time teaching job in the San Diego Unified School District, teaching Mandarin immersion classes at Barnard Asian Pacific Language Academy.
Liu continues to fold and her efforts with Cranes for a Cure inspire others around the world, who send boxes and boxes of paper cranes, recently one even came from Australia.
"There are so many touching stories," she said, noting one boy sent her 3,000 cranes he made after he lost his dog in a car accident. He had seen one of Liu's cranes at the post office, where Liu had given one to a postal worker who had been going through chemotherapy.
Along with the 3,000 cranes the boy had sent a note: "Losing my dog was very sad, I cannot imagine losing a child."
Liu lives with that loss every day and every day she works to spread awareness, folding her cranes, finishing Joey's painting, working for change and a cure.
"I feel the cranes bring healing and peace," Liu said. "By doing this, I feel more at peace and feel the spirit of Joey. That's the inspiration of how I keep doing this."
For more information, visit joeywings.org and thinkplaycreate.org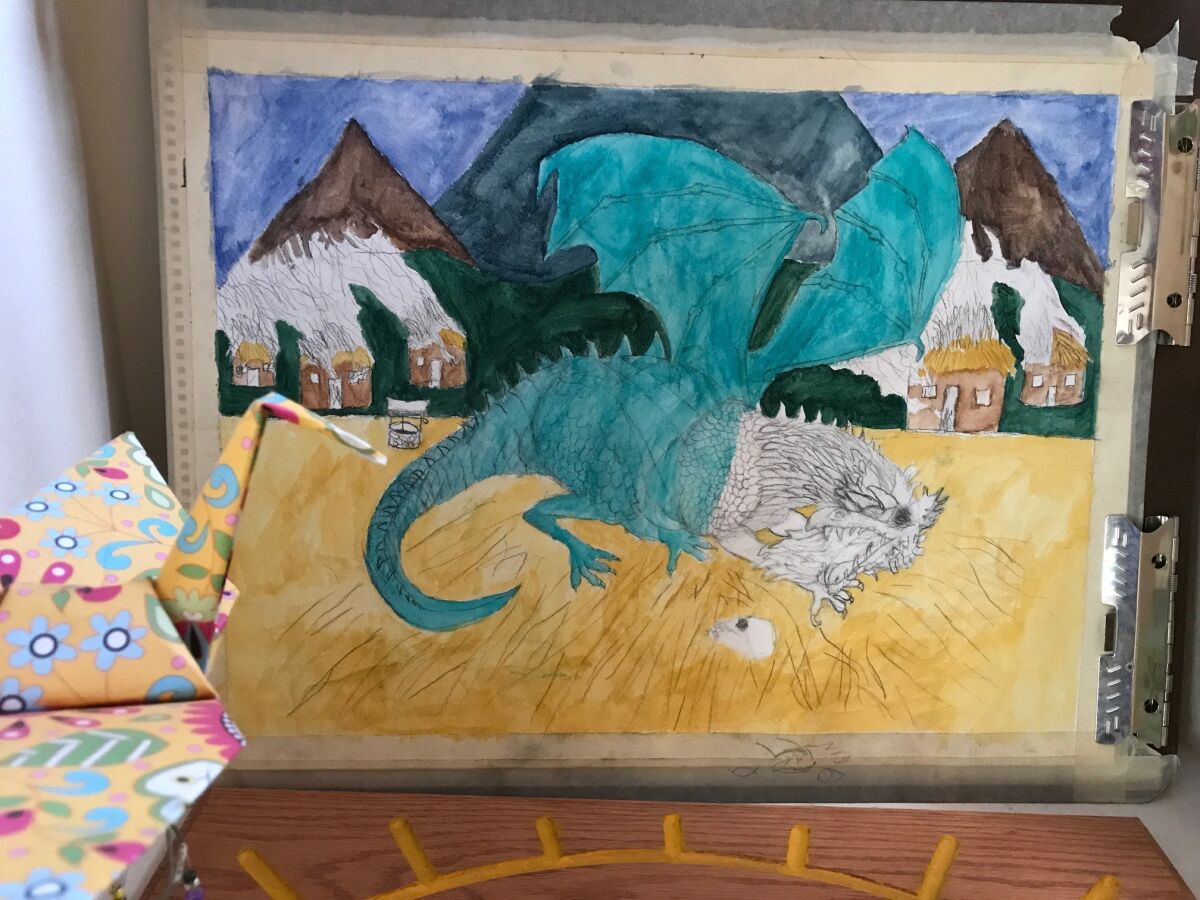 ---
Get the Del Mar Times in your inbox
Top stories from Carmel Valley, Del Mar and Solana Beach every Friday for free.
You may occasionally receive promotional content from the Del Mar Times.