Torrey Pines Pop Warner champions team values, player safety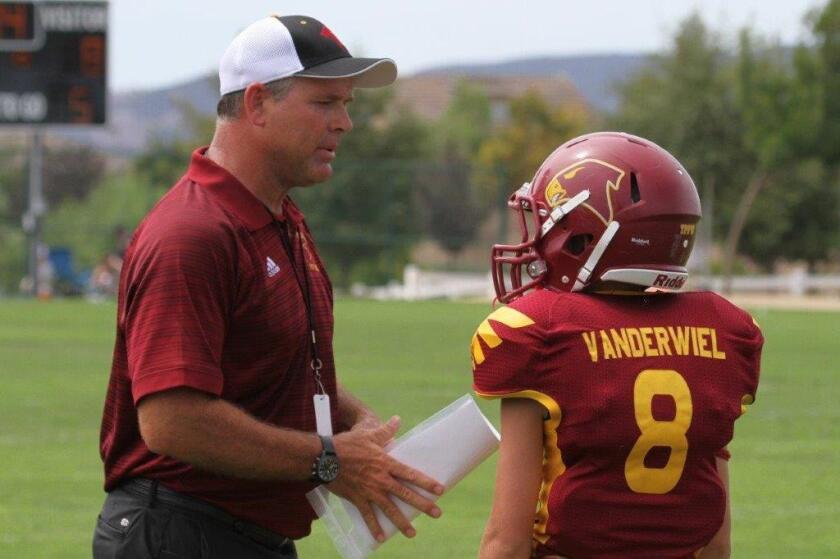 This will be the first season in a long time that Andy Vanderwiel won't be on the sidelines coaching a Torrey Pines Pop Warner football team.Vanderwiel dedicated six years coaching his older son Blake and then returned 10 years later in 2011 to log another six years with his youngest son Mo. His teams won three Palomar Conference championships over the last four years, including the 2016 Varsity Unlimited championship with his son Mo, an incoming freshman at Torrey Pines.
He admits he will miss it, not just sharing his passion and love for the game of football, but teaching the young boys about the "old school values": "Sacrifice, the love of teammates, playing for the team and not for stats, hard work and dedication," he said.
Over the years he found great success with his teams, taking two of them one game from the National Championships in Florida. Both teams would lose to the eventual Pop Warner Super Bowl champions. The victories would've been sweet but there was also much to be learned from a loss.
He always had a lot of talent on his teams but he always tried to teach the boys that it took more than just talent to be a champion.
Vanderwiel grew emotional talking about a boy on one of his teams who had cerebral palsy and how his teammates embraced him as a valuable part of their team. At one game, players from the opposing team mocked the boy and the whole team stood up for him.
"As a coach, you want to teach more than just football but life lessons, like integrity and standing up for others," Vanderwiel said of his team's championship-level sportsmanship. "They had this boy's back."
Throughout the years,Vanderwiel was thankful to have had many different coaching staffs and an "exceptional" business manager in Lacey Johnson.
"We had great, dedicated coaches. There were several years when we had guys who didn't even have kids on the team, they just loved the game and wanted to be a part of something," Vanderwiel said.
One of his devoted sideline partners was Thomas Smith, also known as "Coach T." Smith first coached Pop Warner when he was in his 20s and took a long break before moving to San Diego and joining Vanderwiel as a coach during the Mo era.
While the love for the game hasn't changed over the years, there is a lot about the game that has changed, particularly regarding player safety.
All of those changes, Vanderwiel said, are for the better.
In the past few years, Torrey Pines Pop Warner, as well as youth football nationally, has taken a hit due to the country's increased awareness about concussions. Scott Wilken, the league's safety coordinator, said that they have been working hard to attract new kids to the sport and fighting a numbers battle league-wide. While they used to be able to fill two-to-three teams at every level, some years there is a challenge to fill one team per level.
Wilken said the league overall has worked hard to address parents' safety concerns.
All coaches must complete online conditioning certification and the NFL Heads Up program, which teaches all the safety aspects of being a coach. Coaches are trained in CPR, first aid and learn about head injuries, sudden cardiac arrest, heat preparedness and hydration. A paramedic is present at every game and Vanderwiel said in the event of injuries they always err on the side of caution. If there is any sign of concussion the player is out of the game and, like at the high school level, must wait five days until they can play again.
"One of the things that has changed is the amount of contact. There's a limited amount of time to do hitting drills in practice, that's big," Vanderwiel said. "There are no hitting drills in practice over 5 yards."
Back in the day, hitting drills would be held from 15 feet away.
"It's all about technique and how you teach it," Smith said. "We teach to tackle with your shoulders and wrap up, keep your eyes on the number and don't lead with your head."
There's not a lot of heavy hitting that goes on anymore."
All teams are required to keep up with all regulations — player weights are strictly adhered to and documented and teams must submit injury reports after every game. The league safety coordinator, a new position for Pop Warner nationwide, will review team reports and provide follow-up as necessary.
"In my opinion, it's safer than it's ever been," Wilken said. "When I was a kid, none of that existed. It was much, much different."
Wilken has been with Torrey Pines Pop Warner as an assistant or head coach since 2008 and for the last 15 years has been a teacher in the Del Mar Union School District. He currently teaches fourth grade at Torrey Hills Elementary School.
Wilken said he has seen the league take a lot of positive steps when it comes to safety, including its brand new equipment policy this year.
The league has lowered its registration fee costs by 15 percent and is having parents purchase helmets and shoulder pads that are custom-fitted for every child. A representative from Riddell will be available to measure each child so they are outfitted with exactly the protection they need.
All of TPPW's old equipment was donated to a league in Mexico in the off-season.
Like Vanderwiel, Wilken was drawn to coaching to work with his son and other boys, to teach and share a sport he truly loves. And the lessons go so much further than football, he said.
As a teacher, Wilken understands the importance of teaching skills to children that will help them get jobs in the workforce of the future, jobs that haven't even been defined yet. He said he knows for sure that companies will always look for employees that understand collaboration and empathy — both things that can be learned on the field.
"Football is the ultimate collaboration. The team can't perform unless everyone works together," Wilken said. "We're not just preparing them to be athletes, we're preparing them for what life really is going to be like. You have to work hard, you have to be accountable for each other. I truly believe football is a unique group sport able to teach these types of concepts…It's about team, it's not about you. All of the lessons they can get from football will help them later in life. To me that's the pull of coaching and teaching."
Vanderwiel may not be able to resist the pull. His cousin has a son playing Torrey Pines Pop Warner this season and the retired coach just might find himself back on the sidelines, preaching those old school values for the love of the game.
Registration is now open for fall 2017. To learn more, visit torreypinespw.com.
---
Get the Del Mar Times in your inbox
Top stories from Carmel Valley, Del Mar and Solana Beach every Friday for free.
You may occasionally receive promotional content from the Del Mar Times.