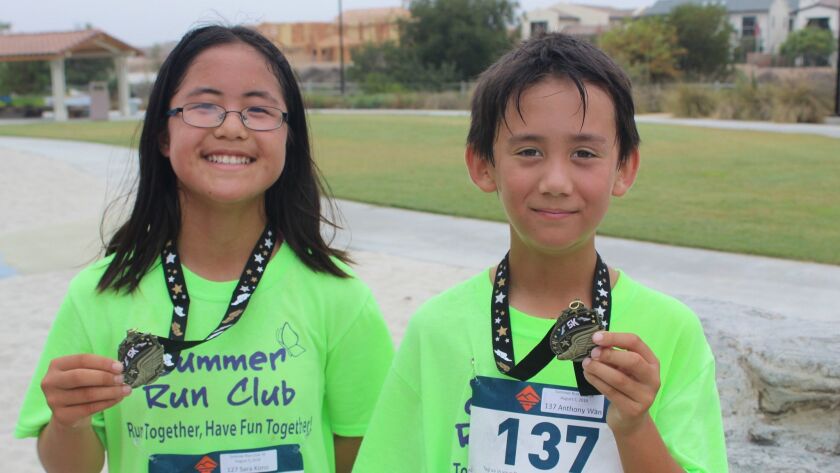 The Carmel Valley Summer Run Club wrapped up a summer of family fitness and fun with the sixth annual Summer Run Club 5K at Solana Ranch Park on Aug. 5.
Sheri Kono, the club's energetic and inspirational leader who always wears her trademark flower visor, has been bringing kids and their parents together since 2013 for seven and a half weeks of running at the park.
In addition to improving their form and endurance, Kono's goal is to stoke a lifelong love of exercise—in addition to speed and agility running drills, the kids also worked on their core strength, doing the "Bring Sally Up" planking challenge every week.
Kono first started a lunchtime running club at Solana Highlands School in 2011, following up with the first run club and 5K at the campus. She moved the club to Solana Ranch Park in 2014.
Kono said she is always amazed by the improvements everyone makes within one summer as well as from one year to the next. This year the club welcomed new faces like Anthony Wan, who was excited all year for the summer club and was the first boy to finish the 5K. Every year another member of the Colon family comes out to run—last year Alejandro Colon was the youngest participant at age 4, this year he ran holding his mom's hand and raced his dad, a first-time participant, to the finish line.
All runners get a medal, "Everyone is a winner," Kono said.
Typically her son Sean is the first runner to finish but he was playing in a soccer tournament. Kono's daughter Sara stepped up and finished with the fastest time of the day. The first adult finisher was Jen Morris, who ran this summer with her two kids.
Kono said she is grateful for the generosity of local businesses that sponsored the run club this summer and provided prizes for the post-race raffle, including Fleet Feet, Fresh Brothers, Souplantation, Baked Bear, Luna Grill, Breakfast Republic, Title Nine, Westroot Tavern, Be The Match, Trader Joe's, Wired Fitness, Road ID, Kashi and local races Mermaid Run and Hot Chocolate 15K and 5K.
---