SD Rhythms brings winning rhythmic gymnastics program to Solana Beach
For the last 16 years, the San Diego Rhythms has been dedicated to promoting the sport of rhythmic gymnastics and providing excellence in all aspects of rhythmic gymnastics and dance. While their program has been centered in Carmel Valley and La Jolla, this September they will expand to Solana Beach.
Rhythmic gymnastics is a combination of gymnastics, ballet and modern dance, choreographed to music and performed with five apparatuses: ribbons, balls, ropes, hoops and clubs. The Rhythms will offer beginner classes, developmental and competitive teams training at all three locations: the Boys & Girls Clubs of San Dieguito Polster branch in Carmel Valley, the Lawrence Family Jewish Community Center in La Jolla and the Boys & Girls Clubs of San Dieguito Harper branch in Solana Beach.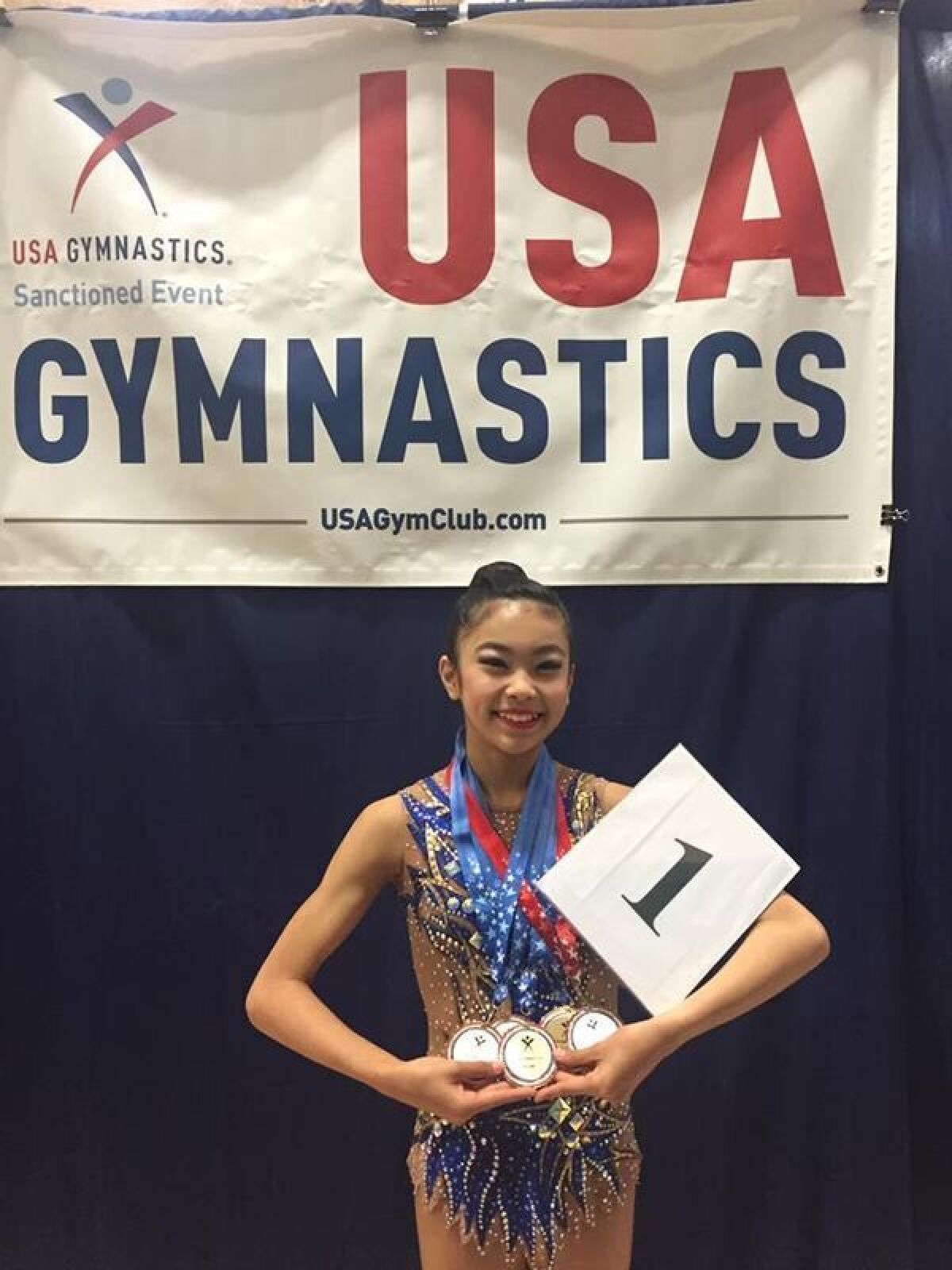 Sofia Minevich, a former rhythmic and artistic gymnast and figure skater from Russia, founded the Rhythms in Carmel Valley in 2001. Since then it has grown to one of the most well-known programs in the country and has produced several regional, state and national champions.
This year, the Rhythms had great success in competitions. Jessica Tijam of Poway became a Level 9 USA Rhythmic Gymnastics National Champion, finishing among the top 12 gymnasts in the country on ribbon and clubs events. Jessica is also a Region 1 level 9 ball and ribbon events champion in her age division and all around silver medalist and Region 1 Junior Olympics team member for the third year in a row.
Chloe Zhong, a Canyon Crest Academy sophomore, also competed at the USA Gymnastics Nationals and won a bronze medal in level 9.
Two Carmel Valley Rhythms students made it to the USA Gymnastics Rhythmic Future Stars team this year — level 6 gymnast Kaylee Yen and Lucia Feldstein, a level 7 gymnast who is an incoming fifth grader at Sage Canyon Elementary School. Both Kaylee and Lucia recently returned from training at the Olympic Training Center in Lake Placid, New York.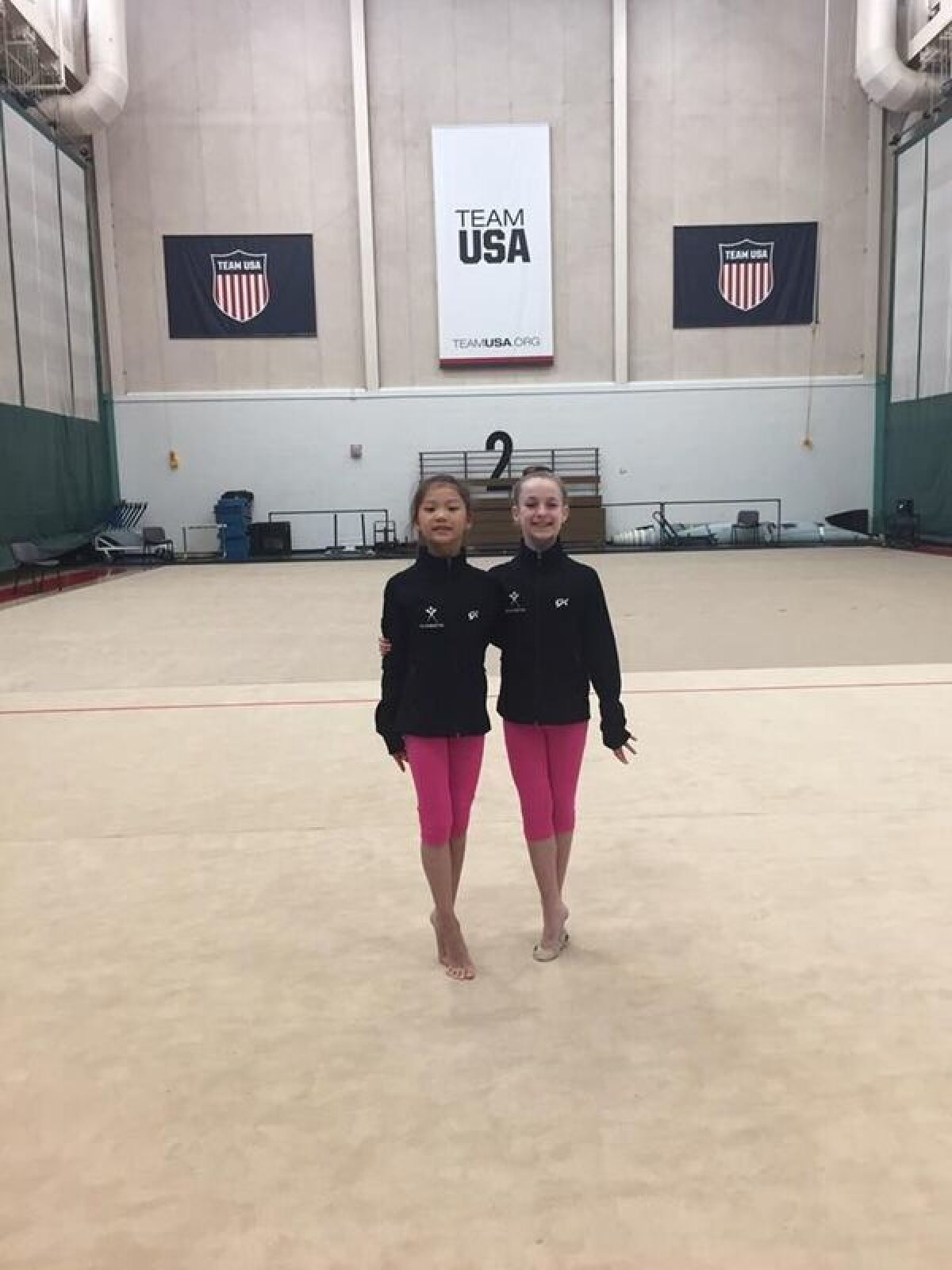 Defne Yavuz, a level 7 gymnast and fifth grader at Torrey Hills Elementary School, was named to the US Rhythmic Youth Squad roster and will go to a special training camp at Lake Placid in September.
While some of the Rhythms are practicing six times a week and competing at the highest level, the Rhythms are also about fun and fitness, helping to raise happy, healthy, confident, focused and creative individuals, Minevich said.
"I like coaching and I like helping kids to become who they are," Minevich said. "I like to help kids really shine. Some are unsure of who they are but they build confidence and strength. I see in front of my eyes how they change."
All of the coaches are USA Gymnastics Professional members and safety certified, like the well-known Marina Kukhta, who used to coach a member of the USA Olympic team and Minevich's daughter Nicole, a Canyon Crest Academy graduate who is a six-time Region 1 Coach of the Year.
All of the Rhythms' assistant coaches are also Carmel Valley residents and former students.
"The kids become my extended family," Minevich said of the extremely close-knit Rhythms organization. "They are not only learning gymnastics but they become best friends and the families help each other out."
To learn more about the Rhythms' competitive team and developmental rhythmic gymnastics and ballet classes, visit sdrhythmic.net or find them on Facebook.
---
Get the Del Mar Times in your inbox
Top stories from Carmel Valley, Del Mar and Solana Beach every Friday for free.
You may occasionally receive promotional content from the Del Mar Times.