Hit the trails in Carmel Valley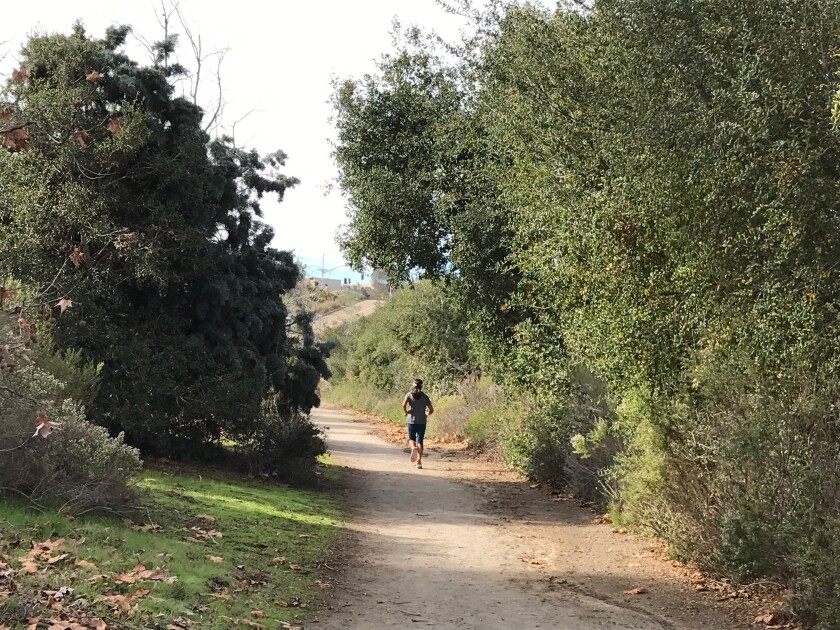 In the new year, many make a resolution to exercise and get more active. Carmel Valley has plenty of options to get outside. Check out some of these local trails for walking, running, cycling or horseback riding:
CVREP Trail
Distance: 2 miles
Trailhead: Clews Ranch Road off Carmel Country Road, there is a parking lot available. You can also pick up the trail on Carmel Creek Road or El Camino Real.
Short for Carmel Valley Restoration Enhancement Project, the CVREP is a very popular spot for exercise, with both a dirt and paved trails running side by side. The trail has mile markers, benches and stations to help pick up after your dogs.
Add on: from El Camino Real, take Carmel Valley Road to Torrey Pines State Beach or link up to the SR-56 bike path which runs alongside the highway until it meets up with I-15.
Gonzales Canyon
Distance: about 2.9 miles of trails
Trailhead: Lansdale Avenue, near Torrey Highlands Dog Park
A single track winds through the canyon's trees and thick brush. Some challenging climbs on the utility road under the power lines.
Get involved: The Friends of Gonzales Canyon holds monthly volunteer meetups to help clean up the canyon and restore and maintain trails. The group meets at 9 a.m on the third Saturday of every month at the trail head on Sword Way at Winstanley Way. The next gathering will be held Jan. 21, 2017. For more information, contact miranda@sdcanyonlands.org.
Local race: Carmel Valley Trail 15K, 10K, 5K and kid's fun run on Sept. 9, 2017. Register at seasickevents.com
Del Mar Mesa Preserve
Trailhead: Del Mar Mesa Road becomes Little McGonigle Ranch Road. Turn left on Del Vino Court and then make a right on Rancho Toyon Place. At Toyon Mesa Court you will find street parking near the trailhead.
Distance: over 20 miles of trails in the preserve.
Considered to be one of San Diego's jewels, the preserve is home to one of the most distinctive habitats in Southern California. Most beloved are the secluded, winding Tunnel trails that tuck under a canopy of scrub oak trees. From the newly created "Appendix" trail on Toyon Mesa, it's about a mile to the unique Los Penasquitos Canyon waterfall on the "Cobbles" trail.
San Dieguito River Park, Lagoon Trail
Distance: About 1.25 miles in each direction to Jimmy Durante Boulevard or to El Camino Real
Trailhead: San Andres Drive, just past the Gelson's shopping center
This portion of the Coast to Crest Trail is particularly peaceful and full of great views. The Lagoon Trail portion has a self-guided interpretive walk that begins at the entry monument on Jimmy Durante. Trail users can scan QR codes on placed interactive signs with their smart phones to listen or read content about the area.
Note: There is a temporary trail detour at Jimmy Durante to take users around the work site for the Del Mar Fairgrounds wetlands restoration project. Last year about half of the lagoon boardwalk was removed to accommodate more wetlands—a new permanent structure will be constructed after the restoration project.
Bonus: Yoga at the Birdwing is held the third Sunday of every month by the San Dieguito River Valley Conservancy at the open air classroom right on the trail. The next session will be held on Sunday, Jan. 15 at 10 a.m. $10 donation. There are also monthly opportunities to volunteer on trail maintenance and to participate in a bird count. For more information on events, visit sdrp.org.
Pit Stop: Beaming for a cold-pressed juice or superfood smoothie.
Local race: Coast to Crest 5-Miler and 5K, May 6, 2017. Register at seasickevents.com
Carmel Mountain Preserve
Distance: Over 5 miles of trail. For a complete trails map, visit penasquitos.org
Trailhead: Close to Ocean Air Community Park, 4770 Fairport Way.
A small incline from the starting point by Ocean Air Park and you reach the mesa, where several trails cross. Users are treated to overlooks of Carmel Valley and the ocean. Vernal pools on the mesa are now protected and steep trails under the power lines create more of a challenge. A nice, quiet place to wander — about a half a mile from the start, past the vernal pools, you will find a vista out to the ocean.
Dust Devil Nature Trail
Distance: 1.7 easy miles on a series of three loops
Trailhead: Off El Camino Real between San Dieguito Road and Sea Country Lane, there is a parking area just before the Stallion's Crossing neighborhood.
Amenities: A picnic table, seasonal ponds and bird viewing, helpful markers point out ongoing plantings like Coast prickly pear, white sage, lemonade berry and Western cottonwood trees. There is also a porta potty at the trailhead.
More info: sdrp.org
PHR Urban Amenity Trail
This flat, dirt trail alongside the growing Pacific Highlands Ranch neighborhood is the perfect spot for a walk or run away from traffic.
Trailhead: Off Pacific Highlands Ranch Parkway, park near Solana Ranch Park or in the Solana Ranch School parking lot.
Distance: .9 miles between Pacific Highlands Ranch Parkway and the end of the trail at Rancho Santa Fe Farms.
Add-on: the quarter-mile loop at Solana Ranch Park
Pit stop: Vitality Tap to refuel with juices, smoothies, avocado toasts or loaded acai bowls.
Added bonus: The PHR Village Fleet Feet offers two free group runs throughout the week utilizing the trail and the surrounding area. Saturday Rise and Shine Runs have route options from 3.5 miles to 10 miles. The group leaves at 7:32 a.m. On Wednesdays, they have a group run for 3.5 to 6 miles that leaves at 6:15 p.m. After the run, the group gathers for happy hour at Westroot Tavern.
The store is located at 5980 Village Way.
Local race: Pardee Homes Carmel Valley 5K and Fun Run, Jan. 22, 2017. Register at carmelvalley5K.com
---
Get the Del Mar Times in your inbox
Top stories from Carmel Valley, Del Mar and Solana Beach every Friday for free.
You may occasionally receive promotional content from the Del Mar Times.