Students in adapted PE classes compete in annual basketball tournament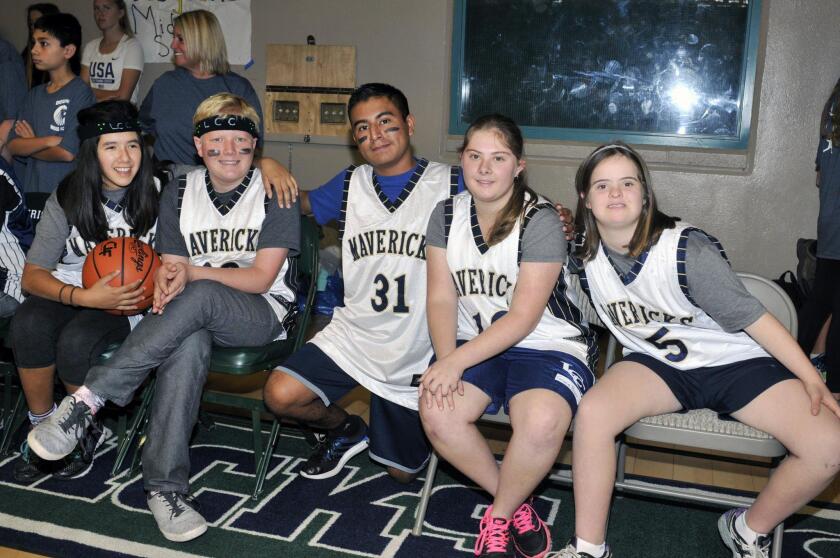 With the stands full of fans, cheerleaders in spirit-sharing mode and great competition ahead, Thursday, Dec. 1, was one basketball game Gautham Ananthanarayanan wouldn't miss for the world.
The eighth-grader at Carmel Valley Middle School had been looking forward to the game all year. On the drive to La Costa Canyon High, Gautham even navigated the way for his mother, Srividya.
Gautham, a high-functioning autistic athlete, joined roughly 90 other middle and high school students for the San Dieguito Union School District's adapted physical education basketball tournament, now in its 11th year. The event brings together special needs students, allowing kids of all abilities to shoot some hoops and have fun with teammates.
"He's with his friends, he's enjoying the game and he's having the time of his life," Srividya said of her son. "I have tears of joy every time I see him do something that he wouldn't otherwise have an opportunity to do."
The event, which started at Carmel Valley, continued Dec. 1 with students from host La Costa Canyon High, Torrey Pines High and Oak Crest, Carmel Valley and Diegueno middle schools.
It had a distinct big-game feel, complete with the La Costa Canyon cheer squad, music and team jerseys. Each player was given the chance to make a basket, with assists coming from students, teachers, staff and varsity basketball players. Players could choose to shoot for the traditional basket or a standing basket closer to the floor.
"It gives them ownership and self-esteem to be part of the school and to be proud of who they are and not to be seen as disabled, but as an athlete," said Kasey Galik, the event's organizer. "Everyone can be seen as an athlete, whether you're in a wheelchair or you have one arm. Where there's a will, there's a way. I just wanted to give everyone an opportunity to be seen and represent their school."
Galik, an adapted PE teacher at La Costa Canyon, feels the event gives students more confidence and a greater sense of school pride. That confidence transfers to academics, as well, said Galik, who lost her left arm in a boating accident.
Many athletes return year after year, eager to play for their schools. While some players (like Gautham) are diehard hoopsters eager for the chance to make a splash, others like Torrey Pines senior Ashley Clark were more than happy to have fun and help out other kids on the court.
Teamwork was a constant theme throughout the event. Though he was named the MVP of one of the La Costa Canyon teams (LCC had three squads at the event), Joey Neill didn't play for the accolades. Wearing a blue No. 35 jersey, the Mavericks sophomore was happy for the award, but scoring wasn't his favorite part of the game.
"I like this because I can be a part of a team," Neill said. "I liked competing with every teammate and passing the ball to everyone. I want to keep doing this next year."
Karen Geaslin, an adapted PE teacher at Oak Crest, said her kids get "super excited" for this event every year.
"You can see that they really enjoy it and it makes them feel like superstars," said Geaslin. "When they go home, they show their parents their medals, they hang them, and it's a real life experience for them."
– Justin Lafferty is a freelance writer for The San Diego Union-Tribune.
---