Del Mar confidently moves toward hosting second Breeders' Cup in 2021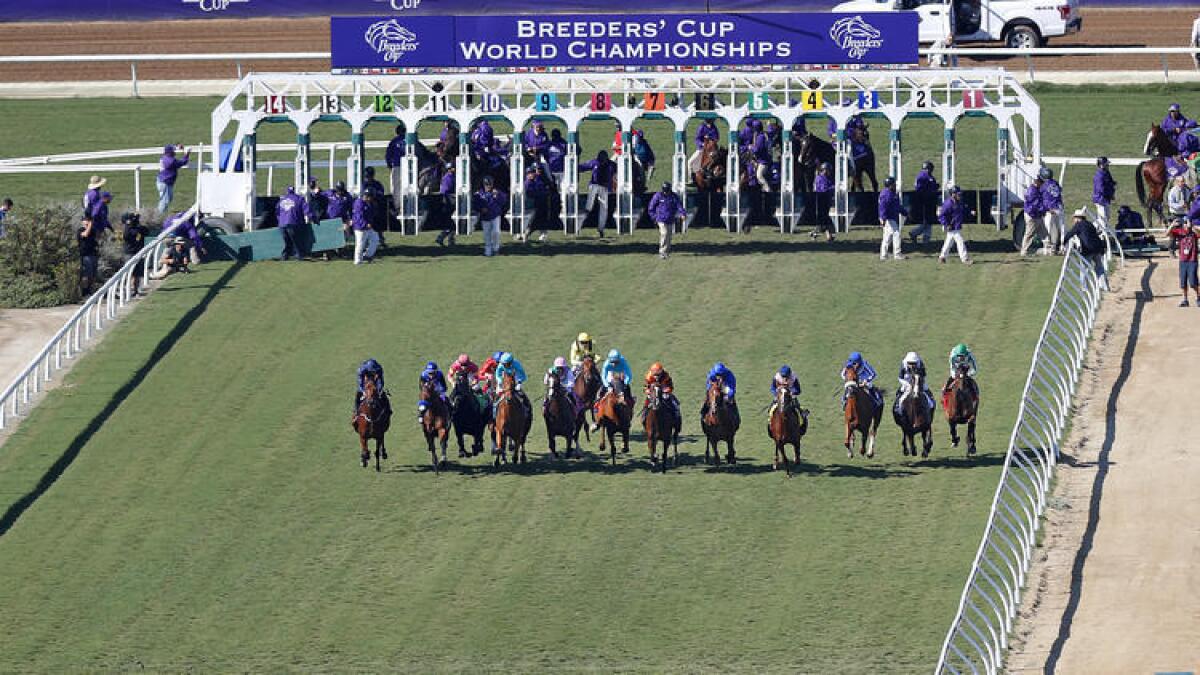 Don't worry."
That was the assurance that Del Mar CEO Joe Harper had to make time and again before the Breeders' Cup was staged for the first time at the seaside racetrack last November.
Going back many years, there were people who never envisioned that horse racing's two days of world championships could be a success at a laid-back, beach-city venue without behemoth grandstands.
"There was a general feeling on the board at the time of, 'Can this track handle it?' " Harper said.
"They really didn't understand. It's not a knock on them. It was just always about attendance and getting people in. But it's about getting the right people here.
"I was never worried."
As it turned out, Del Mar busted all myths – in record fashion – about size equaling success, and that point was particularly satisfying to Harper on Friday, Aug. 17, when the Breeders' Cup officially announced that Del Mar would again host the event Nov. 5-6, 2021.
Del Mar was one of three future Breeders' Cup sites identified, with Santa Anita tabbed for 2019 and Keeneland (Lexington, Ky.) for 2020. Churchill Downs hosts this year on Nov. 2-3.
"My wife always reminds me that variety is the spice of life, and that probably applies to Breeders' Cup host sites for fans and horsemen," Breeders' Cup President and CEO Craig Fravel said. "It's nice to try and see different places, and revisit places where we've had success.
"I really like the tracks that are in the mix now, and it's been great that there are other tracks asking us to take a look at them."
The Maryland Jockey Club submitted a formal proposal in January to host a Breeders' Cup at Laurel Park. For now, the event seemingly has a very solid rotation between its two tracks in California and Kentucky.
Keeneland hosted the Breeders' Cup for the first time in 2015, followed by Del Mar last year, and Fravel said, "Both of them performed spectacularly, so it was a pretty easy decision to come back."
With attendance capped at 37,500 each day at Del Mar in 2017, the Breeders' Cup said the two-day on-track wagering totaled more than $25 million – the highest ever for the event. The combined handle for on and off the track was $166 million – the best since 2010 at Churchill Downs when there were two additional races.
Not appearing on that ledger, Harper said, is the revenue earned by the Breeders' Cup in being able to charge higher prices for the numerous suites that make up a sizable portion of the Del Mar grandstand.
Harper and Fravel said they are studying ways to make the event better in its second staging here. They said they received few complaints from fans or horsemen. One of the biggest issues – fans' ability to use ride share companies in a timely fashion after the races – is something that will be addressed, Harper said.
"We're a victim of our own success on this thing," Harper said. "Everybody loved it, but you can't take the same act on the road. We have to come up with some new things. That's what we've been thinking about since we shut the door on the last guy out last time."
--Tod Leonard is a reporter for The San Diego Union-Tribune
---
Get the Del Mar Times in your inbox
Top stories from Carmel Valley, Del Mar and Solana Beach every Friday for free.
You may occasionally receive promotional content from the Del Mar Times.