July 13: Event briefs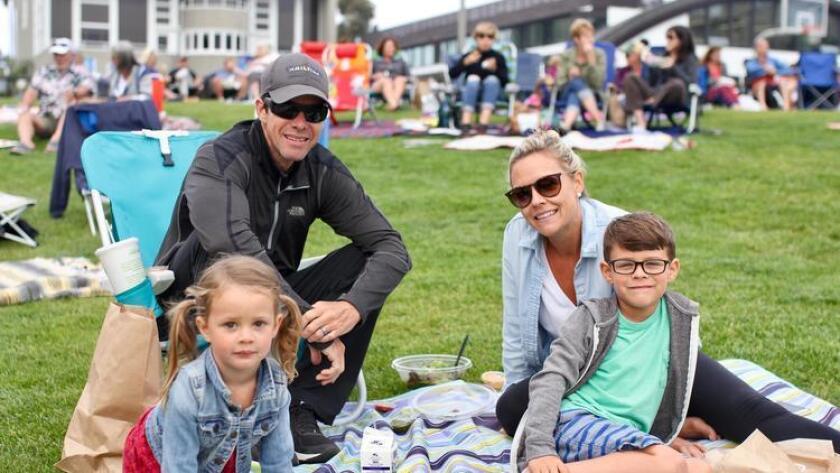 Monday Night Jazz performance at NC Rep
North Coast Repertory Theatre will hold a Monday Night Jazz performance featuring The Peter Sprague Trio July 24 at 7:30 p.m. The Peter Sprague trio explores the jazz tradition of improvisation but with a slightly different spin — they bring their jazz viewpoint to songs that resonate with the boomers. They start with The Beatles, Stevie Wonder, Bob Marley, Jimi Hendrix, James Taylor, and Cream, and then for balance they play "Georgia" by Hoagy Carmichael or add in a Cole Porter beauty and one of Peter's original compositions. For tickets, call 858-481-1055 or visit northcoastrep.org
Free family fun at Flower Hill
Flower Hill Promenade in Del Mar is hosting two free Family Fun Festival events this month on Sunday, July 23 and Sunday, July 30. From noon to 3 p.m. at the center there will be pony rides,a petting zoo, face painting and multiple arts and crafts stations. Local musicians will provide live entertainment and many more activities will take place throughout the afternoon.
Flower Hill Promenade is located on 2720 Via de la Valle.
Mendocini Farms Hiring Fair
Mendocino Farms sandwich market, which is opening in Del Mar Highlands Town Center this August, is holding a Hiring Fair Tuesday, July 18 through Friday, July 21 from 8 a.m.-6 p.m. at Del Mar Highlands Town Center, 12925 El Camino Real, Suite J-0, San Diego, CA 92130. For more details, visit mendocinofarms.com/del-mar-hiring/
Pinpoint Cafe's one-year anniversary celebration
Pinpoint Cafe is celebrating its one-year anniversary and is inviting everyone to enjoy complimentary brewed coffee on July 18. Pinpoint Cafe is located at 2002 Jimmy Durante Blvd., Del Mar, within walking distance from the Del Mar Racetrack and dog beach.
Bipolar depression support group meets July 18
The next Bipolar Depression support group meeting will be held Tuesday, July 18 at the Pacifica Del Mar restaurant from 2 p.m.-4 p.m. Address: 1555 Camino del Mar, Suite 321, Del Mar, 92014.
Artist reception at CV Library July 15 
Artist John Makinster is showing his paintings at Carmel Valley Branch Library, 3919 Townsgate Dr., July 3-31 and will hold an artist's reception on Saturday, July 15 from 2-5 p.m. Come and meet the artist and enjoy viewing his paintings during the month of July. For more information, please contact Carmel Valley Branch Library at (858) 552-1668. 
Senior Symposium at CV Library July 17 
Community members are welcome to attend the July Senior Symposium at Carmel Valley Branch Library, 3919 Townsgate Dr., on Monday July 17 at 1 p.m. for a presentation by the San Diego History Center of "Settling the Mission and Presidio." Discussions and refreshments will follow. Come out and meet your fellow seniors from Carmel Valley. For more information, please contact Carmel Valley Branch Library at (858) 552-1668. 
CV Rec Movies in Park July 15
A "Summer Movies in the Park" free event will be held Saturday, July 15, from 5-8 p.m. at the Carmel Valley Pool/Community Park Amphitheatre. The movie "Zootopia" will be shown beginning 15 minues after sunset. Arts, crafts and games will also be available. Location address: 3777 Townsgate Drive, Carmel Valley, 92130. 
English Conversation Café at SB Library 
English Conversation Café meets at the Solana Beach Library on Wednesdays from noon to 1:30 p.m. If you wish to improve your pronunciation, vocabulary, and better understand the nuances of the English language, this class is for you. There is no registration required, and you are welcome to join at any time. The library location is 157 Stevens Ave; the phone 858-755-1404.
Simplified Stress Reduction workshop at DM Library
Del Mar Library will host a Simplified Stress Reduction workshop on Saturday, July 15, at 10 a.m. Vanessa Chicca, M.A., author of the book Simplified Stress Reduction, will discuss an efficient method for understanding moment-to-moment experiences in order to help you cope with stress and everyday challenges.
The Del Mar Branch Library is located at 1309 Camino Del Mar. For more information, call the library at (858) 755-1666. Visit sdcl.org.
SB Concerts at Cove
Solana Beach Concerts at the Cove summer series runs every Thursday at Fletcher Cove Park from 6 p.m.-7:45 p.m. with a different musical group through Aug. 24. Bring beach chairs, blankets, picnics and friends. Address: 140 So. Sierra Ave., Solana Beach. For more details, visit cityofsolanabeach.org or call 858-720-2453. 
'Tuesday Night Comics' at North Coast Rep
The local favorite variety night show, Tuesday Night Comics, returns to North Coast Repertory Theatre on July 18 at 7:30 p.m. Mark Christopher Lawrence, San Diego Critic's Circle's 2012 Outstanding Actor of the Year, hosts the North Coast Rep stage with talented comedian friends from all over the country with late night credits as well as credits from Comedy Central, HBO, Showtime, etc. This show includes: Bill Jubran as the opening act, Monique Marvez as the headlining act, Bijan Mostafavi as the featured act, and Tiffy Jane as the musical act. This show is rated R.
Tickets for the one-night-only show are $23. Visit northcoastrep.org, or call the box office at 858-481-1055. North Coast Repertory Theatre is located at 987 Lomas Santa Fe Drive, Solana Beach, CA 92075.
'Best in the West' by North Coast Symphony Orchestra
The North Coast Symphony Orchestra, directed by Daniel Swem, will perform "Best in the West" on Saturday, July 15, 2:30 p.m. at the at the Encinitas Community Center, 1140 Oakcrest Park Dr., Encinitas, at the corner of Encinitas Blvd. and Balour Drive. Besides selections from Copland's "Rodeo," and several other western-themed pieces, the concert features movie medleys from, "Beauty and the Beast," "Frozen" and others. Admission: $10 general, $8 seniors/students/military, $25/family max. For more information, visit northcoastsymphony.com. The orchestra is funded in part by the City of Encinitas and the Mizel Family Foundation.
Tony Bennett at Summer Pops
The one and only Tony Bennett performs 7:30 p.m. Tuesday, Aug. 15 as part of San Diego Symphony's Summer Pops concert series. Embarcadero Marina Park South, 200 Marina Park Way, downtown San Diego. Tickets from $18. (619) 235-0804. sandiegosymphony.org
West Side Story July 21-30
The Star Theatre Company will present a fantastic production of this classic Broadway musical West Side Story July 21-30. Shows are 7:30 p.m. Fridays and Saturdays and on Sundays at 2 p.m. Purchase tickets on-line (no transaction fee): $10 children, $15 seniors, students, and military, $20 adults. Visit StarTheatreCo.com for tickets and information. This cast is comprised of 45 performers aged 15-plus. The Star Theatre Company is located at 402 N Coast Hwy, Oceanside, CA 92054.
SD Botanic Garden Insect Festival
Aspiring entomologists are invited to San Diego Botanic Garden's Insect Festival on Saturday and Sunday, July 22 – 23 from 10 a.m. – 4 p.m. This one-of-a-kind festival is sure to intrigue bug-devotees of all ages. The event features thousands of fascinating creepy-crawlies, including live lizards, snakes and the famous Madagascar hissing cockroaches.Bug collecting, interactive insect arts and crafts, as well as tasty cooked mealworm larva – in various flavors including mesquite, teriyaki and barbeque – are just some of the engaging activities scheduled at the Festival. Local bug experts will be available for questions and more than 20 educational booths will instruct and entertain children and adults alike. Visit sdbgarden.org/insect.htm
---
Get the Del Mar Times in your inbox
Top stories from Carmel Valley, Del Mar and Solana Beach every Friday.
You may occasionally receive promotional content from the Del Mar Times.