Classic rockers Kansas headed to San Diego County Fair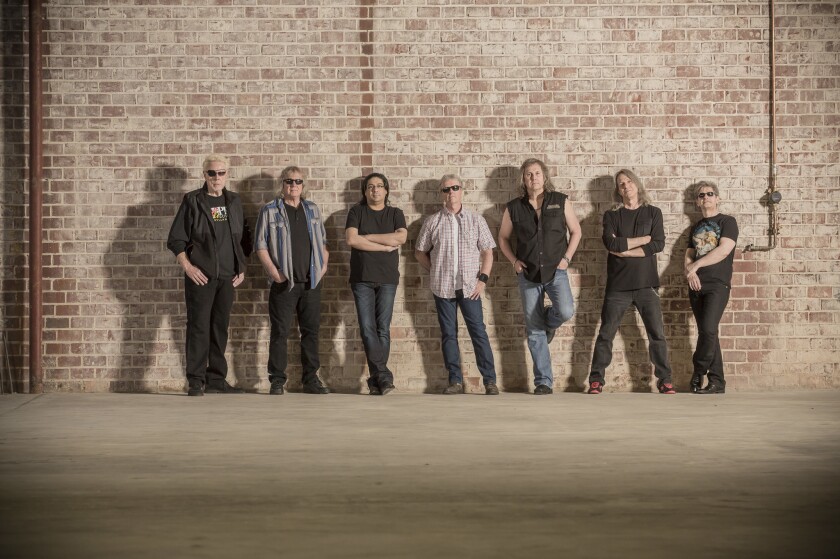 It's a picturesque Thursday morning in Spokane, Wash., and Ronnie Platt, the lead vocalist for the legendary rock band Kansas is speaking of the beauty of the Pacific Northwest. "You're driving down the highway here and every turn you make is like a postcard," says Platt. However, he's quick to point out that it's a type of natural wonder that's unmatched everywhere but... San Diego. "What a beautiful, beautiful place San Diego is. It's breathtaking it really is and is one of my favorite spots to visit."
Lucky for Platt, he and his Kansas cohorts will be heading down this way on June 7 for a performance at the San Diego County Fair, just one of multiple acts to grace the Del Mar Fairgrounds over the event's run. With them, they'll bring the band's 40-plus years of classic rock hits, perhaps most notably the iconic and melancholy "Dust in the Wind" and guitar opus "Carry On My Wayward Son." Thanks to those mainstays, over the intervening years, Kansas has been a fixture of classic rock radio, releasing nine gold albums and gaining a reputation as one of the quintessential classic rock bands of the late '70s, early '80s.
"My favorite song to sing changes literally every day," explains Platt, who notes that they just celebrated the 40th anniversary of Point of Know Return, a landmark album for the group that featured its title track and their aforementioned smash "Dust in the Wind." Says Platt: "When you listen to stuff you used to have on repeat with fresh ears, stuff you haven't listened to awhile, it sounds just as good as it first did. When we're deciding what songs to do it's like, 'Wow, we haven't done that one in awhile, listen to them and love them."
Since the band's initial bow (launched in Topeka, their self-titled debut album dropped back in 1974), Kansas has gone through multiple iterations. One of its most seismic changes occuring when longtime lead singer Steve Walsh announced his retirement in 2014. At the time, Platt was part of the band Shooting Star and making ends meet driving a delivery truck. Through a mutual friend, he got in touch with the band and expressed his interest in taking over Kansas vocal duties. "I flew to Atlanta on a Monday to meet with them, by Tuesday I'm back in my 18-wheeler making deliveries in the beautiful city of Chicago, and got an email from Phil Ehart that said, 'Congratulations you got the job.' It was like getting clubbed over the head by a baby seal. It happened so fast."
The band's latest album, 2016's The Prelude Implicit, landed at #5 on the Billboard Rock charts, a coup for any act, let alone one that's been around for over 40 years. As such, Kansas shows typically bring in a variety of fans, from old to young. "In a theater, when we play them, it's people there specifically to see Kansas, but you get more of a vast group playing a festival," says Platt, alluding to fair gigs like the San Diego County one.
"The fun thing about it, the theater Kansas fans know what to expect, but in a festival environment they're like 'Wow, I forgot this band did this' or 'I remember that song.' You can see the attention rise in people's faces in a festival. It's two different animals and both are great."
Kansas will perform June 7 at 7:30 p.m. at the San Diego County Fair. For tickets and more information, visit sdfair.com.
---
Get the Del Mar Times in your inbox
Top stories from Carmel Valley, Del Mar and Solana Beach every Friday for free.
You may occasionally receive promotional content from the Del Mar Times.