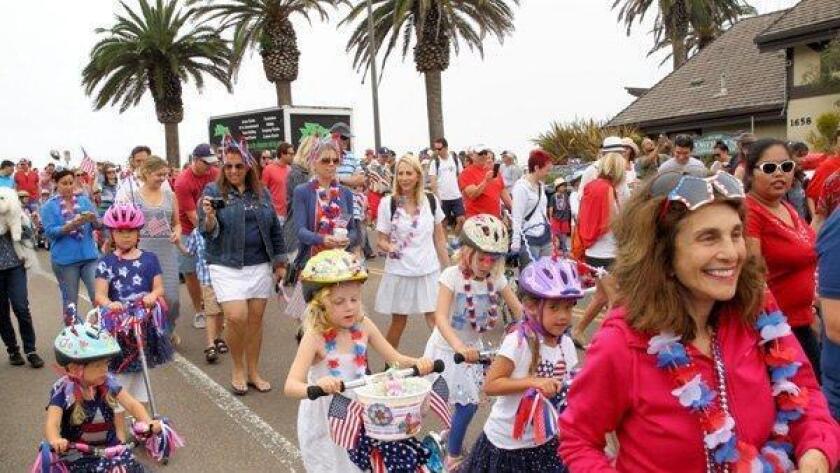 4th of July Parade to be held in Del Mar
Join the Del Mar Foundation for its Annual 4th of July Parade on Wednesday, July 4, starting at Powerhouse Park, Del Mar. Please arrive by 9:15 a.m. as the parade begins promptly at 9:30 a.m. Due to street closure for the parade, parking will be limited. Please plan accordingly. Bring your decorated bikes, scooters, wagons, strollers, electric golf carts and leashed pets. The parade will move from the park on a loop up Coast Blvd. Once the parade returns to Powerhouse Park, there will be a DJ & fun games for all ages. Visit with Del Mar firefighters and tour the Fire Engine. Wear red, white and blue. Refreshments provided compliments of Jake's Del Mar and Gelson's Del Mar.
This event presented by the Del Mar Foundation and the City of Del Mar.
Cinema By the Sea summer movie
The Del Mar Foundation is holding the third year of Cinema By the Sea, a series of outdoor films at the beach. This year, the series will close in style with "Independence Day", which will be shown at Powerhouse Park on Friday, June 29. All movies begin at sundown and the main features will be preceded by a Pixar short. Sundown is approximately 8 p.m.
Del Mar Civic Center Dedication Ceremony
The City of Del Mar will hold a Civic Center Dedication Ceremony Saturday, June 30, from 11 a.m.-2 p.m. at the new Civic Center located at 1050 Camino Del Mar, Del Mar.
The day is set to feature a Dedication Ceremony and a ribbon cutting. The community will also have the opportunity to participate in self-guided tours with information docents, an activity corner for the kids hosted by the Del Mar Foundation and the Del Mar Historical Society, a photo booth, live music, food, and more.
Free summer camps at Solana Beach Library
Beginning coding camp: Monday, July 16 – Friday, July 20 from 2- 4 p.m. For students grades 7-12 who have taken Algebra 1. Registration required/no fee
Smartphone apps, robots, video games all run on code. Start your coding path with this camp where you will learn the fundamentals of computer programming common to almost all applications. Some laptops will be available to use, but if you bring your own you will be asked to install a free program called Processing. Class is limited to 10 students. Please register via email at jamesgilmore888@gmail.com Please leave your name, phone number, email, and the grade you will be entering this fall.
 Math/art camp: Monday, July 23 – Friday, July 27 from 1-4 p.m. For students entering 4th through 8th grade. No registration/no fee.
Interactive activities involving both math and art are the basis of the camp curriculum. The activities, such are origami and a variety of puzzles, are designed for fun and to foster an interest in math. The camp program is run by the Canyon Crest Academy Girls Math Club.
Stay socially engaged this summer and also sharpen your creative thinking skills with an academic summer camp. The library location is 157 Stevens Ave; the phone is 858-755-1404.
'32nd Annual Solana Beach Patriotic Singalong' June 28
The "32nd Annual Solana Beach Patriotic Singalong" to be held on June 28, 7:30 p.m., at Fletcher Cove Community Center in Solana Beach.
Refreshments served. Sponsored by the City of Solana Beach.
Robin Henkel solo blues at Zel's Del Mar
Robin Henkel will perform solo blues at Zel's Del Mar Thursday, July 5, from 7-10 p.m. Address: 1247 Camino Del Mar, Del Mar; (858) 755-0076.
Concerts at the Cove will return to Fletcher Cove Park in Solana Beach on Thursdays from June 21-Aug. 23, 6 p.m.-7:45 p.m. Bring beach chairs, blankets, picnics and friends. (No alcohol, pets, tobacco, BBQs/grills.) For more information, call 858-720-2453 or visit cityofsolanabeach.org.
Helen Woodward Animal Center's
Helen Woodward Animal Center's annual Dog Surf and SUP Lessons will be held again this summer. The classes are taught by beloved local group SoCal Surf Dogs with opportunities to join in all summer long. Originally offered to prepare beach-loving pups for the Center's Annual "Surf Dog Surf-A-Thon," scheduled for Sunday, Sept. 9 this year, the lessons have expanded to accommodate pros and beginners alike. The lessons kick off at 8:30 a.m. on Sunday, July 8 at Del Mar Dog Beach.
For more information, questions or to register, go to animalcenter.org or call (858) 756-4117 x 350.
Plant-based tasting/food demo
Come join a free event sampling delicious vegan treats and meeting local best-selling author Dr. Dena Mangiamele, DVM, MPVM, MFS. Location: Scripps Ranch Swim & Racquet Club (9875 Aviary Drive San Diego 92131), El Mirador Room. Date: Monday, July 9, 7-9 p.m. The first 10 people to purchase their personally autographed copy of the book,
"Dena's Fuel For Fitness - Moving from Animal-based Grub to Plant-based Fuel" will receive special gift bags. Register via email at contactdoctordena.com or register the evening of the event. Check out reviews on the book at www.doctordena.com
Bayside Summer Nights concert series kicks off with "Star Spangled Pops." The San Diego Symphony performs patriotic hits and rousing selections from movies and Broadway, capped off by fireworks, 7:30 p.m. June 29-30 and July 1. Embarcadero Marina Park South, 200 Marina Park Way, downtown San Diego. Tickets from $27. sandiegosymphony.org
The 20th annual Athenaeum Summer Festival kicks off 4 p.m. Sundays July 1 and continues July 8, 15 and 22 with pianist Gustavo Romero performing a selection of works from his 19-year involvement with the festival, including works by Bach, Brahms, Chopin, Debussy, Gershwin, Haydn, Liszt, Mozart, Rachmaninoff, Ravel, Scarlatti, Schubert and Schumann. Whew! Tickets: $45-$165; $152-$620 series. Athenaeum Music & Arts Library, 1008 Wall St., La Jolla. (858) 454-5872. ljathenaeum.org
Pauly Shore to perform at The Comedy Store
Pauly Shore, known for his roles in "In the Army Now," "Bio Dome," and "Encino Man," (and for being the son of late Comedy Store owner Mitzi Shore), takes the La Jolla stage, 7 p.m. June 29-30 and July 1 at The Comedy Store, 916 Pearl St. Tickets: $25. (858) 454-9176. thecomedystore.com
La Jolla Playhouse stages 'Queens'
"Queens," the story a young immigrant living in Queens, New York in 2017, opens July 3 and continues through July 29 at La Jolla Playhouse, 2910 La Jolla Village Drive on the UC San Diego campus. Story also incorporates the voices of the fierce and proud women who preceded her. Tickets from $41. (858) 550-1010. lajollaplayhouse.org
The San Diego County Fair runs through July 4, except for Mondays and Tuesdays in June. This year's theme is "How Sweet It Is." The event features great food, music, rides, activities and more. For more information, visit www.sdfair.com.
Switchfoot Bro-Am Beach Fest
Head to the beach for a day of surfing and music - raising awareness and funds for kids in need and celebrating our community on June 30 from 7 a.m. to 3 p.m at Moonlight Beach. With surf contests, surf joust session, performances by Switchfoot and other great bands, plus beach vendors and more. For more details, visit https://bit.ly/2yFlmNY.
Award-winning geologist to give a virtual tour of San Dieguito Watershed
Dr. Eleanora "Norrie" Robbins, a geologist and lecturer at San Diego State University, will take participants through a virtual tour of the geology of the San Dieguito Watershed on Saturday, July 7, at 10 a.m. at the Del Mar Branch Library, 1309 Camino Del Mar, Del Mar.
Robbins spent more than three decades with the U.S. Geological Survey. She was awarded a Point of Light by the George H. W. Bush administration in 1989 and was the recipient of the Times Enekin award from the Greek Aerospace Medical and Space Research Association in 2000. She and her family were inducted into the international Educator's Hall of Fame in 2015. Parking is limited; early arrival is recommended. This event is free.
Class: Photography Fundamentals
Ready to get more from your digital camera? Then this is the class on June 30 from 9 a.m. to noon for you! Join Sandy Zelasko at the San Diego Botanic Garden, 230 Quail Gardens Drive, as she reviews basic camera controls and how to apply them. Practice what you've learned shooting beautiful images. Bring your digital camera and manual to class. For more information, visit https://bit.ly/2trgR3m.
The Heritage Ranch, 450 Quail Gardens Drive, presents arts, crafts and music making every Saturday and Sunday from noon to 4 p.m. For more details, visit https://bit.ly/2knXMey.
Join local artist and art educator, Angela Jackson, as she hosts a live paint event on June 30 from 1 to 4 p.m. at Bliss 101, 553 South Coast Highway 101. Jackson is inspired by the beauty and therapeutic aspects of the ocean, which are expressed in her mixed media paintings. Angela is a visual art instructor at San Dieguito Academy High School. For more details, visit https://bit.ly/2IicLAa.
First Sunday Music Series: Joshua White
Pianist Joshua White is a remarkably gifted jazz performer, classical pianist, and composer. In demand as a technically accomplished pianist, he interprets original compositions and explores the boundaries of collective improvisation. Joshua will perform a mix of original compositions and selections from the Great American Songbook on July 1 from 2 to 3 p.m. at the Encinitas Library, 540 Cornish Drive. For more details, visit https://bit.ly/2MekeT7.
Hear several ensembles from the North Coast Symphony Orchestra perform chamber music by Mozart, Beethoven and Dvorak on June 30 at 2 p.m. at Encinitas Library, 540 Cornish Drive. For more information, visit https://bit.ly/2tvuVZF.
Kids can learn all about pollinators with the birds, bees and butterflies of summer on July 1 from 11:30 a.m. to 1:30 p.m. at San Elijo Lagoon Nature Center, 2710 Manchester Avenue. Discover why flowers and pollinators need each other with hands-on fun, craft making, tours and discovery stations. For more information, visit https://bit.ly/2yAKBAW.
Join the Heritage Ranch, 450 Quail Gardens Drive, for an acoustic afternoon as local songwriters donate their time to share their music on July 1 from noon to 4 p.m. Songwriters interested in participating can get all the information at www.ListenLocalRadio.com. For more information, visit https://bit.ly/2tuXhmR.
Sunday Summer Concerts by the Sea: Fan Halen
This summer, Encinitas Parks, Recreation and Cultural Arts brings the fun to Moonlight Beach at its Sunday Summer Concerts by the Sea series in July and August. Known as "The World's Most Authentic Tribute to Van Halen," Fan Halen will set the stage with Dave, Eddie, Alex and Michael in a true-to-life tribute to not only the band but the spirit of an era on July 1 from 3 to 5 p.m. at Moonlight Beach. Each concert features fun games, contests and free stuff. For more information, visit https://bit.ly/2MfaCYf.
The Concert That Never Was
Sharon Owens and Sebastian Anzaldo, two of the most impressive celebrity impersonators in the business, travel the world performing their uncanny tribute to the two famous singers, Frank Sinatra and Barbra Streisand. They will perform on July 8 at 2:30 p.m. at Carlsbad Community Church, 3175 Harding Street in Carlsbad.
They perform favorite tunes such as: Barbra Streisand's "On a Clear Day," "Somewhere," and "Hello Dolly," and Frank Sinatra's "Come Fly With Me," "My Way," and "New York, New York." This is your chance to see the two most famous vocalists of all time in one place, and at the same time, along with the Coastal Cities Jazz Band. For more information, visit www.3c.org.
to hold free Summer Concert Series
The 2018 Summer Music Series at The Forum Carlsbad will offer an exciting line-up of free outdoor concerts on five Saturdays, June 30 - July 28. All concerts are free and open to the public and performances run from 1 - 4 p.m. in the Anthropologie Court area. For full details: eventsforumcarlsbad.com
The Rancho Santa Fe Historical Society is now taking reservations for its first Historic Home Tour co-partnered with the Women In Architecture, Palomar Chapter of the American Institute of Architects. The tour is to be held Saturday, July 14, from 1 p.m. to 4 p.m., and will feature six remarkable vintage homes and Lilian Rice-inspired classic homes. The identities of these spectacular homes remains a mystery, to be revealed at check-in when attendees receive their tour brochure.
The tour will include vintage Spanish Hacienda-style mansions to intimate Pueblo and Arts and Crafts homes. Each home retains its historic designation with modern updates and additions that preserve the historic nature of the properties.
The tour early check-in begins at 11 a.m. at La Flecha House, the Historical Society's headquarters at 6036 La Flecha in Rancho Santa Fe.
To register, go to www.rsfhs.org/shop, or use Eventbrite at 2018rsfhshometour.eventbrite.com, or send a check payable to the RSF Historical Society, P O Box 1, Rancho Santa Fe, CA 92067. For more information: Sharon Alix, administrator, (858) 756-9291.
William Shakespeare's "The Tempest," the centerpiece for The Old Globe Theatre's 2018 Summer Shakespeare Festival, takes the outdoor stage through July 22 at 1363 Old Globe Way in Balboa Park, San Diego.
Prospera, the Duchess of Milan, lives in exile on a desert island after being thrown out of power by her wicked brother. For company, she has only her daughter Miranda, the spirits who are native to the island, and her beloved (dark magic) books, which Prospera uses to exact her revenge, much to her daughter's unhappiness. Tickets from $30. (619) 234-5623. theoldglobe.org
---