Event briefs: Sept. 20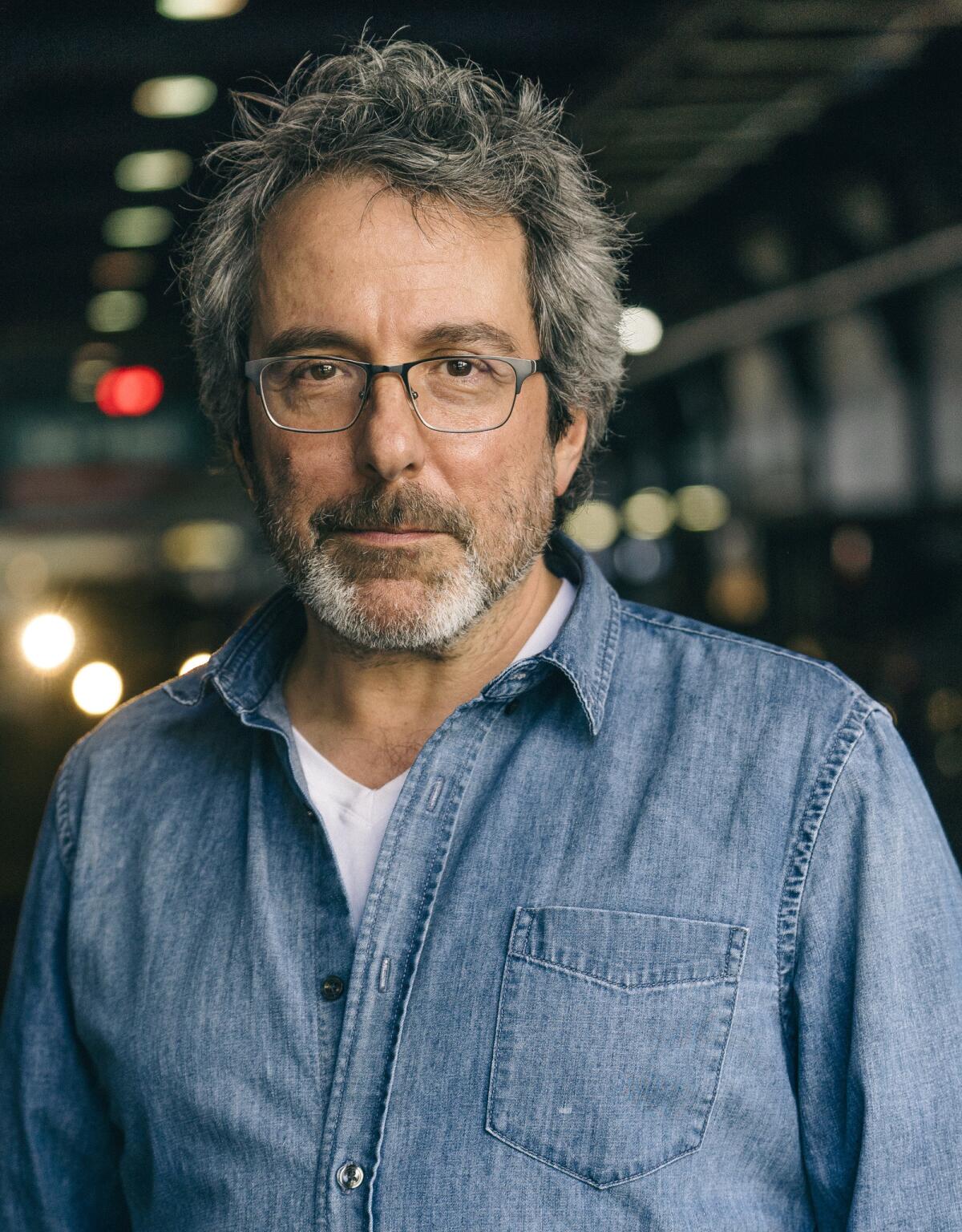 Reading of Tony Award-winning playwright's 'Home Front' to be held at North Coast Rep
Tony Award-winning playwright Warren Leight will appear at North Coast Repertory Theatre Monday, Sept. 24 at 7:30 p.m. for a reading of "Home Front." Home Front tells the story of an interracial love affair between an African-American solider and a white woman that begins the night World War II ends. Leight will do a talkback after the reading. The reading will feature Amir Abdullah, Benjamin Cole, Jason Maddy and Teagin Rose.
Leight's play Side Man won the 1999 Tony Award for Best Play, and was a 1999 Pulitzer Prize finalist. Other plays include No Foreigners Beyond This Point (Drama Desk nomination), Home Front, Fame Takes a Holiday, Glimmer, Glimmer and Shine (ATCA nomination), and The Loop. He wrote the book to the musical Mayor (Drama Desk nomination) and co-wrote the book to Leap of Faith (Drama Desk nomination). Two collections of one-acts, Dark, No Sugar, and Stray Cats, have been published by DPS. Leight has written many plays for The 24 Hour Plays on Broadway.
Leight was showrunner and executive producer of the NBC drama "Law & Order: Special Victims Unit" from 2011 – 2016 (Imagen, NAACP and PRISM Awards). Previously, he was showrunner and executive producer of HBO's Peabody Award-winning "In Treatment," the FX drama "Lights Out," and the Edgar-winning "Law and Order: Criminal Intent." Leight is a former president of the Writers Guild of America, East, and is a current member of the Dramatists Guild council.
Leight is a graduate of Stanford University and lives with his wife and daughters in New York City.
For tickets and more information, visit northcoastrep.org or call (858) 481-1055. Address: 987 Lomas Santa Fe, Suite D, Solana Beach, 92075.
Book sale at Del Mar Library features first editions
Vintage, signed first editions will be on tap at the Sept. 22 Pop-Up Book Sale at the Del Mar Library.
Many of the first editions are from the collection of Peter Kaye, journalist and aide to Richard Nixon, who left his book collection to the Friends of the Del Mar Library, which is sponsoring the sale.
Kaye, who retired as associate editor for the San Diego Union-Tribune in 1993, also was a columnist for the North County Times, author of his memoirs, Contrarian, published in 2008 and a volunteer at the library. Kaye died in 2015 at age 87.
Among the jewels of the collection are first editions signed by poet Edna St. Vincent Millay and British novelist Virginia Woolf, along with books published between 1896 and 1960. The sale also includes hundreds of recently published books in a wide variety of genres—new and contemporary fiction, best sellers, cookbooks, mysteries, children's books, collectibles, out-of-print editions audiobooks and DVDs.
The sale runs from 10 a.m. to noon in the community room of the Del Mar Library, 1309 Camino Del Mar.
All proceeds benefit the community through book purchases and support of many of the 100-plus programs at the Del Mar Library. Cash only, please. Readers and book sellers are welcome.
For more information about the Friends and or to become a member, go to friendsofdelmarlibrary.org.
Jake's Del Mar to hold 36th Annual Beach Fun Run
At Jake's Del Mar, they love the beach and love to have fun. If you add in an opportunity to support an important cause in the community, then you have a recipe for an Aloha filled day in Del Mar.
Join Jake's Del Mar for the 36th Annual Beach Fun Run on Oct. 13 at 9:30 a.m. The 5k Fun Run starts and finishes directly in front of Jake's, and will be followed by a beach party featuring a brunch buffet prepared by Chef Duvinh, complimentary drinks, live music from Tower 7, entertainment from Pride of Polynesia and a raffle.
This year, the Fun Run will support the Friends of the Powerhouse and The La Colonia Branch of The Boys & Girls Club of San Dieguito. To register for this event, visit jakesdelmar.com/fun-run/
Applications must be received by Oct. 8.
Del Mar Rose Society to host 'Tomato King' Steven Goto
The Del Mar Rose Society hosts the famous "Tomato King", Steven Goto at 6:30 p.m. Thursday, Sept. 27. He will be discussing how to create and maintain organic soil sustainability, soil biology, organic garden methods, light, nutrition availability, pest and disease pressures. The group meets at the Powerhouse Community Center, 1658 Coast Blvd, Del Mar. Wine and cheese reception is 6:30 p.m. followed by lecture at 7 p.m. Call 760-809-6860. Public welcome.
Friendship Gardeners of Del Mar meeting
Friendship Gardeners of Del Mar will hold its monthly meeting Saturday, Sept. 22, from 1-3 p.m. Learn about the organization's upcoming events, speakers and field trips for 2018-19. Newcomers are always welcome. Call 858-755-6570 for Del Mar meeting location.
Solana Beach Business Expo
The 8th Annual Solana Beach Business Expo will be held Wednesday, Sept. 26, 5-7 p.m. at Lomas Santa Fe Country Club, poolside. (1505 Lomas Santa Fe Dr., Solana Beach). The free admission event features over 50 unique local businesses, entertainment, great food, raffle prizes and more. Hosted by the Solana Beach Chamber of Commerce. Visit solanabeachchamber.com/events/
Susan G. Komen San Diego Race for the Cure
Susan G. Komen San Diego's (Komen San Diego) 22nd annual Race for the Cure will be held on Sunday, Nov. 4, in Balboa Park. The vendor expo will be open at 6:30 a.m. along Balboa Drive, and the race will begin at 8 a.m. With the money raised from the event, Susan G. Komen San Diego provides free services for every step of the breast cancer journey, including research, mammograms, biopsies, ultrasounds, care coordination, advocacy and financial assistance for breast cancer patients' most critical needs during treatment.
"The Race is our largest fundraiser of the year where community members from across the county unite to end breast cancer," said Shaina Gross, president and CEO, Komen San Diego. "It's emotional to see thousands of walkers pouring into Balboa Park to celebrate survivors, support those still in treatment and remember those we've lost." Registration: KomenSanDiego.org/race
'Sing-Along' event in Solana Beach back Sept. 20
The long-running "Sing-Along" event at Fletcher Cove Community Center led by Dr. Ed Siegel will resume Thursday, Sept. 20 at Fletcher Cove Community Center at 7:30 p.m.
The 23rd Annual Encinitas Chamber of Commerce Oktoberfest will be held on Sunday, Sept.30, from 10 a.m. to 6 p.m. on Mountain Vista Drive and El Camino Real. This event is free and fun for the entire family. Free parking is available at the Flora Vista Elementary School (1690 Wandering Road) with free shuttle service from the parking lot to the Oktoberfest site.
The event entertainment features authentic German music, the Gemütlichkeit Alpine Dancers, carnival rides, a street craft faire featuring 200 vendors, family fun zone with children's rides and more. The family food and refreshment tent along with the Keepin' It Local Craft Beer Garden will be serving authentic German food and beers from German & local San Diego breweries.
The event will kick off at 10 a.m. and include a ceremonial parade at 12 p.m. encinitasoktoberfest.com
La Jolla Art & Wine Festival
Join fine art and wine aficionados from around the region on Saturday, Oct. 6 and Sunday, Oct. 7, 10 a.m.-6 p.m., as they gather to celebrate La Jolla Art & Wine Festival's 10-year anniversary.Free admission. Over the years, the LJAWF has expanded through the quaint streets of the village of La Jolla, and grown to be noted as one of the most prestigious art and wine festivals in Southern California. This milestone anniversary celebrates how far this extraordinary event has come over the past decade and the support it will give to future generations in the next 10 years to come. The event features great food, art,entertainment, a Wine & Beer Garden and more.Proceeds benefit local public school art programs. Located on Girard Avenue, between Torrey Pines Road and Prospect Street in La Jolla.
For more information visit www.ljawf.com or call 619-233-5008.
11th Annual Walk a Mile in Her Shoes
YWCA of San Diego County will present the 11th annual Walk a Mile in Her Shoes fundraising walk on Saturday, Oct. 13, 10 a.m.-1:30 p.m.. Men, alongside women and children, are challenged to walk a mile in heels through downtown San Diego to raise awareness of domestic violence in the community. Individuals and teams will compete to raise funds for survivors and their children overcoming trauma and abuse in the YWCA Becky's House domestic violence programs.
Registration is $50 for adults and $30 for students and children — heels optional. Tickets include access to all event festivities, fresh Mediterranean fare by Luna Grill and an official event t-shirt and tote bag. Following the walk, participants will celebrate their achievement with live music, an awards presentation for the top fundraisers, a silent auction, a GIF photo booth, face painting and family-friendly games for all ages. Register at ywcasandiego.org
Proceeds from Walk a Mile in Her Shoes will benefit the YWCA Becky's House domestic violence programs, which encompass a 24-hour crisis hotline, emergency shelter, transitional housing, legal services, case management, mental health counseling, housing services, employment assistance, and children and youth services.
2018 Walk to End Alzheimer's
Held annually in more than 600 communities nationwide, the Alzheimer's Association Walk to End Alzheimer's is the world's largest event to raise awareness and funds for Alzheimer's care, support and research. This inspiring event calls on participants of all ages and abilities to join the fight against the disease.
A walk will be held Saturday, Sept. 22. Registration at 7:30 a.m., Ceremony at 8:30 a.m., Walk at 9 a.m. Route length: 2 miles. Location: North County - Kit Carson Park, 3333 Bear Valley Pkwy Escondido, 92025. Visit act.alz.org/Escondido
Jewish Short Film Festival
The Joyce Forum Short Film Festival is the first-ever stand-alone short film festival dedicated to the art and imagination of Jewish short films and filmmakers from across the globe. Almost every cinematic genre will be represented including documentary, drama, comedy, horror, animation, and more. The two-day festival takes place Oct. 6 – 7, 2018 and features distinguished jurors, Q&As with renowned filmmakers, and other special guests.
Location: Lawrence Family Jewish Community Center, Jacobs Family Campus, David & Dorothea Garfield Theatre, 4126 Executive Drive, La Jolla, 92037. Visit www.sdcjc.org/garfield/boxoffice.aspx or call (858) 362-1157.
The Scream Zone at the Del Mar Fairgrounds returns Sept. 28 for a month of haunts and scream-worthy scarezones.
This year, the 21st annual event runs Sept. 28 through Oct. 31 at at 2260 Jimmy Durante Blvd. The experience will be open from 7 p.m. to midnight on Fridays and Saturdays and from 7 p.m. to 11 p.m. onother nights the event runs. The Scream Zone, returning for its 21st year, is a labyrinth of horrors and attractions, including a collection of three terrifying haunts: The Haunted Hayride, KarnEvil and House of Horrors. You'll find all the scream-worthy elements of a horror show, including actors popping out of the walls, a fire-breathing dragon and more zombies than you can count. For more information, visit thescreamzone.com or call 858-755-1161.
Sandpipers Square Dance Club
The Sandpipers Square Dance Club had an energetic and enthusiastic turnout for its first class of the new season recently. It was instructed by caller Mike Haworth, who introduced dancers to modern American square dancing, which uses a wide variety of music from all genres. Haworth will continue teaching fun dance sessions, Monday nights from 7 – 9 p.m. at the Woman's Club of Carlsbad, 3320 Monroe Street. The upcoming Monday, Sept. 24 first-time dancers are welcome for free. Returning dancers pay $6. Contact - Christine 310-710-7530, or Terry 858-748-4219.
Hospice of the North Coast is looking for Saturday volunteers to work in its Resale Shop at 278-B El Camino Real (Homegoods Shopping Center). One 4-hour shift per week is required. Volunteers will process customer purchases and price and sort donated merchandise. If you are interested, contact Mary Jo Barry, manager at 760- 943-9921. All profits go directly to Hospice for care and assistance to those in need.
International Relief Teams Gala
Celebrated former San Diego news anchor Carol Le Beau will emcee International Relief Teams' (IRT) annual gala on Sept. 22 at the San Diego Marriott Marquis & Marina. This year marks the 30th anniversary of the San Diego-based organization and the 15th consecutive year it has received Charity Navigator's highest rating of four stars, the only San Diego charity to receive this honor for 15 consecutive years. "This exceptional designation from Charity Navigator sets International Relief Teams apart from its peers and demonstrates to the public its trustworthiness," said Michael Thatcher, president & CEO of Charity Navigator.
International Relief Teams alleviates the suffering caused by poverty and disaster around the globe, from the forgotten corners of the world to right here at home, by sending volunteer teams and medical supplies to make immediate change for the world's most vulnerable people. For more information visit www.irteams.org.
Beatles vs. Stones benefit concert
Beatles vs. Stones will perform at The Paddock at the Del Mar Fairgrounds on Oct. 6, to raise funds for state-of-the-art surgical equipment at the Hospital Infantil de las Californias. Funds raised will also support the Hospital's "Programa de Apoyo a Pacientes Indigentes" (program for indigent patients) and Foundation operations.
A crowd of 400 is anticipated at the event, which includes dinner stations, opportunity drawing, live auction and silent auction. The humanitarian hospital provides care for children from the "mega-region" of San Diego County, Baja California and beyond. Tickets available at usfcc.org.
San Dieguito River Valley Conservancy River Valley Fest
The San Dieguito River Valley Conservancy will hold its 9th annual River Valley Fest, "Filling in the Gaps," on Sunday, Oct. 14, from 4 to 8 p.m. at the L'Auberge Del Mar. This is the Conservancy's signature fund-raising event of the year.
Guests will enjoy music performed by Gregory Page, hosted wine and beer, a gourmet dinner buffet, and enticing and exciting silent and live auctions. Tickets are $150 per person.
All proceeds from this event go toward the Conservancy's conservation, education and recreation programs. Visit sdrvcrivervalleyfest2018.eventbrite.com
March of Dimes Signature Chefs Gala
March of Dimes Signature Chefs Gala, one of San Diego's most anticipated charity food events, takes place Sunday, Oct. 14, at the Del Mar Race Track. The evening begins at 4 p.m. with an extraordinary tasting of San Diego's most desirable cuisine, prepared and served by culinary masters from top local establishments, followed by a seated dessert program and a rousing live auction, offering an opportunity to bid on unique experiences and exciting travel and leisure packages. The philanthropic event raises critical funds to benefit the March of Dimes mission to lead the fight to improve the health of all moms and babies.
For more information, including sponsorship opportunities, visit signaturechefs.org/sandiego or contact Emma Santer of March of Dimes at 619-481-1313 or by emailing at esanter@marchofdimes.org.
The Old Globe presents 'The Heart of Rock & Roll'
Katie Rose Clarke appears as Cassandra and Matt Doyle as Bobby in The Heart of Rock & Roll, running Sept. 6 – Oct. 21, 2018 at The Old Globe in Balboa Park.
An electrifying world premiere musical comedy inspired by the songs of one of the most beloved and iconic acts in music history, Huey Lewis and the News. Mainstays on the Chicago dive bar circuit, Bobby and his band are hustling for their big break. But after their latest rejection, Bobby decides it's "Hip to Be Square," trades in his guitar, and starts "Workin' for a Livin'" in corporate America. His boss, Cassandra, has struggles of her own, having sacrificed her personal life for the company. When they both get a shot at their dreams—for Bobby, another crack at rock stardom, and for Cassandra, a chance to become CEO—they must decide "If This Is It" for their careers, or if "The Power of Love" triumphs over all. The Heart of Rock & Roll celebrates the classic songs of Huey Lewis and the News in this heartwarming and hilarious new musical.
Visit www.theoldglobe.org or call (619) 23-GLOBE [234-5623].
'Knock-Out Parkinson's' Gala
The Parkinson's Association of San Diego (PASD) is holding a "Knock-Out Parkinson's" Gala, on Saturday, Oct. 6, at the Birch Aquarium in La Jolla. CBS News 8 Anchor Carlo Cecchetto will emcee the event. The gala will feature an inspiring speech by Rasheda Ali, daughter of Muhammad Ali, and will include live entertainment, delicious food, libations, spectacular views and silent and live auctions. In addition, the Parkinson's Association of San Diego will honor Dee Silver, MD with a Lifetime Achievement Award and other key Parkinson's community contributors. Tickets are currently on sale at www.parkinsonsassociation.org.
Village Church presents 'Death by Dessert'
The Village Church Community Theater will present "Death by Dessert" by Nathan Hartswick, (a comedy mystery dinner theater) Friday, Sept. 21, at 6 p.m., Saturday, Sept. 22 at 6 p.m., and Sunday, Sept. 23 at 1 p.m. The theater is located at: The Village Church, 6225 Paseo Delicias, Rancho Santa Fe, 92067.
In New York's Little Italy, two families operate competing Italian restaurants in the same building - and have been feuding for more than a generation. The curtain opens to reveal the murdered landlord, and then we meet the various suspects: the old-world Italian establishment owners, the enthusiastic chefs and colorful collection of waitstaff and family. The story is told in flashbacks by the victim, with the audience as restaurant guests who vote on who-done-it! Who is the murderer? What is the feud about? Will we find out? It's all to die for!
Coastal Roots Farm hosts Sukkot Harvest Festival at Leichtag Commons, Sunday, Sept. 30 from 11 a.m. to 3 p.m. at 441 Saxony Road, Encinitas. This annual event for all ages coincides with the last day of the week-long Jewish holiday of Sukkot, and is the Farm's biggest event of the year.
This year's festival theme is Renew & Reroot. The family friendly event will include a host of Jewish learning workshops, farm tours, music, tours of neighboring Butterfly Farms, a "libation station," fermentation tastings, as well as food options for purchase.
There will also be a Kids Zone with several activities, including a flower crown making station.
GI Film Festival San Diego 2018
Now in its fourth year, the GI Film Festival San Diego, San Diego's six-day military film festival, is back to feature more untold and underrepresented stories of America's military through film. The six-day, San Diego military film festival kicks-off with the ever-popular Opening Night Screening and Reception on Tuesday, Sept. 25 from 7 p.m. to 10 p.m. at the Museum of Photographic Arts in iconic Balboa Park. The evening includes screenings of the narrative short "American," followed by the documentary short, "The Registry." Special guest, George Takei, is anticipated to attend the Opening Night Screening and Reception as the leading actor in the film, "American." Both films focus on World War II events and emphasize the important roles and services that Japanese-American military members provided throughout the war. In addition to Takei, the directors of each film are expected to attend the Opening Night celebration and will participate in a panel discussion after the screenings.
Following the GI Film Festival San Diego's Opening Night Screening and Reception, festivities will continue through Friday, Sept. 28 at the Museum of Photographic Arts. The festival moves to UltraStar Cinemas at Hazard Center for the Saturday, Sept. 29 and Sunday, Sept. 30 screenings. Visit gifilmfestivalsd.org/2018/
Get the Del Mar Times in your inbox
Top stories from Carmel Valley, Del Mar and Solana Beach every Friday for free.
You may occasionally receive promotional content from the Del Mar Times.