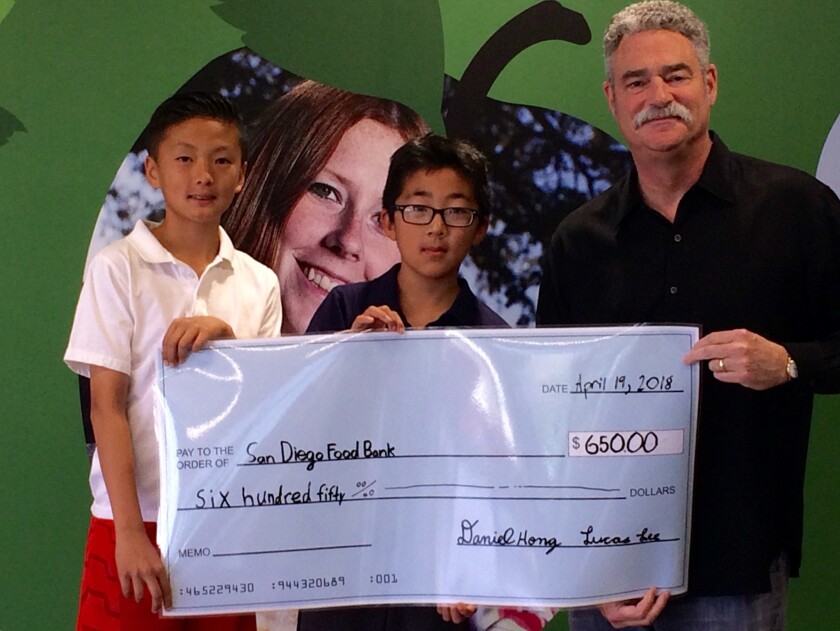 At Solana Pacific Elementary School, 5th graders work for three months on a Service Learning Project. Most of the work is done independently at home, supported by teacher-led checkpoints.
Classmates Lucas Lee and Daniel Hong chose to support the Jacobs & Cushman San Diego Food Bank. Fundraising ideas included dog walking, bottle collections, and direct appeal letters. Ultimately the boys decided on a bake sale, musical performance, and a restaurant night, with a goal of raising $400.
Despite inclement weather in February, the bake sale in front of Jimbo's Naturally in Carmel Valley was a surprising success. Overcoming initial shyness, Daniel and Lucas sold freshly-squeezed lemonade, steel-cut oatmeal, home-baked chocolate-chip cookies, and hand-made granola parfaits. They were impressed by the willingness of strangers to donate to a worthy cause.
During President's Week, Lucas and a Solana Pacific 4th grader Anthony Kim performed violin pieces together at the Star of India and Seaport Village. Playing music in public proved to be much different than playing in an organized recital. In order to attract the attention of locals and tourists alike, they quickly learned to read their audience. Children heard songs such as "Twinkle Twinkle, Little Star "; adults were treated to selections from Mussorgsky and Dvorak.
In April, restaurant night was held at Chipotle's Carmel Valley . Both classmates and the local community turned out in droves, making the event a social and financial success. As with the bake sale, the boys learned first-hand that delicious food will always draw a crowd.
On April 19, Daniel and Lucas proudly presented a check for $650 to the CEO of the Jacobs & Cushman San Diego Food Bank, Jim Floros. They learned that their hard-earned money would be able to fund 3,250 meals. The boys found out that the Food Bank serves an average of 370,000 people per month, and partners with over 400 non-profit organizations. They received a tour of the 90,000-square-foot warehouse, and saw in person how the Food Bank positively impacts less fortunate fellow San Diegans.
Lucas and Daniel realized that the Service Learning Project was more than just a school assignment. The project forced them to strengthen organizational skills, and overcome hesitancy in dealing with the public. It gave them the opportunity to work with friends and strangers. They saw that given a worthwhile cause, people are extremely willing to help their neighbors. By working together, and combining their time and talents, these classmates learned that anyone can make a difference in their community.
For more information about the Jacobs & Cushman San Diego Food Bank, visit sandiegofoodbank.org.
---