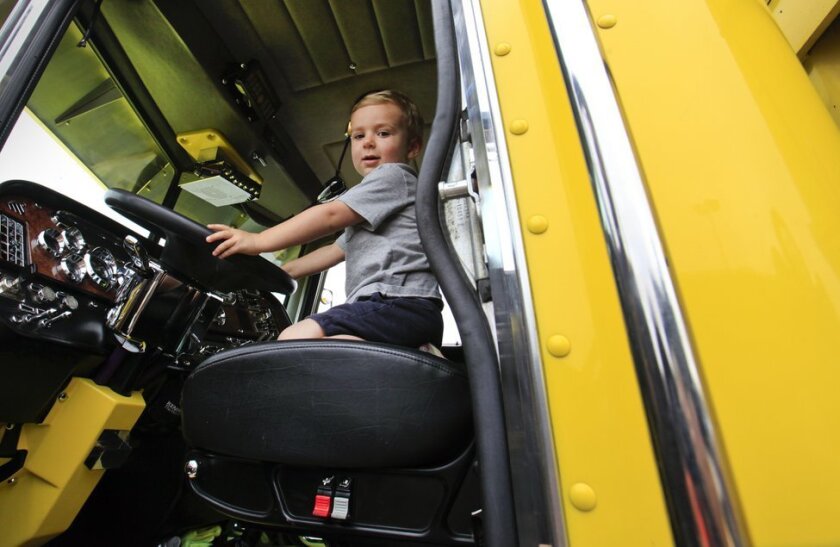 What if in the span of a few hours you and your kids could be front row, dancing to the music of Hullabaloo; sitting inside the Mercy Air Ambulance (after it lands, of course); checking out a Coast Guard patrol boat or Shelby Cobra; or exploring the inside of the infamous Oscar Meyer Weinermobile? Oh, and don't forget, meeting Captain America, Darth Vader, Clone Troopers and Chewbacca, too. Well, polish up the chrome on the ol' minivan and get to Pacific Trails Middle School on Saturday, July 7 from 11 a.m. to 3 p.m. for the 10th Annual Touch A Truck San Diego, produced by childhood cancer charity Beat Nb (formerly Max's Ring of Fire).
Touch A Truck San Diego has taken many turns and matured since it's humble start in 2009 where the event entertained 500 attendees at Canyon Crest Academy. Their third year, 2011, brought in over 4,500 guests at Torrey Pines High School, prompting a move to Qualcomm Stadium for the next three years, where the event showcased Robosaurus, a car-eating dinosaur, and introduced the Mercy Air helicopter landing. In 2015, the event returned to Carmel Valley where it has stayed ever since.
"Moving back to Carmel Valley, we were able to re-capture the intimate, community feel that made the first several Touch A Truck's so fun for families," says event director Melissa Mikulak, who started the event with another mom in 2009.
"Now at Pacific Trails Middle School," Mikulak continues, "the layout of the parking lot creates a natural flow, while the sports field allows enough space for bigger trucks and our signature Mercy Air helicopter landing and takeoff."
Touch A Truck San Diego is inspired by Max Mikulak, who was diagnosed with neuroblastoma at the age of three. Max passed away in late August 2008 at the age of seven after courageously battling hard against the disease for four years. He was known to those who knew and loved him as always "living life to the Max."
Max went attended Solana Highlands Elementary School, and he was a huge fan of all vehicles, WWII planes, Legos, and Star Wars.Not only does Touch A Truck San Diego function as an sort of annual "birthday party" for Max, it helps raise awareness within the wider business throughout the community of San Diego for this hugely important area of pediatric cancer research.
"As any parent of a child who has died at an early age will tell you, there is a desire to create a legacy from the tragedy that took their child from them. With Touch A Truck San Diego, the legacy we have created is part celebrating childhood, and part funding the research that will help ensure future parents will not lose a child like we did to a common yet overlooked disease," said Max's father, Andy.
The proceeds from Touch A Truck San Diego go to finding more effective, less toxic therapies for kids with aggressive childhood cancers.— 28 hospitals nationwide, including Rady Children's Hospital San Diego, offer trials that are, in part, funded by this event.
For more information, visit BeatNb.org.
Tickets to Touch A Truck San Diego are $15 per person, and available online at TouchATruckSD.com.
Scheduled "look and touch" activities include:
-Live music by Hullabaloo·
-Star Wars and Marvel characters·
-Mercy Air helicopter landing, ground tour and takeoff.
-Exotic cars including a 1964 Shelby Cobra
-Trucks, construction equipment, roadsters, off-road trucks, motorcycles, and more!
---