June 15: Event briefs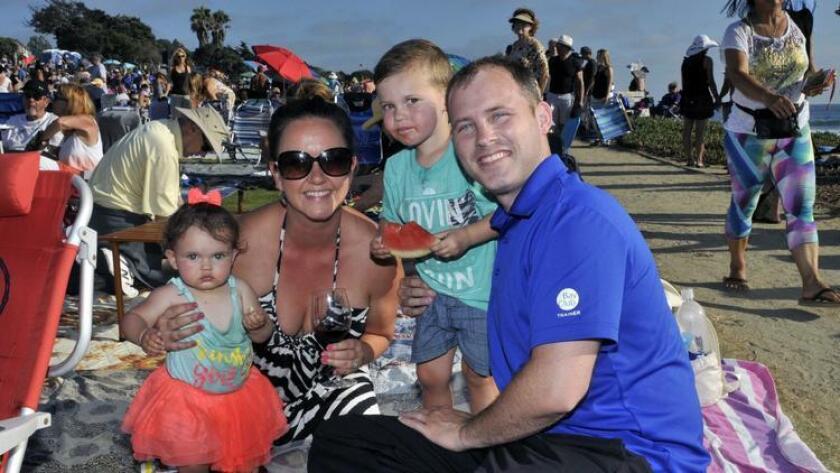 SB Concerts at the Cove
The popular Solana Beach Concerts at the Cove summer series kicks off Thursday, June 22, from 6-7:30 p.m. at Fletcher Cove Park (140 So. Sierra Avenue, Solana Beach). Tower 7 will perform June 22. The series runs every Thursday with a different musical group through Aug. 24. Bring beach chairs, blankets, picnics and friends. Season line-up includes: June 22: Tower 7; June 29: Nate Donnis Trio; July 6: Hullabaloo Band; July 13: Ginger Cowgirl; July 20: Symphony String Quartet; July 27: Jimmy & Enrique; Aug. 3: Rockademy: The Special Guests & Too Loud; Aug. 10: Mike Myrdal; Aug. 17: Navy 32nd Street Brass Band; Aug. 24: Sully & The Blue-Eyed Soul Band.
For more information, visit cityofsolanabeach.org or call the city at 858-720-2453. 
Summer Solstice in Del Mar
The Del Mar Village Association is holding its annual Summer Solstice celebration on June 22 from 5 to 8 p.m. at the ocean-front Powerhouse Park. This event is the premier kick off to summer celebration and will feature tastes from more than 20 exceptional coastal eateries. In addition there will be more than 25 craft breweries and vineyards participating along with distilled spirits and organic beverages. Sip and sup while enjoying the live sounds of local band Second Cousins, and enjoy the Del Mar Lifeguard's Tiki Torch Paddle Out at sunset.
This is a sell out event and tickets are limited, so order online now at visitdelmarvillage.com or check out visitdelmarvillagesummersolstice2.comfor further information. 
CV Library symposium for seniors June 19
Carmel Valley Branch Library is hosting monthly Symposiums for Seniors with June's topic "Beauty and the Beast presents an examination of animals in photography."
Please come to enjoy a discussion with Kevin Linde, Museum of Photographic Arts, on Monday, June 19, 1 p.m. - 3 p.m. The Carmel Valley Branch Library is located at 3919 Townsgate Dr., San Diego, 92130. For more information, call Carmel Valley Branch Library at 858-552-1668. 
CV Rec Movies in the Park June 24
A "Summer Movies in the Park" free event will be held Saturday, June 24, at 4 p.m. at the Carmel Valley Pool/Community Park Amphitheatre.
The movie "Free Willy" will be shown beginning at dusk. Free swimming is available at the pool from 4-6 p.m. Arts, crafts and games will also be available. Location address: 3777 Townsgate Drive, Carmel Valley, 92130.
San Diego International Beer Festival
Five sessions, hundreds of beers, one glass. The San Diego International Beer Competition draws entrants from throughout the world, and is placed among the top 10 of beer competitions nationally. Within the San Diego County Fair is the three-day San Diego International Beer Festival, June 16-18, in the Del Mar Arena, featuring five sessions for beer lovers. Tickets include Fair admission and can be purchased online. Visit sandiegobeerfestival.com
Biomimicry Nature Tour
Saturday, June 24: 10 a.m. – 12 p.m., San Elijo Lagoon
An invention as simple as Velcro mimics the interlocking hooks in common burrs that attach to our hiking shoes. That's copying nature's best designs, the focus of a tour designed to open the ways we think inside nature's strategies and patterns. Guest expert, Jacques Chirazi with Biomimicry San Diego, will lead the nature walk with hands-on activities including a scavenger hunt, a blindfold exercise to enhance the other senses, and nature drawing. Visit SanElijo.org/Events 
Del Mar Summer Twilight Concert June 20
The 2017 season of the Del Mar Foundation's Summer Twilight Concert Series kicks off at 7 p.m. on June 20 at Powerhouse Park, 1658 Coast Boulevard, Del Mar, with the Blue Eyed Soul Band. All concerts are free and open to the public. Visit delmarfoundation.org
San Diego County Fair
The San Diego County Fair opened June 2 and runs through July 4 at the Del Mar Fairgrounds. The theme of this year's fair is "Where the West is Fun." The fair is closed on the first four Mondays (June 5, 12, 19 and 26) and the first three Tuesdays (June 6, 13 and 20). Learn more at sdfair.com
Concert on the Green
Now in its sixth year, the ever-popular Concert on the Green presented by the Village Church in Rancho Santa Fe will be held Sunday June 25, 5-7 p.m. at The Inn at Rancho Santa Fe, and feature world-class guitarist Peter Sprague and his seven-piece band along with a special presentation by popular singer/songwriter Steven Ybarra. The concert is free and guests are encouraged to bring lawn chairs, blankets, shade umbrellas and a picnic dinner to the corner of Avenida De Acacias and La Flecha in the heart of Rancho Santa Fe. All are welcome. Visit villagechurch.org or phone 858-756-2441.  
Poets on Parade
The 2017 San Diego Poetry Annual begins at 7 p.m. Friday, June 23, in the San Diego Art Institute, 1439 El Prado in Balboa Park, San Diego. Editors and authors published in the anthology will read poems from this year's edition. Guest appearances by Anthony Blacksher, Judy Reeves, Adam Greenfield and Jimmy Jazz. Franco Z will perform "A Brief History of Jazz." People's Choice Poem Performance Awards follow. Beverages, snacks and time to mingle. Tickets: Members free, non-members $5. Bring a snack/beverage to share and get in free. Writers/artists who would like to participate in the People's Choice Poem Performance Awards can get their names in the hat ahead of time at mkklam@gmail.com or text (619) 957-3264. poetryandartsd.com or sandiego-art.org  
San Diego International Boat Show
The San Diego International Boat Show will return to Harbor Island June 15-18 for four days of fun on the water. The footprint of the 2017 show will be bigger with added dock space to accommodate the demand of exhibitors to be in the show, making the show marina nearly 150,000 square feet. The event will also feature entertainment, great food, a craft beer and wine tasting area, and more.
Visit SanDiegoInternationalBoatShow.com.
Sharp Senior Resource center programs
The Senior Resource Center at Sharp Memorial Hospital offers free health education and screening programs for seniors and their families each month. The Senior Resource Center also provides free information and assistance for health information and community resources, call 858-939-4790. For information on additional programs, call 1-800-827-4277 or visit sharp.com.
Fairy Festival
Children and parents are invited to celebrate summer at the annual Fairy Festival at San Diego Botanic Garden, 230 Quail Gardens Drive, on June 17 from 10 a.m. to 4 p.m. The Fairy Festival features fairy-themed activities, where children may wear their favorite fairy costume, visit the official Fairy Princesses Violette, Juniper and Blue Bell in an enchanted garden for a photo op, leave their wishes at a magic wishing bush, shop in the Fairy Land Market, and enjoy fairy-themed crafts.
Visit https://bit.ly/2s1hPW6
---
Get the Del Mar Times in your inbox
Top stories from Carmel Valley, Del Mar and Solana Beach every Friday for free.
You may occasionally receive promotional content from the Del Mar Times.