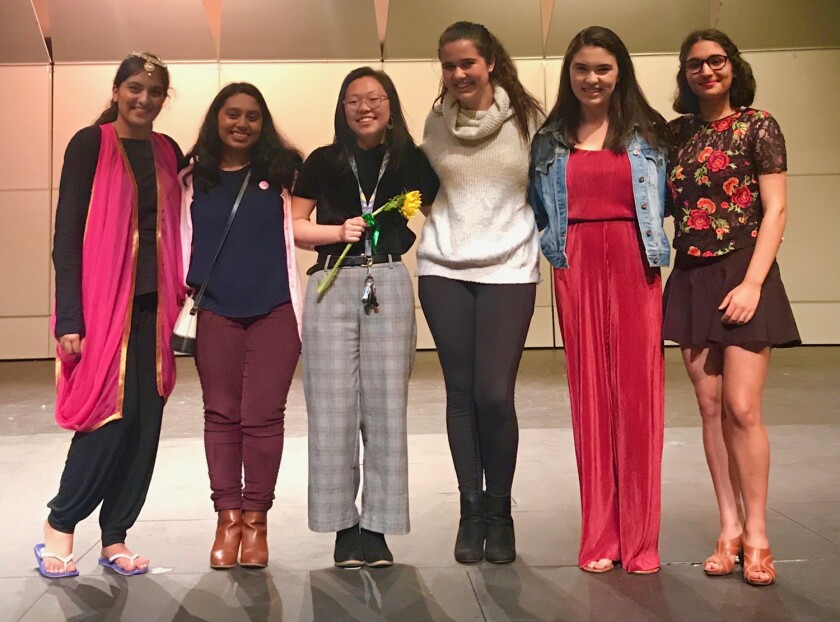 More than 100 attendees from across San Diego trekked to the inaugural "Her Voice Our Voice" presentation at Westview High School. The collaborative event brought together feminist groups from schools throughout the county. A compilation of female professionals and stellar teens representing an array of career fields spoke about their personal trials and tribulations regarding gender. Representatives from the fields of art/media, film, journalism, politics, music and STEM (science, technology, engineering and mathematics) presented on their given topic.
Among the speakers was San Diego State University's Journalism Director Bey-Ling Sha, who spoke about her path to being an award-winning researcher, teacher and practitioner. Local Democratic Congressional candidate Sara Jacobs was on hand to speak about the world of politics and emphasized the importance of female and young voters. Film cinema student Melanie An spoke about taking a lead in a mostly male-dominated profession and showcased one of her award-winning documentaries from the All-American New York Student Film Festival. Other presenters included the music duo of Serena Geroe and Eevie Perez, poet Hannah Berman-Schneider, STEM speakers Deepali Bhandari and Anlin Zhang, political enthusiast Elaine Wei and artist Nushi Iyer.
A question and answer segment followed the presentations with all participants taking questions from the audience. The evening came to a close with a dance performance by the group "Hearts" who demonstrated traditional Indian dances among other pieces. The event organizers were Deepali Jain, Annika Shamachar, Sumin Hwang, Arielle Morris, Zena Gallouzi and Kiana Kazemi from Canyon Crest Academy, Torrey Pines High School and Westview High School.
Gallouzi said, "We wanted our event to be a prime example of the next generation taking a stand for what they believe in and we chose gender equality. The event was a collaboration between students in order to celebrate successful women in their careers and allow female students to showcase their talents and work."
The host committee said next year's function is already in the planning stages with a growing number of participants.
---