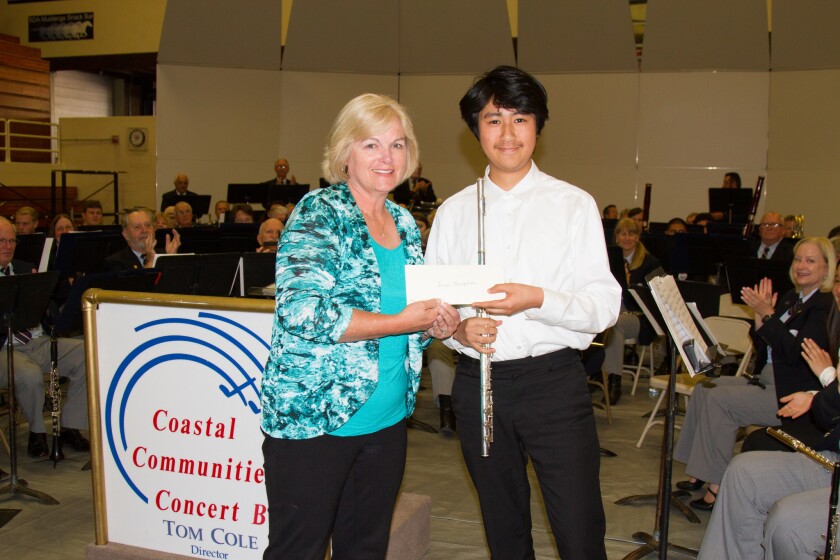 Thirty-four outstanding band students from the San Dieguito Union High School District will perform with the Coastal Communities Concert Band at the Annual Salute to Young Musicians Concert on Sunday, April 28, at 2 p.m. at San Dieguito Academy High School (800 Santa Fe Drive in Encinitas).
The student musicians, selected by their teachers to participate in the concert, come from Canyon Crest Academy, La Costa Canyon High School, Torrey Pines High School, and San Dieguito Academy. In addition to performing several numbers with the band, the students will be given the opportunity to audition for up to four $750 scholarship awards, thanks to a grant from the Mizel Family Foundation, to be used to fund summer music camp, private lessons or make purchases at local music stores. A fifth scholarship, the Annual Don Caneva Scholarship in the amount of $1,500, recognizes the most Outstanding Band Musician in the San Dieguito High School District. The five scholarships will be awarded at the April 28 concert. Last year's Caneva Scholarship winner Sergio Miragliotta will solo with the band, performing the third movement of Ibert's Flute Concerto with a band accompaniment his father arranged.
This is the 15th year the CCCBand has invited student musicians to join them in concert. The band considers educational outreach to be one of its core goals and works to encourage music education at local schools. The students get a unique opportunity to play with seasoned musicians, and the older musicians get a chance to share what they have learned with the students. This year's concert will provide a variety of music, including a Sousa march, Rossano Galante's lyrical "Landscapes," a two-step "After the Cake Walk," traditional band concert pieces, and a surprising pop hit.
More information about the CCCBand and its mission can be found on the band's website at www.cccband.com.
---