Sept. 13: Event briefs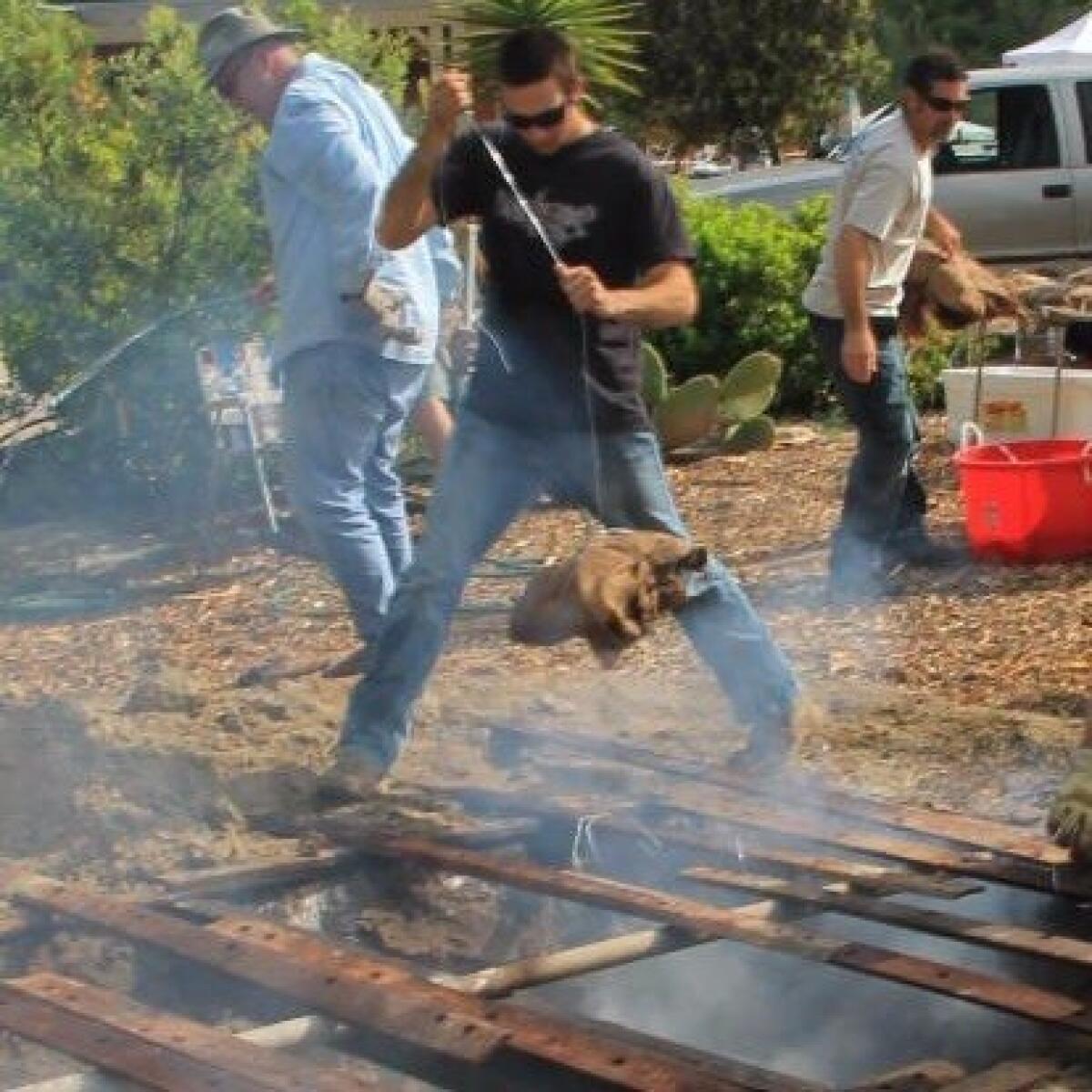 Heritage Museum 30th Anniversary
The San Dieguito Heritage Museum will celebrate its 30th anniversary with three family-friendly events over the weekend. The Americana Music Fest — with 10 musicians and bands on three stages — will also include vendors, food trucks and a beer garden by Pizza Port on Sept. 14 from 4 to 9 p.m. The deep-pit BBQ fundraiser on Sept. 15 from noon to 3 p.m. will feature melt-in-your-mouth meat and live music, along with a craft beer garden, bake sale, photo booth, silent auction and more. Kid's Day will wrap up the weekend on Sept. 16 from noon to 4 p.m. with a performance by Hullabaloo, arts, crafts, games, contests, and a petting zoo. All events will take place at the San Dieguito Heritage Museum, 450 Quail Gardens Drive. For more information, visit https://bit.ly/2QmS4YU.
CV Library: Senior Symposium
Senior Symposium will meet on Monday Sept. 17 at 1 p.m. at the Carmel Valley Library and will feature Vicky Newman, M.S. who will speak about "Culinary Herbs and Spices for Health & Healing." The Carmel Valley Branch Library is located at 3919 Townsgate Dr., San Diego.. For more information, contact the library at (858) 552-1668.
Expert to speak on 'Managing our Water, Drop by Drop' at Del Mar Foundation event
The Del Mar Foundation (DMF) presents Celeste Cantú, CEO of Water Education for Latino Leaders, at the next DMFTalks event on Tuesday, Sept. 18, 6 p.m. -8 p.m., where Cantú will present a talk titled "Managing our Water, Drop by Drop." Before serving as CEO of Water Education for Latino Leaders, a California policy academy, Cantú served as general manager of the Santa Ana Watershed Project Authority (SAWPA) and led in developing the Crest to Coast, Corner to Corner Integrated Regional Watershed Management Plan called One Water, One Watershed (OWOW) that addressed all water-related issues for the Santa Ana River Watershed.
The event is free and will be held at the Powerhouse Community Center where light refreshments will be served. Reservations are requested and can be made at delmarfoundation.org.
Auditions for "Elf jr." musical
Heyjojo Productions is holding auditions on Sunday, Sept. 16, from noon-3 p.m. for the very entertaining show "Elf jr." for ages 6-18. Everyone who auditions is guaranteed a speaking role (multiple casts are planned). Location is 742 Genevieve St., Suite F, in Solana Beach. Visit www.heyjojoproductions.com for details and audition fees.
Friendship Gardeners of Del Mar meeting
Friendship Gardeners of Del Mar will hold its monthly meeting Saturday, Sept. 22, from 1-3 p.m. Learn about the organization's upcoming events, speakers and field trips for 2018-19. Newcomers are always welcome. Call 858-755-6570 for Del Mar meeting location.
Solana Beach Business Expo
The 8th Annual Solana Beach Business Expo will be held Wednesday, Sept. 26, 5-7 p.m. at Lomas Santa Fe Country Club, poolside. (1505 Lomas Santa Fe Dr., Solana Beach). The free admission event features over 50 unique local businesses, entertainment, great food, raffle prizes and more. Hosted by the Solana Beach Chamber of Commerce. Visit solanabeachchamber.com/events/
Del Mar-Solana Beach Rotary will host the 22nd Annual BocceFest San Diego on Sunday, Sept. 30, 9 a.m.-4 p.m. at the Surf Cup Sports Park (formerly, San Diego Polo Fields), located at 14989 Via de la Valle. This year will combine Rotary's 21 years of Turf Bocce Ball tournaments with a craft beer festival and locals-only brewing competition.
This tournament is the Rotary Club's annual fundraiser and this year, the primary beneficiaries of BocceFest San Diego will be Just in Time for Foster Youth and Reality Changers. Visit boccefestsd.com/events/bocce-tournament/
Meditative Vibes presents Outdoor Fitness and Wellness fundraising event Sept. 22 at CV Rec. Center
Meditative Vibes will hold an Outdoor Fitness and Wellness fundraising event at the Carmel Valley Recreation Center Amphitheater, 3777 Townsgate Drive in Carmel Valley, on Saturday, Sept. 22, from 5 p.m. to 8 p.m. This event will benefit the Challenged Athletes Foundation.
This event is much more than just a workout. This is a unique outdoor experience. Participants will be guided through a meditative yoga sequence with live music flowing through wireless sound immersion headphones followed by a Sunset Savasana.
The evening will get kicked of with Tara Butcher, a CAF athlete, telling her inspiring story followed by a one-hour silent yoga class (this practice is accessible to all levels) taught by Michael Rosendahl. The evening will also include raffle giveaways and silent disco to close out the night.
 1-hour all- levels Vinyasa Yoga Flow with wireless headphones
 Post yoga silent disco live music/ DJ with Zen beats
 Raffle for fantastic prizes
 Selfie wall pictures with Michelle Bowen Photography
 Layers (depending on the weather)
Purchase tickets before the event to reserve your spot on the mat and receive a free water bottle when you check in. For more information, visit meditativevibes.net or call 858-228-7324.
Speaker at SB Library to discuss 'Keeping your wits: Why brain function declines and 10 ways to prevent it'
Friends of the Solana Beach Library in conjunction with the Oasis organization will host a presentation by Dr. Philip Goscienski on Tuesday, Sept. 18 at 6 p.m. Goscienski believes most forms of age-related dementia, including Alzheimer's disease, can be avoided or delayed. He will discuss 10 simple measures which will preserve brain function and even improve it. He will help attendees learn how to make the brain last as long as the rest of the body.
Goscienski has more than 45 years experience in medicine and is the author of numerous articles in medical journals, magazines and newspapers, and the Newsletter of the American Heart Association. He has a weekly column, The Stone Age Doc, on his website: www.stoneagedoc.com
This is a "Friends Night Out" program and sponsored by the Friends of the Solana Beach Library. The program is free and open to the public and will be held in the Cove Meeting Room at the Solana Beach Library. The library is located at 157 Stevens Avenue and parking will be available at both the upper level of Earl Warren Middle School parking lot and the lower level Library parking lot.
City of Encinitas seeking artists to exhibit in 2019
The City of Encinitas Cultural Arts Division oversees three civic galleries: the Civic Center Gallery at City Hall, the Encinitas Library Gallery, and the Encinitas Community Center Gallery (with 2-D and 3-D exhibits at all locations).
The city is accepting applications for 2019. The deadline to apply is Oct. 15. There is no gallery commission, the artist receives 100 percent of all art sales.
Artists from Encinitas and San Diego County are welcome to exhibit. Visit www.encinitasca.gov/visualart
'Smooth Nights' live music at Piazza Carmel
Every Thursday in September and October, "Smooth Nights" live music at the Piazza Carmel Shopping Plaza in Carmel Valley will be taking place from 5-8 p.m. Singer-songwriter Terry Matsuoka will sing and play guitar with special guests every week. His band The Ingredients will play Sept. 13 and 27. Piazza Carmel is located at 3810 Valley Centre Dr, Carmel Valley, 92130. Visit www.terrymatsuoka.com
Bipolar support group meeting in Del Mar
The Del Mar branch of Depression Bipolar Support Alliance will meet from 2-4 p.m. Tuesday, Sept. 18, at Pacifica Del Mar restaurant in the Del Mar Plaza. Family and friends are welcome. Parking is validated for the underground garage. For information about the group, contact Roger Alsabrook at 858-525-1509 or rogeralsabrook@yahoo.com.
KAABOO Del Mar will be held Sept. 14-16 at the Del Mar Fairgrounds and Racetrack. The event includes music, comedy, food, drink and more. Visit www.kaaboodelmar.com
Hospice of the North Coast is looking for Saturday volunteers to work in its Resale Shop at 278-B El Camino Real (Homegoods Shopping Center). One 4-hour shift per week is required. Volunteers will process customer purchases and price and sort donated merchandise. If you are interested, contact Mary Jo Barry, manager at 760- 943-9921. All profits go directly to Hospice for care and assistance to those in need.
The band Super Nacho will raise funds for the Encinitas American Legion post 416 in a concert at the Belly Up in Solana Beach, 143 South Cedros Avenue, on Sept. 14 from 5 to 8 p.m. A portion of ticket sales will be donated to the American Legion's remodeling project.
International Relief Teams Gala
Celebrated former San Diego news anchor Carol Le Beau will emcee International Relief Teams' (IRT) annual gala on Sept. 22 at the San Diego Marriott Marquis & Marina. This year marks the 30th anniversary of the San Diego-based organization and the 15th consecutive year it has received Charity Navigator's highest rating of four stars, the only San Diego charity to receive this honor for 15 consecutive years. "This exceptional designation from Charity Navigator sets International Relief Teams apart from its peers and demonstrates to the public its trustworthiness," said Michael Thatcher, president & CEO of Charity Navigator.
International Relief Teams alleviates the suffering caused by poverty and disaster around the globe, from the forgotten corners of the world to right here at home, by sending volunteer teams and medical supplies to make immediate change for the world's most vulnerable people. For more information visit www.irteams.org.
Expert to speak on 'Art & Empire in the Golden Age: The Making of an Exhibition'
On Monday, Sept. 17, in Del Mar, Michael Brown, SDMA Associate Curator and NCC liaison, will give a behind-the-scenes look at preparing this special exhibition at the San Diego Museum of Art. The show will feature about 100 works of outstanding quality from throughout the Hispanic world, including the Iberian Peninsula, the Spanish Netherlands, North and South America and the Philippines. The art lecture will be held in St. Peter's Episcopal Church, Parish Hall, Del Mar, 15th & Maiden Lane (across from the Del Mar Plaza). Registration and refreshments at 9:30 a.m. and meeting from 10 a.m. to 11:30 a.m. Free for San Diego Museum Art, North County Chapter members. $10 for others. sdmart.org
Solana Beach Civic and Historical Society BBQ
The Solana Beach Civic and Historical Society is planning its September barbecue. It will be held at La Colonia Park Community Center, 715 Valley Avenue, Solana Beach, on Friday, Sept. 14 at 5 p.m.
Join friends and neighbors for a summer-end barbecue, sponsored by the Solana Beach Civic and Historical Society and catered by Brett's BBQ of Encinitas. Enjoy signature smoked meats and sides. Tour the Solana Beach Heritage Museum to learn more about the city's honored heritage and vibrant future. There will be fun for all ages! Sing along with musical performances by HeyJoJo Productions. Enjoy vintage lawn games, create chalk art, and peek through the fence to see the progress on the city's new skate park now under construction.
The cost will be $15 a person. Children under 10 will be charged $10. Please RSVP by Sept. 8. Checks can be sent to the Solana Beach Civic and Historical Society PO Box 504 Solana Beach, CA, 92075. Please write "Barbecue" on the memo line of your check.
The Country Friends presents 2018 Art of Fashion
Designer handbags and apparel, luxurious getaways and dazzling gems are among the opportunity prizes offered on Sept. 20, 10 a.m.-4 p.m., when The Country Friends presents the 2018 Art of Fashion in partnership with South Coast Plaza at The Inn at Rancho Santa Fe. The event, co-chaired by Tamara Lafarga-Joseph and Sarah Sleeper, honors businesswoman, philanthropist and fashionista Maggie Bobileff. NBC 7/39 newscasters Catherine Garcia and Mark Mullen serve as emcees.
Proceeds benefit charities selected this year by The Country Friends, the nonprofit organization which has raised more than $14 million since its founding in For more information, or to become an Art of Fashion sponsor, contact The Country Friends at (858)756-1192, extension 4, or events@thecountryfriends.org. Also, visit thecountryfriends.org and southcoastplaza.com.
 Author Jane Austen wrote only six novels, but her wit and wisdom left readers pining for more. Impro Theatre's Jane Austen UnScripted gives audiences a chance to imagine the other books she might have written, 7:30 p.m. Monday, Sept. 17 at North Coast Rep, 987 Lomas Santa Fe Drive, Solana Beach. Tickets: $22-$27. (858) 481-1055. northcoastrep.org
 In "Snowfall," through Sept. 16 at La Jolla Playhouse, UC San Diego campus, change is in the air as Violet prepares to bring twin boys into the world: her husband is secretly planning to leave her, her father is slipping into senility and her daughter has taken a vow of silence. Tickets: $35. lajollaplayhouse.org
Beatles vs. Stones benefit concert
Beatles vs. Stones will perform at The Paddock at the Del Mar Fairgrounds on Oct. 6, to raise funds for state-of-the-art surgical equipment at the Hospital Infantil de las Californias. Funds raised will also support the Hospital's "Programa de Apoyo a Pacientes Indigentes" (program for indigent patients) and Foundation operations.
A crowd of 400 is anticipated at the event, which includes dinner stations, opportunity drawing, live auction and silent auction. The humanitarian hospital provides care for children from the "mega-region" of San Diego County, Baja California and beyond. Tickets available at usfcc.org.
San Dieguito River Valley Conservancy River Valley Fest
The San Dieguito River Valley Conservancy will hold its 9th annual River Valley Fest, "Filling in the Gaps," on Sunday, Oct. 14, from 4 to 8 p.m. at the L'Auberge Del Mar. This is the Conservancy's signature fund-raising event of the year.
Guests will enjoy music performed by Gregory Page, hosted wine and beer, a gourmet dinner buffet, and enticing and exciting silent and live auctions. Tickets are $150 per person.
All proceeds from this event go toward the Conservancy's conservation, education and recreation programs. Visit sdrvcrivervalleyfest2018.eventbrite.com
'Knock-Out Parkinson's' Gala
The Parkinson's Association of San Diego (PASD) is holding a "Knock-Out Parkinson's" Gala, on Saturday, Oct. 6, at the Birch Aquarium in La Jolla. CBS News 8 Anchor Carlo Cecchetto will emcee the event. The gala will feature an inspiring speech by Rasheda Ali, daughter of Muhammad Ali, and will include live entertainment, delicious food, libations, spectacular views and silent and live auctions. In addition, the Parkinson's Association of San Diego will honor Dee Silver, MD with a Lifetime Achievement Award and other key Parkinson's community contributors. Tickets are currently on sale at www.parkinsonsassociation.org.
Holli"day…Anyday! is inviting all furry friends to its exclusive debut event "Pups in the Park" on Saturday, Sept. 29. Proceeds from this family dog-friendly afternoon soiree will go to benefit Southern California Bulldog Rescue's (SCBR) expansion into San Diego. Pups and their pet parents will enjoy an unforgettable afternoon at a private Rancho Santa Fe 3-acre estate.
Well-behaved dogs of all breeds and sizes are welcome to attend the event and must remain leashed. Pups in the Park is a chance for dogs and their owners to enjoy a fabulous afternoon with a picture-perfect backdrop while raising funds and awareness for SCBR. Pups in the Park will paw-off at 2 p.m. and end at 5 p.m. on Sept. 29. A $10 donation for adults goes towards a taco of their choice at Pochos Tacos and a soft drink. For reservations, visit www.socalbulldogrescue.org. The private location will be disclosed after registration.
Don't miss an evening of excitement and thrills on Saturday, Sept. 22, at 5 p.m. at Del Mar Fairgrounds. Put on your jeans and western boots and join in the fun. Friends of San Pasqual Academy is organizing a Team Penning Event to benefit the foster teens of San Pasqual Academy. A "Calcutta" will start at 6 p.m. before the competition begins. This provides the opportunity to purchase a team that one feels will win the competition. The purse is shared by the highest bidder of the team that wins the Team Penning event.
Friends of San Pasqual Academy is a nonprofit 501 (c) (3) organization that enriches the lives of foster teens of San Pasqual Academy. For more information, call (858) 759-3298 or visit www.friendsofsanpasqualacademy.org. Donations can also be sent to P.O. Box 8202, Rancho Santa Fe, CA 92067.
The San Diego Chapter of the American Harp Society and hosts Steve and Terri Dickson will be presenting international harpist Sasha Boldachev in an exclusive solo concert as part of an elegant fundraising afternoon of music on Sunday, Sept. 23, at 3 p.m. in Rancho Santa Fe.
The concert will be preceded by a silent auction, hors d'oeuvres, wine, and music presented by student members of the San Diego Harp Society. All ticket proceeds benefit the San Diego Harp Society Concert and Scholarship Fund. The San Diego Harp Society is a 501c3 non-profit organization.
Tickets can be purchased at sandiegoharpsociety.ticketleap.com/soireewithsasha/
Purchase deadline is Sept. 20, 2018 or before, until capacity is reached, as seating is limited. Tickets are $50 adults, $10 students, with discount available for SDHS members. For venue and further information please visit sandiegoharpsociety.org.
The B.A.G. Newtworking (Business Associates Group) is holding a Carnival Against Cancer Sept. 25, 6-10 p.m. , at La Valencia Hotel in La Jolla. Proceeds from the event will benefit the new Scripps MD Anderson Cancer Center. To donate financial or auction items, contact mail@thebagnetworking.com or call 760-533-3507. Visit thebagnetworking.com. For event tickets, visit bit.ly/2oYWBod
Cancer Research Institute Immunotherapy Patient Summit
A "Cancer Research Institute Immunotherapy Patient Summit" will be held Saturday, Oct. 27, from 10 a.m.-3:30 p.m. at UC San Diego School of Medicine (T. Denny Sanford Medical Education and Telemedicine Center).
Learn about the basics of cancer immunotherapy, a highly promising new approach to cancer treatment. Medical experts along with patients who have been treated with immunotherapy will discuss how research and patient participation in clinical trials is helping us get closer to cures for all types of cancer. Space is limited, so register today. People of all ages and cancer types are invited to attend this free half-day Saturday event. Caregivers, friends, family, and advocates are also encouraged to join.
To register and for more information, visit bit.ly/2CHskUF
GI Film Festival San Diego 2018
Now in its fourth year, the GI Film Festival San Diego, San Diego's six-day military film festival, is back to feature more untold and underrepresented stories of America's military through film. The six-day, San Diego military film festival kicks-off with the ever-popular Opening Night Screening and Reception on Tuesday, Sept. 25 from 7 p.m. to 10 p.m. at the Museum of Photographic Arts in iconic Balboa Park. The evening includes screenings of the narrative short "American," followed by the documentary short, "The Registry." Special guest, George Takei, is anticipated to attend the Opening Night Screening and Reception as the leading actor in the film, "American." Both films focus on World War II events and emphasize the important roles and services that Japanese-American military members provided throughout the war. In addition to Takei, the directors of each film are expected to attend the Opening Night celebration and will participate in a panel discussion after the screenings.
Following the GI Film Festival San Diego's Opening Night Screening and Reception, festivities will continue through Friday, Sept. 28 at the Museum of Photographic Arts. The festival moves to UltraStar Cinemas at Hazard Center for the Saturday, Sept. 29 and Sunday, Sept. 30 screenings. Visit gifilmfestivalsd.org/2018/
'Stories of the Past Brunch Adventure'
Adventures by the Book will present "Stories of the Past Brunch Adventure" featuring authors Juliet Blackwell (New York Times sestselling author) and Sofia Grant Sept. 23, at 11 a.m. at Eclipse Chocolate Bar, 2145 Fern St., San Diego, CA 92104.
The event is ticketed ($35 per person) and is open to the public. For more information, visit adventuresbythebook.com
Documentary Film: Searching for Sugar Man
Friday, Sept. 14, 1 p.m.-3 p.m. San Elijo Campus of MiraCosta College, 3333 Manchester Ave, Cardiff, CA 92007, room 204. Free.
Documentary Film: Searching for Sugar Man. Cape Town, South Africa. English. 2012, 1 hr 26 min, R PG. Swedish–British–Finnish film about two South Africans who set out to discover whether the rumored death of American musician, Sixto Rodriguez was true, and if not, to discover what had become of him.
Info: lifesanelijo@gmail.com
Bestselling author to speak at Partners in Crime event
Partners in Crime, the San Diego chapter of the national organization Sisters in Crime, welcomes its own vice president, Lisa Brackmann, as the speaker at its next meeting to be held on Saturday, Sept. 15 at 3 p.m. at Mysterious Galaxy, located at 5943 Balboa Avenue, #100, San Diego. Please note the new time. She will be debuting, reading from and signing her latest novel, the timely political thriller Black Swan Rising, accompanied by a reception featuring her favorite local craft beers.
Brackmann is the New York Times best-selling author of the Ellie McEnroe series set in China (Rock Paper Tiger, Hour of the Rat, Dragon Day), and suspense novels Getaway, Go-Between and Black Swan Rising. Visit www.lisabrackmann.com
Attendance is free for members. Dues are $25 per year, plus membership in the national organization. Members may join at the meeting, with payment by check, cash or credit card, or online at https://www.sistersincrimesd.org.
Coastal Roots Farm hosts Sukkot Harvest Festival at Leichtag Commons, Sunday, Sept. 30 from 11 a.m. to 3 p.m. at 441 Saxony Road, Encinitas. This annual event for all ages coincides with the last day of the week-long Jewish holiday of Sukkot, and is the Farm's biggest event of the year.
This year's festival theme is Renew & Reroot. The family friendly event will include a host of Jewish learning workshops, farm tours, music, tours of neighboring Butterfly Farms, a "libation station," fermentation tastings, as well as food options for purchase.
There will also be a Kids Zone with several activities, including a flower crown making station.
Osher Lifelong Learning at UC San Diego
Discover the joys of continued learning at an Open House on Saturday, Sept. 22, at 9:30 a.m. on UC San Diego's Extended Studies campus, 9600 North Torrey Pines Road. Presented by the Osher Lifelong Learning Institute, this membership program for adults over 50 offers daytime lectures, seminars and guided tours by renowned university faculty and community leaders. Subjects include science, medicine, law, art and humanities among others. There are no prerequisites, exams or credit – simply the joy of learning. One highlight during the Fall Quarter is a series on Security, Loyalty & Liberty in America, 1798-present. To learn more visit the UCSD program at olli.ucsd.edu or call 858-534-3409.
Master storyteller and UC San Diego alumnus Luis Alberto Urrea to speak at UC San Diego Library
The UC San Diego Library will celebrate 15 years of Dinner in the Library, its signature fundraising event for lovers of libraries and books, with San Diego-raised novelist and UC San Diego alumnus, Luis Alberto Urrea '77 on Friday, Sept. 21 from 6-9:30 p.m. A 2005 Pulitzer Prize finalist, Urrea has been hailed by NPR as a "master storyteller with a rock and roll heart." For decades, he has written about the border and knits together stories in a way that makes them familiar and impactful to all readers.
Hosted at the heart of UC San Diego in the iconic Geisel Library, the evening will feature a cocktail reception where guests can enjoy panoramic views from the 8th floor, mingle with other bibliophiles, and learn from undergraduate students about their award-winning research projects. Following Urrea's address during dinner, guests will have the opportunity to interact with the prolific author at a dessert reception.
Proceeds from the event will support the Geisel Library Revitalization Initiative (GLRI), an effort to transform the interior public spaces of Geisel Library to better meet the ever-changing information needs of the campus. Chancellor Pradeep K. Khosla will match gifts raised up to $1 million, doubling the impact of donations.
To purchase tickets or to learn more about sponsorship opportunities, please visit lib.ucsd.edu/dinner or call (858) 534-7021.
Convention of States presentation to be held Sept. 19
More than 3.5 million Americans support a Convention Of States to reorganize the power structure in Washington, D.C., with a method which is peaceful, legal and is also very constitutional. Article V of the U.S. Constitution empowers the states to call for a convention to propose amendments to the Constitution, with a plan limited to imposing fiscal restraints, and reign in the power and jurisdiction of the federal government, plus term limits for all federal officials, the congress and the Supreme Court.
The public is invited to an apolitical and nonpartisan free presentation of the Convention Of States Project from 7 p.m. to 8:30 p.m., on Wednesday, Sept. 19, in the Community Room, at the San Diego County Credit Union Branch at 501 North El Camino Real (northeast Corner Garden View Road), Encinitas.
Admission to the presentation is free, reservations are not required, plus plenty of free parking. Enter the facility on the ground floor from the east side of the building.
More information on website: ConventionOfStates.com. Phone: 858-427-1640; Email: LouObermanCOS@Reagan.com .
San Diego dad transforms son's potentially fatal diagnosis into liberating accessibility device for others
San Diego software engineer Dylan Vaughn received the tragic diagnosis in 2013: his eldest son, then four years old, had a progressive form of Muscular Dystrophy called Duchenne's. This rare genetic disease affects predominantly boys, causing muscle weakness and degeneration throughout the body, including the heart and respiratory systems. Most sufferers require a wheelchair by the age of 12.
"After the shock of diagnosis, I realized that one way I could try to help Connor, and others, was to bring all this new technology into the space of people with disabilities," says Vaughn. "I wanted to fill an unmet need in the community for an affordable, easily built power chair."
So in 2016 Vaughn began creating different prototypes, made of PVC pipe and other components available at the hardware store and Amazon. The key factor in this endeavor was not to create a product that people could buy, but to design a reliable, functional open source power wheelchair for people to make themselves, saving anywhere from $3,000-$20,000 on a commercially-made power chair.
Now on its fourth prototype, Vaughn and his team are continuing to enhance the design, making it more reliable and effective. Vaughn will be presenting his latest version at Maker Faire San Diego, Oct. 6-7, in Balboa Park. Attendees can see the device in action and talk directly to its makers.
"We are so excited to share the PVC Chair project at the San Diego Maker Faire this year," Vaughn says. "Maker Faire is a place we can connect with the many different groups of people who are connected to this project—makers, health care professionals, and people with disabilities as well as be inspired ourselves by all the other great projects on display."
Advance ticket adult prices start at just $21, children at $13. Admission includes entry to all participating venues. To purchase tickets, visit sandiego.makerfaire.com or sandiego.makerfaire.com/ticket/
Purchasing a weekend pass will allow visitors time to experience all of the museums participating in this event.
Seany's Chefs Fest invites families to support camps for kids dealing with cancer
In observance of Childhood Cancer Awareness Month this September, the inaugural Seany's Chefs Fest on Sept. 23 invites families to a culinary competition where they can enjoy tasty dishes and vote on their favorites. All proceeds from the event will benefit The Seany Foundation, an organization that funds camps and initiatives to support the long-term emotional health of kids with cancer and their families.
"As a cancer survivor and former camper myself, Seany's camps offer a supportive community and bring joy to the lives of kids during extremely hard times," says The Seany Foundation Director of Events Tiana LaCerva. "We wanted to create Seany's Chefs Fest as a way to give back to and raise awareness about the importance of these camps, while also bringing families together for a lively afternoon celebrating San Diego chefs."
From noon to 3 p.m. on Sunday, Sept. 23, Seany's Chefs Fest invites families to Luce Court in Liberty Station to try a variety of tasting dishes representing the one-of-a-kind culinary styles of popular San Diego chefs. Among an afternoon filled with live music and art, attendees will have the opportunity to vote on their favorite dishes to determine the winner.
All ticket sales from the foodie festival will benefit The Seany Foundation and its many programs that bring relief and happiness to kids struggling with cancer and their families. According to the organization, Seany's camps provide a safe haven for campers to truly act like kids, without cancer holding them back.
"In the San Diego area alone, there are around 1,000 new children diagnosed with cancer each year," says The Seany Foundation Chief Operations Officer and former camper at Camp Reach for the Sky, Robby Medina. "Our camps allow these to kids and families to meet other peers going through similar experiences and shed the 'cancer patient' label on the bus ride to camp."
To purchase a Seany's Chefs Fest ticket for $49, visit bit.ly/2CLLKHF. To learn more about The Seany Foundation and its programs devoted to improving kids and families' lives dealing with cancer, visit www.theseanyfoundation.org.
Scream Zone opens Sept. 28 for another season of frights
The Scream Zone at the Del Mar Fairgrounds returns Sept. 28 for a month of haunts and scream-worthy scarezones.
This year, the 21st annual event runs Sept. 28 through Oct. 31 at at 2260 Jimmy Durante Blvd. The experience will be open from 7 p.m. to midnight on Fridays and Saturdays and from 7 p.m. to 11 p.m. on other nights the event runs.
Ticket prices range from $21 for a single haunt experience (House of Horror or Haunted Hayride) to $85 for a VIP pass that allows one person to explore all three haunted attractions two times (plus you'll get Fast Track entrance for the House of Horror and Haunted Hayride). Two drink tickets (pick your poison) are also included.
The Scream Zone, returning for its 21st year, is a labyrinth of horrors and attractions, including a collection of three terrifying haunts: The Haunted Hayride, KarnEvil and House of Horrors. You'll find all the scream-worthy elements of a horror show, including actors popping out of the walls, a fire-breathing dragon and more zombies than you can count.
For more information, visit www.thescreamzone.com or call 858-755-1161.
Get the Del Mar Times in your inbox
Top stories from Carmel Valley, Del Mar and Solana Beach every Friday for free.
You may occasionally receive promotional content from the Del Mar Times.