Jan. 12: Local and regional events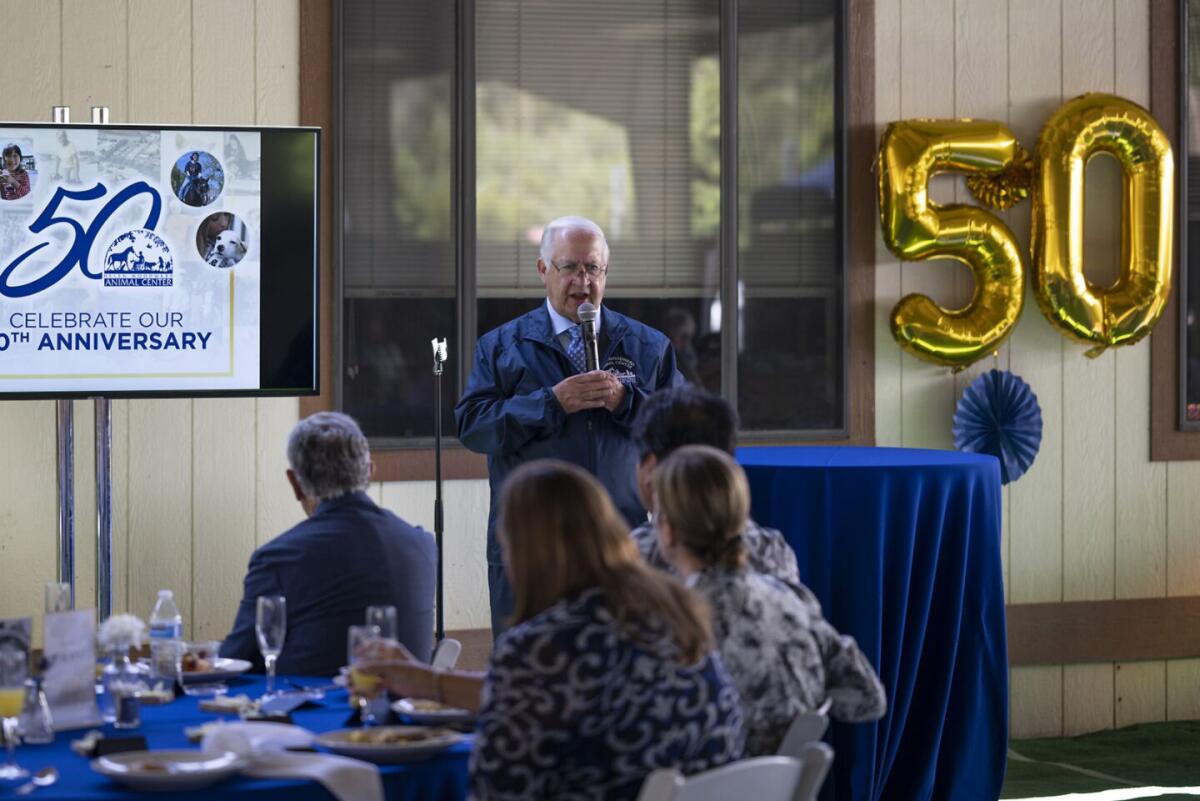 Helen Woodward Animal Center to hold volunteer orientation
Helen Woodward Animal Center will hold a volunteer orientation from 9 a.m. to 11 a.m. Saturday, Jan. 14 at the campus, 6461 El Apajo Road. A variety of volunteer opportunities are available, from walking dogs to lending a hand at one of the nonprofit's local events or helping in the administrative office. Visit animalcenter.org/volunteer. —Linda McIntosh, SD Union-Tribune
All invited to attend Del Mar Garden Club event featuring guest speaker
The Del Mar Garden Club welcomes all to its complimentary Community Outreach program Jan. 23, 10 a.m. at the Del Mar City Hall, "Encouraging Native and Exotic Plants to Get Along in the Garden." Learn how to successfully incorporate native plants into low water landscapes including plants of mixed origin. This eclectic approach to Southern California gardens is in great demand. The program speaker, Tony Gurnoe, is president and lead arborist of Treehugger Care & Consulting and a senior biologist at San Diego Botanical Services.
Address for the presentation is: 1050 Camino Del Mar, Del Mar, 92014.
Guest speaker to share a variety of astronomy insights at SB Historical Society event, all welcome to attend
On Friday, Jan. 13, the Solana Beach Civic and Historical Society will present an astronomical adventure with Douglas Leonard, associate professor of astronomy at San Diego State University. He will explain topics such as the expanding universe, exploding stars, neutron stars and black holes. His presentation will be in easily understood language and will include amazing photographs of the universe.
Join the Solana Beach Civic and Historical Sociaty at 5:30 p.m. at the Fletcher Cove Community Center, 133 Pacific Avenue, Solana Beach on Jan. 13 to learn all about it. Bring your curiosity and your questions.
Casa de Amistad Executive Director Nicole Mione-Green to speak at Del Mar – Solana Beach Optimist Club Zoom meeting
The Del Mar - Solana Beach Optimist Club recently announced that Casa de Amistad Executive Director, Nicole Mione-Green will be the guest speaker at the club's Zoom meeting on Tuesday, Jan. 17 at 6 p.m. Interested parties may join the Zoom meeting by clicking on the Zoom link to the meeting at https://us02web.zoom.us/j/3859025629
The meeting is open to the public.
Mione-Green has worked in education in both the United States and Mexico. She has received a bachelor's degree in International Studies from the University of Oregon and a Multiple Subject Teaching Credential from California State University, San Marcos. Mione-Green has been with Casa de Amistad since 2006. Under her leadership, Casa de Amistad has been able to offer many new and innovative programs.
Since 1997, Casa de Amistad, a nonprofit organization, has served children and families in coastal North County San Diego through education and mentoring programs. Casa de Amistad students are from school districts throughout coastal North County San Diego, including:
• Solana Beach School District
• Del Mar Union School District
• Encinitas Union School District
• Cardiff School District
• Carlsbad Unified School District
• San Dieguito Union High School District
Optimist International is one of the world's largest service club organizations with over 60,000 adult and youth members in over 2,700 clubs in the United States, Canada, the Caribbean, Mexico, Africa, Europe, Asia, and throughout the world. To learn more about Optimist International visit the organization's website at optimist.org
'AAUW Public Policies' topic of Jan. 14 event, public invited
American Association of University Women Del Mar-Leucadia Branch invites the public to learn about AAUW public policies at its virtual meeting on Saturday, Jan. 14, 10 a.m. to noon. AAUW is a national organization with the mission to advance equity for women and girls through advocacy, education, philanthropy, and research.
Guided by the national mission, AAUW California has three public policy priorities: "Economic Security for All Women; Equal Access to Quality Public Education for All Students; and Social and Racial Justice for All Members of Society." Details about the implementation and impact of these policies will be presented at the meeting.
Guests for the Jan. 14 meeting must send their name and email address to membership@aauwdml.org to receive a Zoom link to the meeting and for their name to be recognized when they enter the Zoom Waiting Room. The Zoom room will open at 10 a.m. for a social/chat time followed by the program at 10:30 a.m. All are welcome.
The Del Mar-Leucadia Branch serves coastal San Diego communities and always welcomes new members. Membership is open to all college graduates with an associate or higher degree. AAUW values and seeks a diverse membership. The branch reflects the varied interests of its members with monthly meetings (open to the public) and special interest groups such as Great Decisions, dining, book, movie, and bridge groups. Some groups meet virtually, while others are in person.
The local AAUW branch raises money for scholarships for local college students and for local middle school girls who are chosen to attend AAUW's Tech Trek, a STEM camp for girls. The branch also supports Speech Trek for local high school students and AAUW Greatest Needs Fund.
For more information, visit delmarleucadia-ca.aauw.net or contact Karen Dorney, membership@aauwdml.org
Horizon Church to host 'The Chosen' producer Dallas Jenkins at Men's Breakfast
Join Horizon Church on Jan. 14, 8 a.m.-9:30 a.m., for a Men's Breakfast with special guest speaker Dallas Jenkins, the creator, director and co-writer of "The Chosen" TV series. This is a free event with breakfast offered by donation. Horizon Church is located at 6365 El Apajo, Rancho Santa Fe, 92067.
Jenkins will also be speaking at all three of Horizon's weekend services, Jan. 14 at 6 p.m. and Sunday, Jan 15 at 9 a.m. and 11 a.m.
Visit bit.ly/3BYphDt to register and for more information. Visit The Chosen website at bit.ly/3joUzNl
Save the Date: Music by the Sea concert
A Music by the Sea concert featuring Cristina Montes Mateo, harp, will be held Jan. 27 from 7:30 p.m.-9 p.m. at the Encinitas Library Community Room. An award-winning harpist, Montes Nateo is an intensive soloist with a great success around the world, often appearing with major orchestras. She has been principal harp with the Munich Philharmonic Orchestra and the Royal Liverpool Philharmonic Orchestra and is currently solo harpist at the Orquestra de la Comunitat Valenciana in Spain. Tickets are $20.
Tickets will be available online through 5 p.m. on the performance date, or until sold out. Any remaining tickets will be available at the door for $25 each. The Encinitas Library is located at 540 Cornish Drive, Encinitas, 92024. For tickets and more information, visit bit.ly/3QtuFVb
Solana Center for Environmental Innovation to present January Green Living Tour
The Green Living Tour is a bi-monthly, one-hour tour at Solana Center for Environmental Innovation's home-base in Encinitas that showcases sustainability in action. On the tour, Solana Center's knowledgeable Eco Team docents walk participants through Solana Center's worm bins, greywater systems, innovative compost projects, tool lending library, water-wise garden, and more simply, DIY, climate-friendly solutions.
The next tour will be held Jan. 28, 10 a.m.-11 a.m.
Find inspiration for your at-home sustainability projects, learn more about Solana Center and its programs, and meet other eco-stewards in your neighborhood. Suggested donation is $12; email volunteer@solanacenter.org if the donation is an obstacle. Learn more and register at bit.ly/3FRkGV5.
SB 1383 compliance: Commercial food waste prevention webinar to be held
California is leading the nation with groundbreaking legislation that addresses climate change by keeping organic materials out of landfills. As Californians are asked to rethink how they manage their food waste, businesses may be wondering: How can I be in compliance, and how will this affect my bottom line?
The City of Encinitas and Solana Center will help residents understand the new legislation and find opportunity in the coming changes by presenting a free webinar Jan. 26 at 2 p.m.-3 p.m.
From saving money, to creating press opportunities, to addressing climate change and regional food insecurity, your business has a lot to gain while staying ahead of state regulations.
Please learn more and register at bit.ly/3URUJK8
The Kook Run cruises the 101 on Feb. 12
The Kook Run is back in Encinitas on Sunday, Feb. 12. Kick off Super Bowl Sunday by racing an out-and-back 5K or 10K course on Coast Highway 101, taking in epic views of the Pacific Ocean and, of course, the Cardiff Kook.
The race festivities begin under the iconic Encinitas sign in downtown Encinitas. Participants can take part in the famous Kook costume contest— cash and prizes are available in the categories of Individual Kook Costume, Group Costume Contest and Biggest Football Fan.
The event also features a pro and elite 10K race where world-class runners and local elites will be competing for a $3,000 prize purse.
A post-race finish line festival will be held in Moonlight Plaza with live music, beer garden, breakfast tacos, local vendors, games and activities.
As part of the event, the Junior Kook Run will be held on Saturday, Feb. 11 at the Encinitas Ecke YMCA. Kids ages 3-12 can run distances that start at 400 yards and go up to one mile. Following the final event, Junior Kooks can celebrate at a post-race concert by Bach to Rock.
This year the Kook Run's official charity beneficiaries include the Encinitas Ecke YMCA and Cardiff 101 Main Street. To register visit thekookrun.com
Optimal diets for longevity: Keynote with Dr. Valter Longo set for Jan. 27
Local residents can learn strategies for living a longer, healthier life at a public keynote address by Dr. Valter Longo, author of "The Longevity Diet," on Friday, Jan. 27. The event will be held from 7:30 p.m. to 9 p.m. at the Hyatt Regency La Jolla at Aventine, located at 3777 La Jolla Village Drive. The keynote address is the only public portion of the 18th annual Natural Supplements Conference, a continuing educational event for medical professionals hosted by the Scripps Center for Integrative Medicine. Tickets are $30 per person (or two people for $40, or three people for $55). More info. at www.scripps.org/naturalsupplements; by email at med.edu@scrippshealth.org; or at 858-678-6400.
Ovation Theatre presents 'Into The Woods'
Ovation Theatre will present the classic musical "Into the Woods" by Steven Sondheim. This Tony Award-winning musical follows the journey of a group of fairy tale characters as they venture into the woods in search of their desires. Along the way, they encounter Cinderella, Little Red Riding Hood, and Jack (of beanstalk fame). But be warned: this is no ordinary retelling of these classic stories. Sondheim's clever lyrics and memorable score add depth and complexity to these beloved characters, leading them on a journey of self-discovery and the surprising consequences of their actions.
"Into the Woods" has been a fan favorite since its Broadway debut in 1987, and this production promises to be no different, a news release states. With a talented cast of actors from throughout San Diego County, stunning sets and costumes, and the award-winning creative team of Pamela Laurent (artistic director), Scott Gregory (music director), and Susie Dycus (choreographer), this is a show you won't want to miss.
Laurent agrees and states in the news release, "The hilarity as well as eventual pathos provided by these well-known fairy tale characters - with real people's wants and desires - being thrown together in the middle of the woods is compelling for anyone who is in the show as well as anyone who attends as an audience member. 'Be careful what you wish for!'"
"Into the Woods" will be playing at the Howard Brubeck Theatre at Palomar College Jan 20-22 and Jan 27-29. Get your tickets now at ovationtheatre.org and join the magical journey. Get a sneak-peek into the production and rehearsals on Instagram @ovationtheatreshows and Facebook @ovationtheatre
Batiquitos Lagoon to hold bird walk and 'The Winter Migration' discussion
Batiquitos Lagoon will be hosting a bird walk and discussion titled " The Winter Migration" on Jan. 14 at 10 a.m. Docent Mike Gollong will discuss the variety of species of birds from the north that make the lagoon their home from November to April each year. This event is free and good for ages 12 and older. Bring your binoculars or borrow from the Nature Center. Meet at the Nature Center, 7380 Gabbiano Lane, Carlsbad. For more information, visit www.batiquitoslagoon.org.
13th annual presentation of 'WOOD, A Furniture Show'
The Escondido Arts Partnership will hold the 13th annual presentation of "WOOD, A Furniture Show," hosted by Brian Murphy of Murphy's Fine Woodworking. This exhibition, which will be held Jan. 13 - Feb. 24, will feature a gathering of some of the very best furniture makers in Southern California showing their work at the Escondido Municipal Gallery. Handcrafted furniture will be exhibited in a variety of wood mediums and techniques, including innovative contemporary, traditional and whimsical art furniture, as well as detailed veneering and marquetry works. This exhibition is presented in association with the San Diego Fine Woodworking Association.
Escondido Municipal Gallery is located at 262 E. Grand Ave., Escondido, CA 92025. Visit www.escondidoarts.org and call 760-480-4101 for more information.
Scripps Ranch Theatre to present 'Lucky Stiff', a musical
Scripps Ranch Theatre continues its 43rd season with its musical production of "Lucky Stiff" by Ahrens and Flaherty, running at its theatre on the campus of Alliant International University and directed by San Diego veteran director Kathy Brombacher. Lucky Stiff is a co-production between Scripps Ranch Theatre and Oceanside Theatre Company. It previews at Scripps Ranch Theatre on Friday, Jan. 27, opens Saturday, Jan. 28 and runs through Feb. 19. Fridays and Saturdays 8 p.m., Sundays at 2 p.m. The show then runs at Oceanside Theatre Company from March 3-19.
This little musical theatre wonder has comedy, mystery, romance and a trip to Monte Carlo wrapped up with a splendid musical theatre score written by Lynn Ahrens and Stephen Flaherty, authors of "Anastasia", "Ragtime The Musical" and "Once on his Island".
To reserve seats for Lucky Stiff contact Patron Services Manager Dani DeCarlo at the box office at (858) 395-0573 or online at www.scrippsranchtheatre.org
Soroptimists holding virtual walk this month
Soroptimist International of Vista and North County Inland are holding their third annual "30Miles in 30 Days to Fight Human Trafficking" Virtual Walkathon fundraiser. The walkathon began Jan. 1 and runs through Jan. 30. Proceeds will support the club's efforts to help women and children who have been trafficked. Participants can register at bit.ly/3AYKYmi.
Basket-making classes in Los Angeles and San Diego
The Los Angeles Basketry Guild and the Misti Washington Gourd & Basket Guild will present four special classes taught by basketmaker Judy Zugish.
The dates of the classes are March 11 and 12, in the Los Angeles Area and March 18 and 19, in San Diego. The registration deadline is Feb. 11. Each of the four 8-hour workshops will run from 8:30 a.m. – 5:30 p,m, will have a maximum 12 students. The classes are open to all levels of basket makers.
Zugish began experimenting with cultivating fibers and using them to invent contemporary, sculptural basket forms. She gardens in the Pacific Northwest, where she grows, nurtures and collects fiber plants for her creations. A teacher since 1988, at home and abroad, she designs her classes to explore delicious natural materials, applying good techniques with a touch of the unusual – just because it's fun. To learn how Zugish cultivates and prepares willow in her 40-year-old garden to make her unique pieces, go to youtube.com/watch?v=U8kIkTqx88k.
Registration is now open to the general public. Each class fee is $80, plus material/preparation fee which ranges from $55 to $95 depending on the class.
For a description of each class offered and for registration information go to baskets-gourds.com/classes or contact info@baskets-gourds.com for more information.
Exact location of classes will be shared after registration is confirmed.
Get the Del Mar Times in your inbox
Top stories from Carmel Valley, Del Mar and Solana Beach every Friday for free.
You may occasionally receive promotional content from the Del Mar Times.